Product Category
Studio Bundles
Save $49.95 with this bundle. Here's what you get!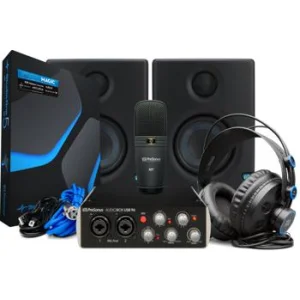 PreSonus AudioBox 96 Ultimate Hardware and Software Recording Bundle – 25th Anniversary Edition
Sells separately for $299.99The PreSonus AudioBox Studio Ultimate Bundle starts with an AudioBox USB 96 USB audio interface, which will capture your music with 24-bit/96kHz quality. Studio One Artist is a feature-packed DAW, perfect for recording, mixing, and sharing your music. Your recordings will sound great, thanks to an M7 large-diaphragm condenser mic, and you'll be able to hear everything in pristine detail with Eris 3.56 studio monitors and HD7 headphones. You also get a collection of seven top-shelf plug-ins. The AudioBox Studio Ultimate Bundle is great for singer/songwriters, podcasters, and more. Get yours and start recording today!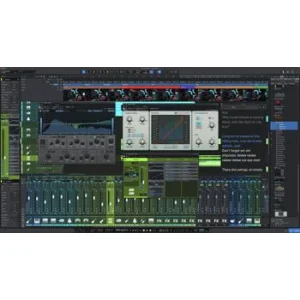 PreSonus Studio One 6 Professional – Upgrade from Artist (Any Previous Version)
Sells separately for $299.95Mastering the ins and outs of a modern DAW can be a challenge, to even the most studied of studio veterans. Thankfully, PreSonus' Studio One 6 Professional follows in the footsteps of its Studio One predecessors, providing an intuitive, drag-and-drop way to record, produce, mix, edit, and master your music — all with an effortless learning curve! Studio One 6 Professional boasts the same all-encompassing features that made the previous versions so accessible, but with a host of new upgrades such as a fully customizable interface and smart templates that allow you to optimize your workflow and maximize efficiency. Moreover, the new Video Track contains deep video and picture editing capabilities that remove the need for a dedicated video editing program. From mastering your tracks to editing your live show's video feed, PreSonus Studio One 6 Professional is a must-have tool for the modern audio, music, or multimedia producer.