Product Category
Studio Bundles
The PreSonus AudioBox 96 Studio starts with an AudioBox USB 96 USB audio interface, which will capture your music with 24-bit/96kHz quality. Studio One Artist is a feature-packed DAW, perfect for recording, mixing, and sharing your music. Your recordings will sound great, thanks to a M7 large-diaphragm condenser mic, and you'll be able to hear everything in pristine detail with a set of HD7 studio monitoring headphones. The AudioBox 96 Studio is great for singer/songwriters, podcasters, and more. Get yours and start recording today!
Related Videos: AudioBox 96 Studio Hardware and Software Recording Bundle – 25th Anniversary Edition
AudioBox USB 96
Start recording and creating music with an AudioBox USB 96. This compact, convenient, and super-affordable audio interface is an ideal option for singer/songwriters and any creative artists looking for an easy way to record at home or on the road. Take advantage of the award-winning sound of a pair of top-quality PreSonus preamps to bring your vocals, guitar, and other instruments to life, all captured in up to 24-bit/96kHz professional digital audio resolution.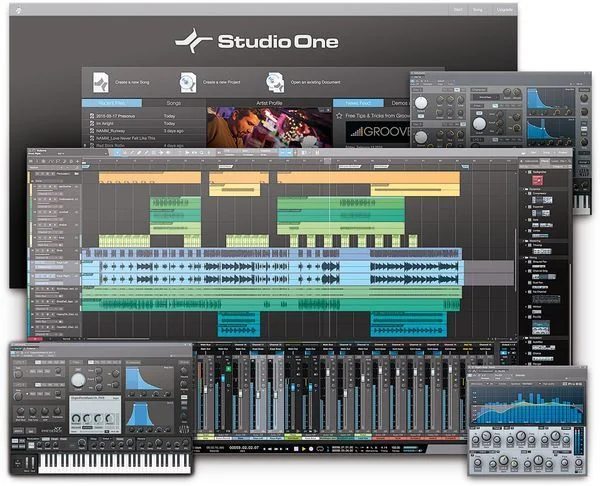 Studio One Artist
If you want to get in on the easy-to-use digital audio workstation you've heard on countless hits, Studio One Artist is the way to go. Getting started is a snap. From there, it's easy to find ideal tempo-matched backing tracks, capture inspiring sounds and performances on physical or virtual instruments, mix with pro effects, and even share your music online with your friends and fans. Studio One Artist keeps you inspired and in the flow — focused on your music, not the music-making process. There are many Studio One users here at Sweetwater, and once you discover the music-making power it places in your hands, you'll understand why.
Superb software package included
Your purchase includes Studio One Artist and everything you need to start recording via your computer. Plus, to take your recordings to the next level, you get the Studio Magic plug-in suite. This extensive collection of popular plug-ins includes emulations of classic studio gear from legendary manufacturers, adding hundreds of dollars in extra value. Punch up your mix bus with the Brainworx bx_opto compressor, add ambient reverb with Lexicon MPX-i Reverb, fire up transients with SPL's Attacker Plus, and much more. And since these plug-ins are available in AAX, VST, and AU formats, they're compatible with any DAW.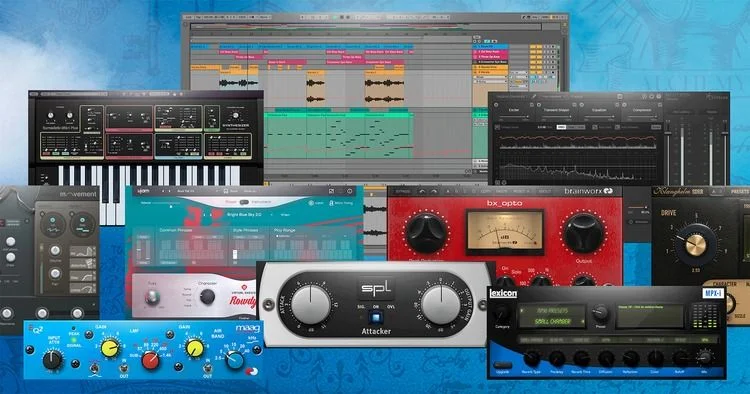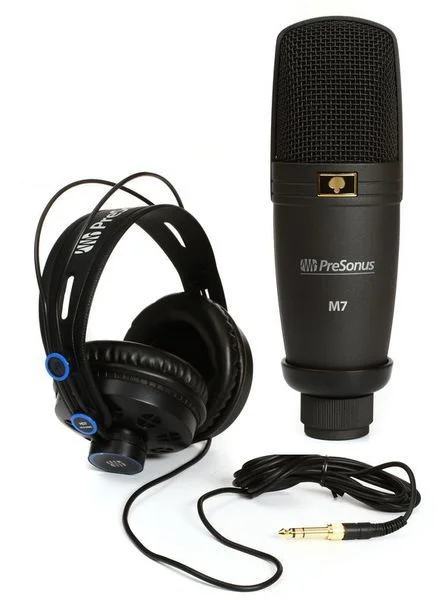 M7 large-diaphragm condenser mic and HD7 headphones
The PreSonus AudioBox 96 Studio includes everything you need to create great recordings. The M7 large-diaphragm studio condenser microphone provides a respectable 40Hz-18kHz frequency response and 136dB SPL, more than enough to capture your vocals, acoustic guitar, and most other general sources. Of course, it doesn't matter how great your recordings sound if you can't hear them, that's why PreSonus included HD7 studio monitoring headphones with the AudioBox 96 Studio. These headphones feature high-resolution neodymium drivers and a precision-tuned acoustic chamber for top-notch sound. These lightweight headphones also feature extended bass response, so you can make wise mixing decisions.
PreSonus AudioBox 96 Studio Features:
2-in/4-out 24-bit/96kHz USB 2.0 interface captures your music with 24-bit/96kHz quality
Studio One Artist is a feature-packed DAW, perfect for recording, mixing, and sharing your music
M7 large-diaphragm condenser mic is great for recording your vocals, acoustic guitar, and other general sources
Hear everything in pristine detail with a set of HD7 studio monitoring headphones
Packaged with the complete Studio Magic Plug-in Suite — a collection of awesome plug-in emulations of classic studio gear