Product Category
Preamps & Channel Strips
Features
Vacuum Tube Circuit
Massive, punchy drums. Enormous guitars. Gorgeously open vocals. This is the bold American sound of API. Countless iconic records were recorded through API consoles in the Golden Age of Analog, with every mic pumped up larger-than-life through the legendary 312 microphone preamplifier outfitted on every channel. Since the late '60s, the revered pro audio company has been synonymous with world-class solid-state gear. So we're especially excited about the API Select T12 — an all-tube, 2-channel Class A mic/instrument preamplifier with custom API input and output transformers. The API Select series represents a new variation of API preamplifier technology, and it promises tantalizing sonic possibilities. With its unique tonal options, the T12 is perfect for a broad swath of production duties, including stereo applications. And with 70dB of gain on tap, you'll even be able to use your favorite passive ribbon mics on quiet sources. Meticulously engineered to deliver classic tube performance and sound, the T12 serves up API's renowned warmth, punch, and clarity in an inspiring new way.
Related Videos: Select T12 2-channel Tube Microphone Preamp
Versatility and performance
For over half a century, professional engineers and producers have relied on API consoles and processing gear to deliver the radio-ready sound that makes their recordings stand out from the crowd. API gear boasts military-grade build quality and componentry such as the proprietary transformers found in the T12. Versatility is a hallmark of API equipment, and to that end, the T12 features a comprehensive control set that provides immense tone-shaping flexibility while retaining that inimitable API sound quality. The result is one of the best-sounding mic preamps you're ever likely to own, one of those rare preamps that enhances every signal that you send through it. Whether it's a microphone or a DI instrument source, the T12 imparts sheer size, sparkling dimension, and stunning liquid clarity to pianos, drums, strings, horns, bass, guitars, vocals — you name it. But mere words cannot do it justice: you simply have to hear it for yourself.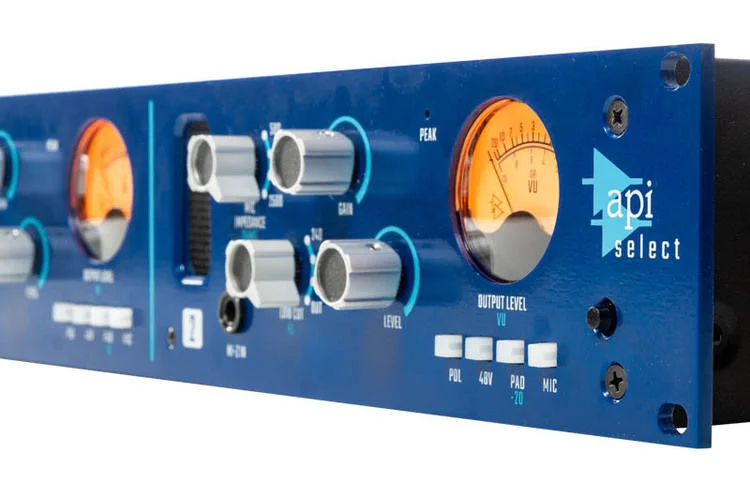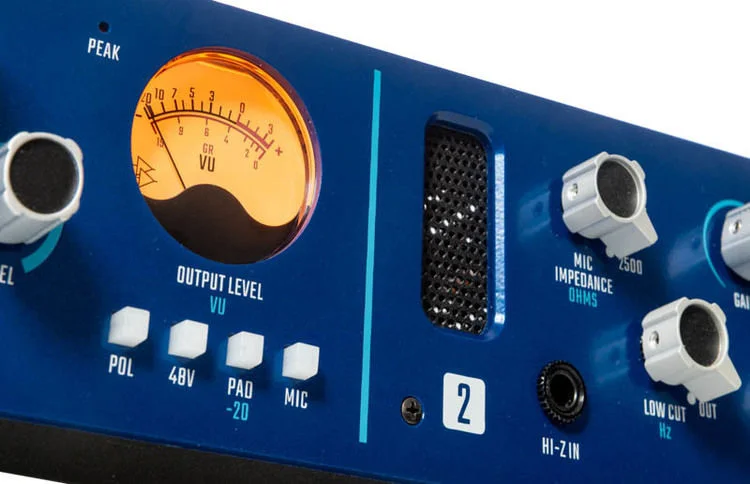 The absolute sound
Like all great tube preamps, the API Select T12 brings a euphonic warmth to source material; however, there's no trace of sluggishness or the "flabby" character tube gear can exhibit, because the T12 is packing big iron: its inputs and outputs are balanced with custom-wound API transformers. The T12 is infinitely adjustable, making it easy to nail the absolute sound for any source. Its full feature set includes rear-panel mic and convenient front-panel hi-Z instrument inputs, variable microphone input impedance that lets you wring optimum performance out of all you mics, 48V phantom power, a 20dB input pad, an 11-step preamp gain control, a highpass filter with three fixed frequencies, an LED peak indicator, and an 11-step output trim with 0.5dB increments for precise control. All controls are detented for effortless recall and channel matching when using the T12 for stereo operation. And we would be remiss if we didn't mention the T12's totally boss visuals, complete with glowing tube vent windows and round VU output meters that highlight this advanced vintage-modern design.
An exciting new direction: API Select
The iconic API sound has never been associated with tubes — until now. Along with its API Select stablemates, the T12 heralds an exciting new direction for the storied pro audio firm. Company President Larry Droppa explains: "Over the years, we've acquired the technology and experience to engineer and produce audio products that don't necessarily conform to API's classic component structure or topography. . . . API Select gives us the opportunity to offer gear that's very high quality, but that's different from API's legendary line of classic products." The API Select series is certainly a momentous development in the pro audio world: a new generation of modern classics that offer enticing sound-shaping possibilities for audio professionals in music recording, broadcast, and post production.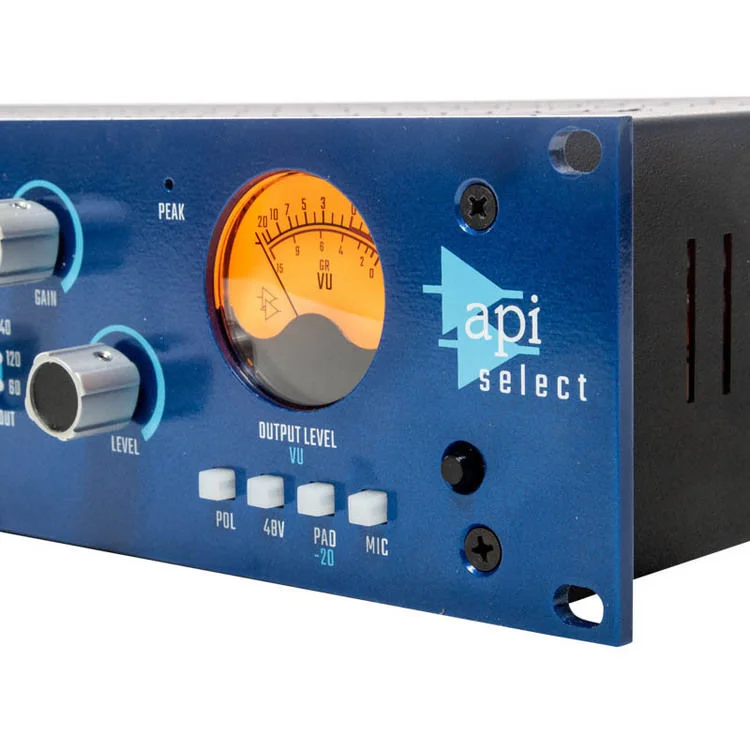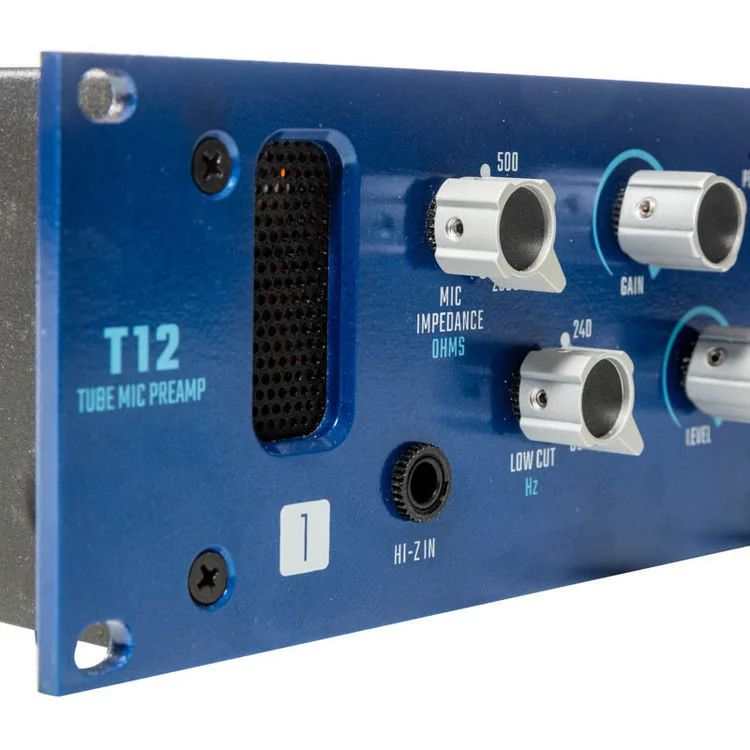 API: an American pro audio legend
Launched in 1968 by Saul Walker, Automated Processes Inc. began building high-quality consoles for broadcast applications. Soon, the company's products found favor with recording studios, and a string of industry-leading innovations (including the 500 Series module, the first VCA, computerized console automation, and more) followed. API produced the 2520 amplifier, one of the most famous op-amps in the recording industry, and their consoles and products found homes in such iconic studio facilities as the Hit Factory, Record Plant, Ocean Way, Sunset Sound, and many others. In fact, there are over 700 vintage API consoles around the globe — many of which are still in use. Clearly, the company isn't resting on its laurels; today's API products give you the same unbeatable combination of utility, innovation, and stellar sound. That's why, at Sweetwater, the name API commands reverence.
API Select T12 2-channel Tube Microphone Preamp Features:
All-tube, Class A microphone preamplifier
Gain range: 0dB to +70dB
Proprietary AP2516 input transformer
Audio circuit uses 12AT7WC preamp and 12BH7 output dual-triode vacuum tubes
Custom API output transformer
Variable microphone input impedance
Switchable 48V phantom power
High-impedance, unbalanced 1/4-inch instrument inputs
Mic/hi-Z input switches
20dB input pads
11-step detented preamp gain controls
Highpass filters with 3 fixed frequencies
11-step detented output trims with 0.5dB steps for precise control
Detented controls for accurate recall and channel matching
LED peak indicators
Classic analog VU output meters
XLR and 1/4-inch TRS input and output connections
Internal power supply, 115/230VAC selectable