PreSonus AudioBox Go 2x2 USB-C Audio Interface
$79.99
Perfect for tight-budget home studios and travelling recording sessions made easy, the PreSonus AudioBox Go is an awesome interface that can help put your creative ideas in motion. This workstation connects easily to your computer via a class-compliant USB connection and supplies the studio basics that you need to record track by track, wherever you may be. Its 2-channel design allows for direct line recording for guitars and other 1/4-inch cabled instruments, in addition to a single microphone XLR/line combo input for vocals, miked amplification, another DI, and more. Sweetwater studio aces love this unit's superb sound quality, courtesy of PreSonus' XMAX-L preamp, phantom power, and wide-range gain controls. You'll even get a free license for the Studio One Prime recording software, offering you a solution to get started fast. When you're ready to playback your tracks, use the stereo outputs to connect to the monitors of your choice, and you're off to the races!
Stellar sound from XMAX-L preamp
Much of the AudioBox Go's awesome sound quality can be attributed to its workhorse preamp, the XMAX-L. Jam-packed with a quarter-century of engineering refinement, this preamp delivers tracks with outstanding clarity and articulation, leaving no room for unwanted noise and electric hum. With such a reliable setup powered by +48v of phantom power and controlled with a 50dB gain range, all of your instrument's tone will be delivered in absolutely stunning sound quality — from bass to drum machines and everything in between!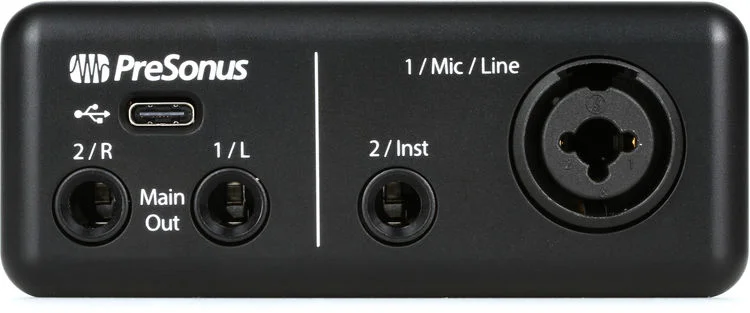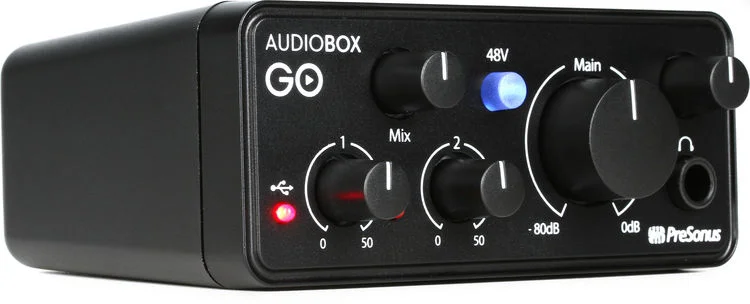 Perfectly portable
Take the AudioBox Go with you wherever you need to record! Tucking easily into your bag, this interface is great for on-the-fly recording sessions when the moment strikes. It's compatible with Apple and Android products in addition to laptops and desktop systems, ensuring that your sessions won't be limited to well-equipped studios. With that being said, the AudioBox Go works just as well as a home studio addition for workstations that need a smaller footprint, sitting easily on desktop or console. Additionally, its USB class compliancy allows for seamless usage without the need for extra installations, while also utilizing bus power to eliminate pesky power cords.
PreSonus Studio One Prime license included
Take advantage of the free included license for PreSonus' Studio One Prime recording software! Designed to excavate the creativity of every artist, Studio One Prime features an intuitive layout that provides you with the tools you need to get composing, recording, and producing right away. Using your phone for managing recording sessions has never been easier thanks to the free Capture Duo 2-track mobile recording app. Additionally, the AudioBox Go will also integrate easily with just about any Mac and PC recording software you prefer.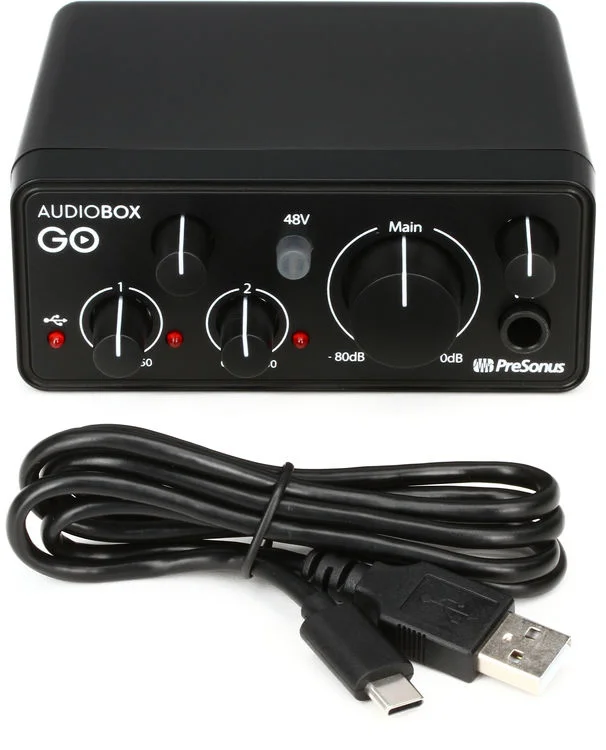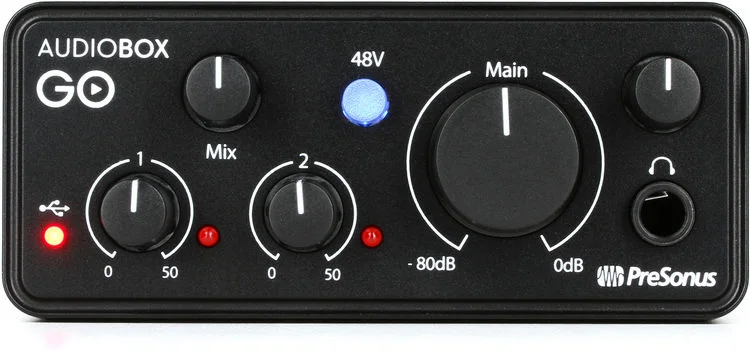 PreSonus AudioBox Go 2x2 USB-C Audio Interface Features:
2-channel interface with XLR/Line combo input and additional instrument input
XMAX-L preamp delivers tracks with incredibly clear and articulate sound quality
50dB gain controlling with +48v phantom power that eliminates power cords
Small size is perfectly portable, fitting into bags and instrument cases with ease
Compatible with Apple and Android products as well as laptops and desktop systems
Ideal for small footprint interfacing in home studios
USB class compliancy doesn't require a myriad of additional installations to use
PreSonus Studio One Prime recording software included with purchase
Capture Duo application allows for easy 2-track recording on your mobile device
Integrates easily with your existing Mac/PC recording software
Includes USB-C to USB connection cable
Product Category
Interfaces