Product Category
Microphones
Manufacturer
Universal Audio
Features
Mic | Large Diaphragm Condenser
The Universal Audio Bock 187 is David Bock's spin on the venerable '87 — an industry standard, if there ever was one. From its introduction in 1967, the large-diaphragm FET condenser mic gained instant favor with engineers, producers, and their clients; and by the mid '70s it was a staple in every world-class recording studio. Mr. Bock has built his considerable reputation with cutting-edge microphone designs that deliver the the most coveted sonic characteristics of beloved vintage classics along with modern precision, enhanced performance, and rock-solid reliability. The Bock 187 is no mere clone, however; it serves up its own inimitable sound with a creamy-smooth midrange and sparkling detail. It also offers extended low end and high headroom, courtesy of its large custom output transformer. Unlike the original, the Bock 187 features a versatile, fixed cardioid polar pattern. It's also equipped with a true rumble filter hinged at 50Hz. Plus, its proprietary Fat switch instantly plumps up signals for enormous guitars and drums. Perfect for lead vocals and acoustic instruments, the Universal Audio Bock 187 sounds great on everything you point it at. Add one or two to your mic locker today!
Supersize it
The Bock 187 has a unique feature that helps set the mic apart from its contemporaries (and vintage counterparts, for that matter): the Fat switch. This proprietary David Bock circuit gives you a choice of two distinct sonic personalities with the simple flip of a switch. The Fat switch makes the Bock 187 fantastic as a massive-sounding room mic with incredible dynamic range. Engage the Fat switch and place the mic several feet back from a guitar amp cabinet; then mix to taste with a close mic for a huge — yet detailed — electric guitar sound. Having access to two distinct low-end responses — plus the Fat switch, a 50Hz rumble filter, and a 10dB pre-attenuation pad — in one masterful microphone design means the Universal Audio Bock 187 can handle virtually any capture scenario, making it a value-packed addition to your mic collection.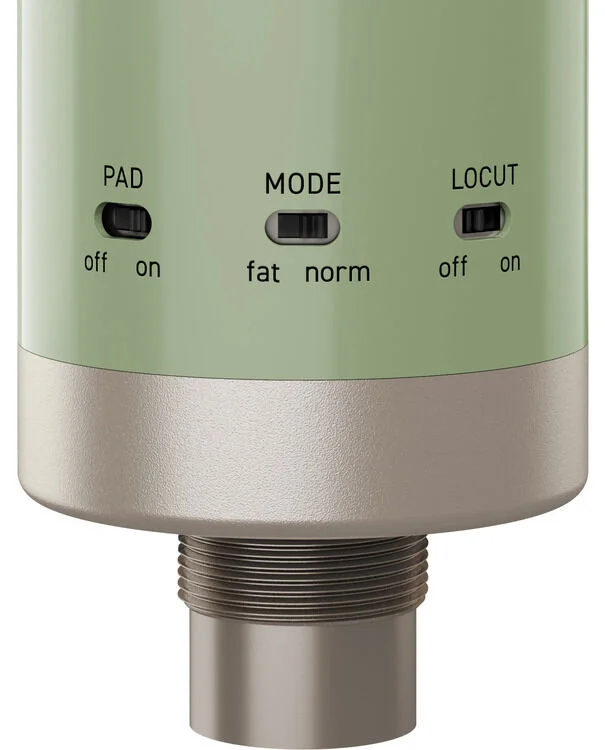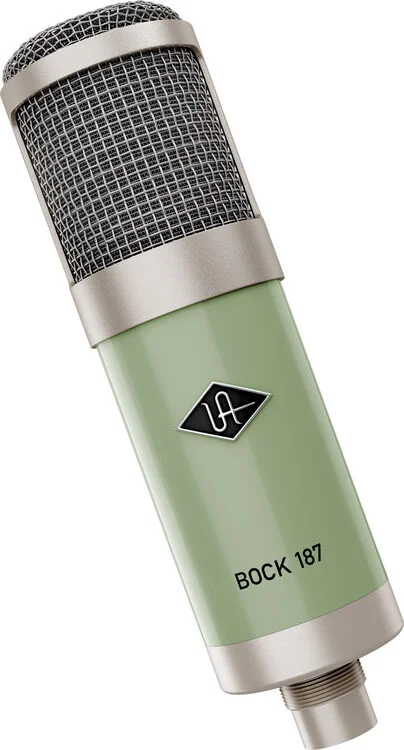 Cardioid only?
You bet. If you had to choose only one polar pattern for all the mics in your studio, cardioid would be the one. Although we certainly recommend having omnidirectional, figure-8, and hypercardioid microphones in your mic locker, your cardioid mics will be your go-to microphones for the vast majority of recording and sound-reinforcement tasks. Take it from Sweetwater: a great-sounding cardioid large-diaphragm condenser mic like the Universal Audio Bock 187 will enjoy constant use in your studio.
Inspired design by a master designer
For pro audio engineers and studio owners, the name David Bock needs no introduction. David fine-tuned his craft as chief technical engineer in the '80s and '90s at top studios such as Hyde Street, The Hit Factory, and Ocean Way. Naturally, these world-class facilities owned sizable collections of coveted vintage microphones, and a vital part of David's job was maintaining them all in perfect working condition. This led to a deep understanding of how these mics worked and why each one sounded the way that it did — and ultimately to the next phase of David's career. It was while working at Soundelux Studios in Hollywood that he became involved in microphone design. Intrigued by the concept of integrating the desirable sonic properties of vintage mics into new designs that leveraged modern manufacturing precision, David was responsible for a string of acclaimed microphones, including the Soundelux 251, E47, and E49. Building on his successes at Soundelux, he launched Bock Audio in 2007. In 2020, the design genius of David Bock teamed with the manufacturing prowess of Universal Audio, where David is a senior product engineer.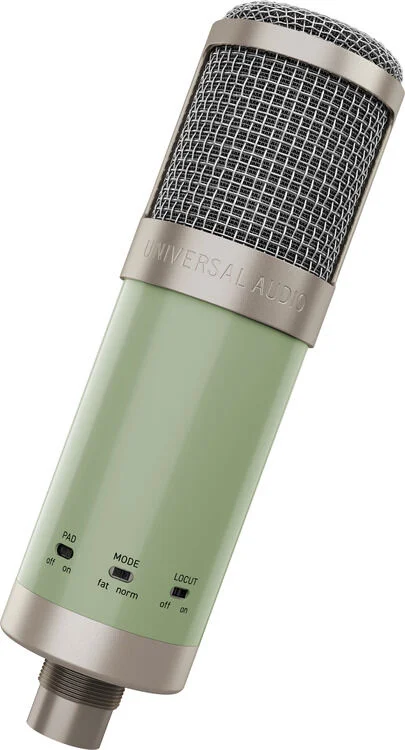 Another Bock modern classic
At UA, Bock microphones are built the way they always have been. Handcrafted in small batches using unique, high-end components, these precision recording tools are designed to a sonic target rather than a price point. This is what microphone production looked like back in the Golden Age of Analog, and the process is credited with the enduring sonic superiority of cherished vintage microphones, some of which are still in use today. But access to Universal Audio's vast resources means that Bock microphones also leverage state-of-the-art manufacturing techniques that ensure a level of precision unimaginable back in the day. Hand assembled and hand tensioned to exacting tolerances, Bock's proprietary all-brass capsules employ robust 6-micron diaphragms for a gorgeously transparent sound without a hint of artificial brightness. Bock-designed multi-sectioned transformers are used for a deeper and smoother bottom end than that other production microphones. Old-school inductor-based power supplies deliver beefy dynamic range for Bock's discrete audio amplifiers, as well as increased longevity for tubes. It all adds up to a line of modern classic microphones that are essential to today's well-appointed mic locker. Sweetwater looks forward to many exciting new microphone designs from David Bock and UA in the years ahead!
Universal Audio Bock 187 Large-diaphragm FET Condenser Microphone Features:
Versatile fixed cardioid polar pattern
Proprietary all-brass capsule with dual diaphragm
Fat switch adds instant low-end girth
50Hz rumble filter removes undesirable LF content
Large output transformer delivers extended low-frequency response and headroom
10dB pre-attenuation pad
Includes stand mount and signature wooden box
Handcrafted in the USA