Product Category
Microphones
Features
Mic | Large Diaphragm Condenser
Value-packed Vintage/Modern LDC
The Lauten Audio LA-220 V2 is a veritable bang-for-your-buck studio workhorse. For starters, this two-in-one large-diaphragm condenser microphone offers both vintage warmth and modern clarity with a mere flip of a switch. What's more, the LA-220 V2's hand-tuned transducer imparts gentle natural compression, enabling it to deliver top-shelf sound — no expensive signal chain required. Finally, this mic boasts high-quality components, including high-resolution, low-distortion polypropylene capacitors and resistors; a US-made ultra-low noise JFET; and a vintage-inspired output transformer. Any studio engineer or home recordist searching for a large-diaphragm condenser with crisp, clear, mix-ready sound will be eminently pleased by the LA-220 V2.
High-quality components
Despite its amazing affordability, the LA-220 V2's signal path includes high-quality components such as a custom 1.25-inch pressure-gradient capsule; high-resolution, low-distortion polypropylene resistors and capacitors; and an ultra-low-noise, US-made JFET amplifier, balanced at the output with a vintage-style output transformer. As a result, this mic delivers a full-bodied and present mix-ready sound with a much lower noise floor than many vintage classic microphones. This makes it especially valuable for capturing whisper-quiet vocals and nuanced acoustic guitar parts, while its 130dB SPL handling capability means you can use it on drums or guitar amps without fear of overload.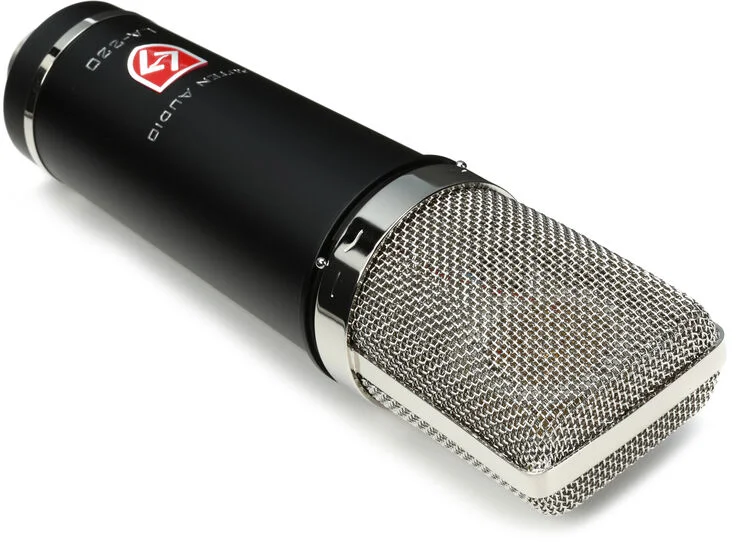 Impressive versatility
Engineers at Sweetwater appreciate the independent lowpass and highpass filters integrated into the LA-220 V2. These help you balance your recordings at the microphone, assisting you in capturing the purity and the vibrancy of a performance without having to apply inordinate amounts of corrective EQ. Although it's not unusual to see a highpass filter on a condenser mic, a lowpass filter is rather unique. While the LA-220 V2's highpass filter (hinged at 120Hz), minimizes low-frequency mud and structure-borne rumble, its highpass filter introduces a gentle rolloff shelf hinged at 12kHz. This is not only helpful for taming shrill sources, but also for imparting a warm vintage vibe to vocals and instruments. Vintage signal chains didn't exhibit the pristine clarity of today's ultra-high-fidelity equipment, which can sound astringent and sterile in the context of modern digital workflows. The LA-220 V2's lowpass filter corrects for this unfortunate tendency of affordably priced modern gear, giving you a colorful, musical-sounding signal you can plug straight into your audio interface.
Lauten Audio LA-220 V2 Large-diaphragm Condenser Microphone Features:
Professional results on vocals and instruments
Transformer-balanced FET condenser
Versatile cardioid polar pattern
Ideal for creating vibrant modern vocals
12kHz lowpass filter tames bright sources for a vintage sound
120Hz highpass filter removes room rumble and muddiness
Ultra-low-noise USA-made JFET amplifier
Vintage inspired transformer balanced output
Custom 1.25-inch center-terminated pressure gradient capsule
Frequency response: 20Hz–20KHz
Dynamic range: 120dB minimum
Max. SPL: 130dB (0.5%THD@1000Hz)
Impedance: <200 ohms
Self-noise level: < 15dB-A
Sensitivity: 16mV/Pa -40dB (0dB=1V/Pa 1KHz)
Connector: 3-pin XLR
Requires 48V phantom power
Included shockmount and storage bag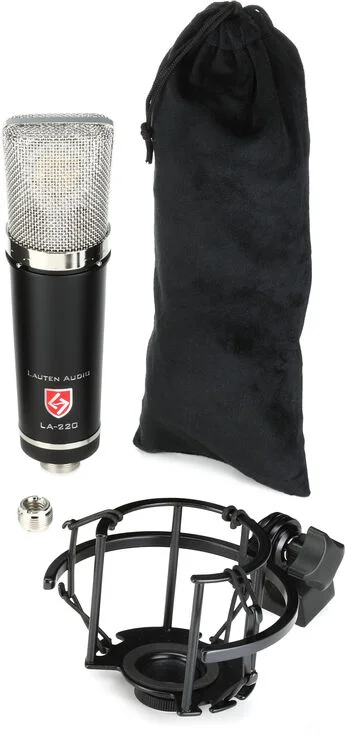 Tech Specs
Microphone Type:Pressure Gradient Condenser
Polar Pattern:Cardioid
Diaphragm Size:1.25″ (32mm)
Frequency Response:20Hz-20Hz
Max SPL:130dB SPL (0.5% THD @ 1000Hz)
Output Impedance:200 ohms
Sensitivity:16mV/Pa (-40dB)
Self Noise:15dB A-weighted
Low Cut Filter:120Hz
Color:Black
Features:12kHz High Cut Filter
Connector:XLR
Power Source:48V phantom power
Dimensions:7.48″ x 2.08″
Weight:1.56 lbs. (Mic with Shockmount)
Included Accessories:Shockmount, Microphone Bag
Manufacturer Part Number:LA220v2