Product Category
Studio Furniture
Product Subcategory
Monitor Stands
Features
42 inch, Bamboo, Parchment
Lightweight, renewable bamboo forms the basis for the JamRacks Grand Stand's remarkable strength and beauty. This American-made work of art closer resembles fine furniture than a traditional monitor stand. Even so, supporting your prized monitor and hi-fi speakers is what the JamRacks Grand Stand was created to do. Its 100% inflexible bamboo construction remains rock solid with up to 125 pounds of weight on top. That means whether you're mounting up your modern Adams or vintage Altecs, the Grand Stand won't buckle under pressure. Each Grand Stand gives you 6″ of height adjustment and several inches of tilt on any side to make sure your speakers are firing into the sweet spot. One feature audiophiles at Sweetwater were quick to note is the Grand Stand's floating top flatform, which succeeds in decoupling speakers from the stand and floor to create a truly transparent listening experience. Best of all, these beauties stand up to repeat moves and re-assemblies, which makes them an investment you can enjoy today and for the rest of your career. Each Grand Stand is sold individually.
Safely supports speakers up to 125 lbs.
Even your vintage farfields are safe to trust to JamRacks Grand Stands. Each of these beautiful bamboo monitor stands safely holds up to 125 pounds. The 100% solid bamboo construction yields a platform that is both flex- and slouch-free to provide a trustworthy listening environment. You get 6″ of vertical adjustment (36″–42″ total height) to fire your monitors into the listening sweet spot, as well as several inches front/back and side/side tilt via the adjustable feet.
Isolated top plate ensures tonal transparency
When it comes to monitoring audio, transparency is king. The Grand Stand's isolated speaker top keeps your monitors and hi-fi speakers free from unwanted resonance, reflections, and bass buildup. A floating top plate with a large center cutout helps prevent unwanted coloration. This sits on four integrated isolation pucks to further decouple speakers from the stands and floor, to create a dependable presentation of any audio you pipe into your monitors or surrounds.
Integrated cable management
Nobody likes a cluttered control room or theater. JamRacks Grand Stands feature integrated cable management, so you can keep your workspace/listening environment safe and cords hidden from view.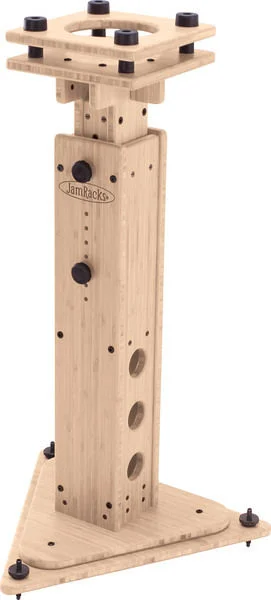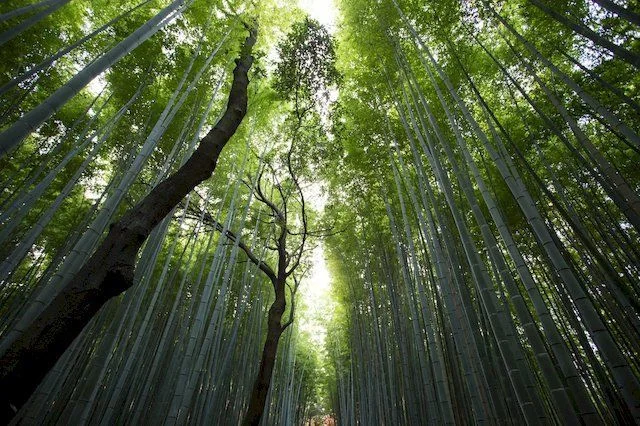 100% solid bamboo construction
Why bamboo? First and foremost, it's durable. It possesses higher compressive strength than wood, brick, and concrete. Moreover, its tensile strength rivals that of steel. Even so, the bamboo used in JamRacks' Grand Stands remains remarkably lightweight, with a strength-to-weight ratio that eclipses that of graphite. Bamboo is also eco-friendly, thanks to a fast growth rate that enables materials to be re-harvested every three to five years — quite a contrast to the decades-long wait for hardwood trees to grow. Last but not least, JamRacks' bamboo is eye-catchingly beautiful and artisan built, with soft-touch rounded corners and all the trappings of luxury. A cursory glance at any piece of JamRacks studio furniture is all the proof you'll need as to the beauty of this amazing material. JamRacks is clearly passionate about creating beautiful, functional, high-quality furniture that's healthy for us and our environment — and at Sweetwater, that's a goal we're proud to stand behind.
JamRacks Grand Stand Large Monitor Stand Features:
Safely supports speakers up to 125 pounds
Eco-friendly solid-bamboo construction supplies eye-catching visuals and extreme durability
Height adjustable from 36″ to 42″
Front/back and side/side tilt
Holds up to moves and re-assemblies
Isolated top platform decouples speakers from the stand and floor
Integrated cable management provides a neat workspace and listening environment
Ships flat-packed in heavy-duty boxes
Manufactured in the USA