Product Category
Headphones
Focal is renowned worldwide for their reference-grade monitor speaker designs — and this world-class expertise carries over to modern headphone technology. Focal Clear MG Professional circumaural open-back studio headphones boast Focal's proprietary M-shaped magnesium domes, which deliver breathtakingly lifelike dynamic response and the remarkable ability to reproduce the most minute details in your mixes across the entire frequency spectrum. Clear MG Professionals transcend the shortcomings traditionally associated with mixing on headphones; namely that mixes don't "translate" when played back on speakers. This means you can make mix decisions with confidence, assured that your mixes will sound the same, regardless of playback system.
Outstanding comfort over long sessions
Comfort is an important factor in monitor headphone design. If a pair of headphones doesn't adjust to fit you perfectly, it can affect sonic accuracy. And if your 'phones cause discomfort, you'll be distracted and unable to do your best work, so this is yet another area in which Focal has lavished attention on Clear MG Professional headphones — and from our perspective at Sweetwater, they have succeeded wildly. To optimize comfort, the design of the headband and yokes ensures that the headphones distribute their feather weight across your whole head, while a new generation of perforated microfiber used for the earpad cushions result in an delightfully airy and open design.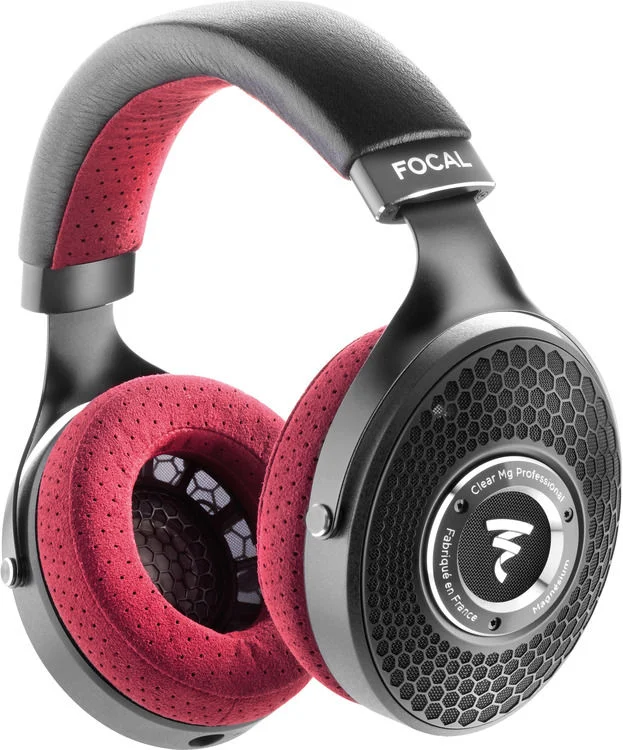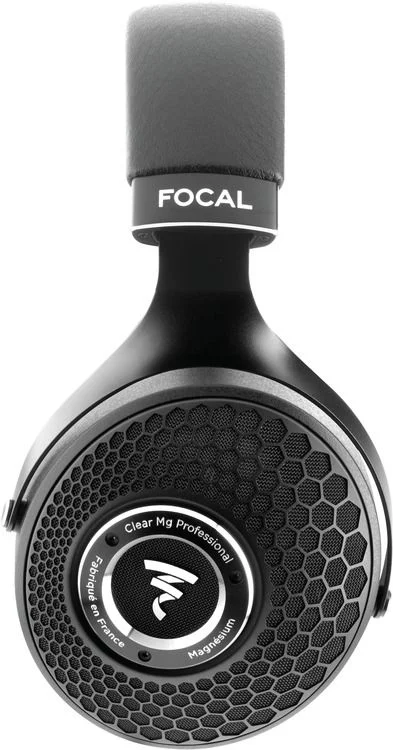 Broad, deep soundstage with pinpoint stereo imaging
Beyond comfort, the earcup design amplifies the wearer's sense of spatialization to deliver a broad, deep soundstage. The high-frequency reproduction precision needed for pinpoint stereo imaging gets an assist from Focal's proprietary M-shaped grille, which closely follows the contours of the speaker driver. The net result of Focal's superior engineering is a monitoring experience in which you completely forget that you're wearing headphones. A must-have tool for demanding engineers, producers, and artists, Focal Clear MG Professional reference studio headphones enable you to make production decisions quickly and confidently to deliver the highest quality product in the shortest amount of time. And that, friends, is what it's all about.
Focal Clear MG Professional Open-back Reference Studio Headphones Features:
Open-back, circumaural headphones for professional use
Consistent tonal balance across the full audio spectrum
Exceptional articulation down to the lowest frequencies
Breathtaking dynamics and impact
Broad spatialization and pinpoint-precise soundstage
Comfortable and ergonomic adjustable fit
Solid aluminum yoke which molds to head shape
Perforated microfiber and leather headband
3/4-inch memory foam earpad, covered with a perforated microfiber fabric
Proprietary M-shaped magnesium dome drivers
M-shaped honeycomb internal grille; external honeycomb grilles
2 cables (1/4-inch stereo, 3.5mm) supplied to accommodate all uses (console, audio interface, laptop)
Includes carry case and 2 spare earpads