Product Category
Microphones
Features
Mic | Large Diaphragm Condenser
As more and more aspiring producers are outfitting their bedrooms and offices with studio gear, the need for quality hardware at the ready is higher than ever. Thankfully, Beyerdynamic is fully prepared to meet your demands with the M90 Pro X Large-diaphragm Condenser Microphone. This top-notch mic boasts a 34mm capsule onboard to capture the natural sound of any audio source, imbuing everything from vocals to acoustic guitars and more with welcome thickness and luscious warmth. Beyerdynamic outfitted the grill with a dual-layer pop filter to eliminate plosives without the need for additional gear — their user-focused attention to detail is something Sweetwater's sound experts thoroughly appreciate. Throw in a sturdy shockmount and a handy bag for safe storage, and the Beyerdynamic M90 Pro X Large-diaphragm Condenser Microphone is just what the doctored ordered for stellar-sounding recordings!
Beyerdynamic: quality you can count on
Beyerdynamic microphones are held in high esteem at Sweetwater due to the company's unwavering commitment to excellence since its founding in 1924. The M90 Pro X — like all Beyerdynamic products — is designed and crafted in Germany to the most stringent engineering standards, using only the highest-quality materials. Experience the Beyerdynamic difference: add an M90 Pro X to your mic locker today!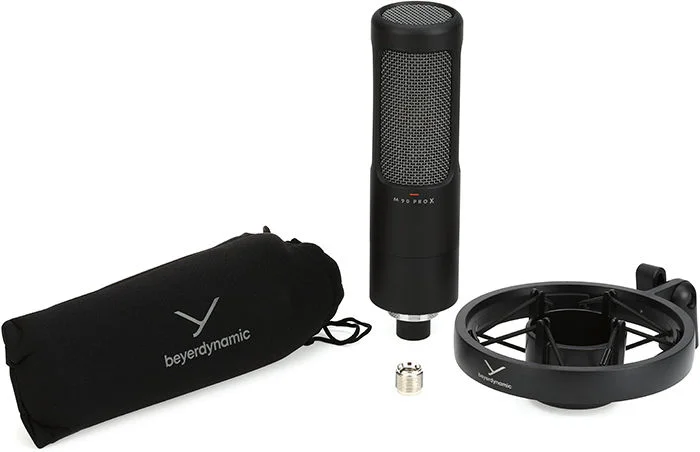 Beyerdynamic M90 Pro X Large-diaphragm Condenser Microphone Features:
Side-addressed large-diaphragm condenser microphone tailor-made for vocals, acoustic instruments, and more
34mm true condenser capsule imbues sounds with warmth and body
Integrated dual-layer pop filter eliminates plosives without the need for additional equipment
Outfitted with custom electronics developed in Germany
Includes shock mount and storage bag