Product Category
Preamps & Channel Strips
The Avalon V5 preamplifier takes an unusually fresh approach to signal routing, giving you a phenomenal mic pre, instrument DI, and re-amping matrix — all in one compact desktop module! It's easy to get lost in the beauty of the V5's technical details, from its sealed silver relays to its ultra-high-performance rotary switches, but you won't be thinking about any of that when you hear how good this Avalon box sounds. And when it comes to dialing in the perfect tone, you just can't beat the V5's incredible passive Tone Shaper network. All things considered, the Avalon V5 preamplifier adds a ton of versatility to your studio.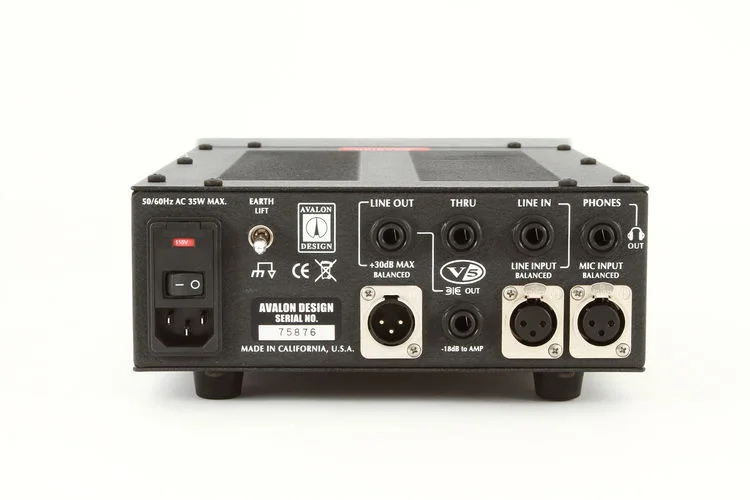 This pint-sized pre packs pristine tone
Go ahead — wax poetic about the V5's 100% discrete, DC coupled, Pure Class A amplifiers. Dive into the technical details if you like. You won't find a thing about the V5 any die-hard spec hound won't dig. But none of that compares to how good the V5 sounds. That has a lot to do with the V5's extremely high-voltage operation, which provides plenty of headroom for hotter signals and the gain needed to push even the most subdued sound sources. No matter what you plug into it, you'll be impressed by what you get out of your Avalon V5.
A serious signal-routing workhorse
When Sweetwater says you can plug anything into the Avalon V5 and get excellent results, we're not exaggerating. That's because Avalon built the V5 to accommodate a massive range of signal types. On the input side, you've got two microphone impedances to choose from, including lo-Z for high-output condensers and a hi-Z setting that lets you get the most out of sluggish ribbon mics. There's also a 10-Mohm direct instrument input with zero impedance loading that's perfect for active and passive pickups alike. And thanks to the combination of an ultra-clean line-level input and a transformer-isolated hi-Z output, you can even use the V5 as a complete re-amping solution, making it an invaluable studio super-tool.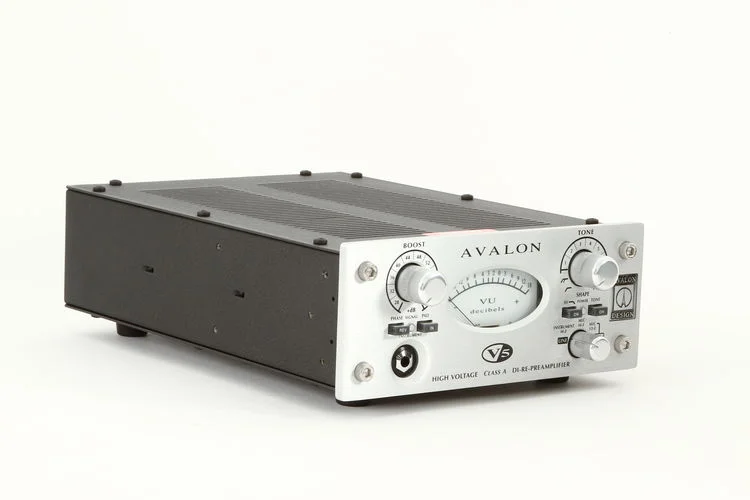 Tons of tone-shaping options onboard
Controlled by a single rotary switch, the V5's Tone Shaper circuit provides you with a fast, effective, and musical way to sculpt your sound to perfection. Included among the V5's 10 Tone Shaper options are six presets taken straight from the award-winning Avalon U5. Among these 10 presets, you'll find two of Avalon's most popular Air-Lift passive vocal processing filters, which add extra life to your voice. And to top it all off, Avalon built both a passive lowpass filter and a hiss/buzz filter into the V5, allowing you to get the clearest possible audio.
Avalon V5 Desktop Preamplifier Features:
An amazing all-in-one microphone preamplifier, DI, and re-amping box any engineer can appreciate
Made from top-shelf components using all-discrete, high-voltage, Class A components for absolutely pristine sound
Dual hi-Z and lo-Z microphone inputs accommodate anything from low-output ribbons to high-output condenser mics
10-Mohm direct instrument input with zero impedance loading lets you plug in virtually any instrument with either active or passive pickups
Transformer-isolated re-amping output allows you to send signal back to an external guitar amplifier for re-amping
Passive Tone Shaper provides you with 10 amazing tone presets that let you instantly tweak your sound to perfection (including 2 Air-Lift vocal settings)
6 Tone Shaper settings adopted from the Avalon U5
Built-in lowpass filter and buzz/hum filter ensure the cleanest possible sound
Large VU meter provides easy and accurate monitoring