Product Category
Preamps & Channel Strips
Want to drastically improve the sonic quality of your recordings? We've got a recommendation for you: the Audient ASP800. An ideal addition to your audio interface, the ASP800 mic preamp/ADC gives you eight channels fitted with Audient's acclaimed console-grade mic preamps. The ASP800 features world-class Burr-Brown converter technology, two JFET DIs, and two Retro channels with Audient's proprietary, cutting-edge tone control circuitry. Just plug in your mics, guitars, keyboards, and drum machines and you're ready to rock. Elevate your studio sonics with the Audient ASP800.
Related Videos: ASP800 8-channel Microphone Preamp
Audient mic pres and Burr Brown converters onboard
The ASP800 features eight of Audient's acclaimed Class A console mic preamps – and believe us – they sound amazing. For the best possible conversion, you also get integral ADC with the highest grade converters from Burr Brown, a leader in converter technology. The result is stunningly transparent sound, with just a taste of coloration. It's the ideal prescription to cure lackluster studio sound.


Two Retro Channels for instant vintage vibe
Now, about the aforementioned coloration. Audient is famous for their ultra-clean mic pres – but that doesn't mean they don't appreciate the allure of added color. Whether enhancing a bass with a taste of growl or sparkling up a lead vocal, ASP800's cutting-edge harmonic generation circuitry is just what you need. Retro Channels One and Two each feature Audient's proprietary variable harmonic Colour controls, HMX and IRON. Serving up sonics reminiscent of 1960s tube designs and the coveted pastache of transformer-juiced '70s British consoles, HMX and Iron will add a whole new glorious dimension to your audio. Season to taste.
HMX MOSFET drive – sweet, fat, and punchy
Sweetwater engineers love the sound of tubes and if you're with us on this, you're going to dig Audient's HMX – the ASP800's custom harmonic distortion control. Harkening back to vintage tube preamp designs from the 1960s, HMX delivers a sweet, fat sound that's works wonders on everything from electric guitars to bass synths to drums. HMX's discrete MOSFET technology produces asymmetrical harmonic distortion that gives you the option of adding body and lushness to the ASP800's pristine mic preamp, DI, or line input.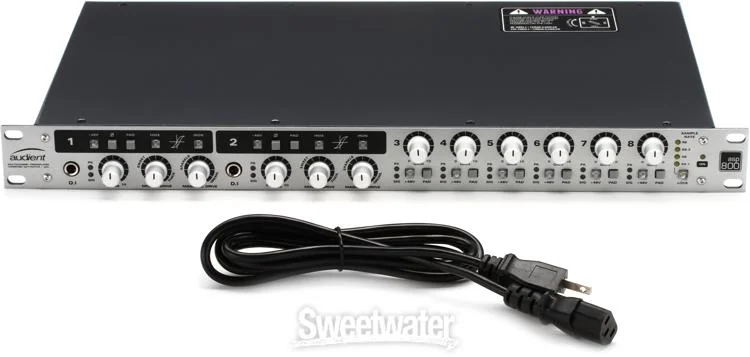 Audient ASP800 8-ch Mic Preamp Features:
Eight world-Class Audient Console mic preamps
Two Retro Channels with Dual Stage COLOUR Saturation Controls – HMX & IRON
Two Discrete JFET instrument inputs
Pristine 118-dB Burr-Brown A-D converters
Balanced analog line outputs
Word clock input
iD ScrollControl mode
All-metal enclosure