Product Category
Headphones
AKG K553 MKIIs provide noise isolation on par with closed-back headphones, along with a transparent sound reminiscent of open-back designs. Upgraded 50mm transducers serve up top-shelf sound, while soft ear pads ensure comfort over long sessions. You can expect great sound when listening to music on your tablet or smartphone, thanks to low-impedance drivers. Beyond that, a detachable cable extends the life of your headphones. When you're away from your studio monitors, you can trust the sound of AKG K553 MKII headphones for editing, mixing, and critical listening.
Closed-back vs. open-back
Also referred to as simply "closed-" and "open-back," this distinction addresses the design of the part of the headphone that covers the area behind the driver in a straight line away from the side of your head. Closed-back headphones like the AKG K553 MKII prevent sound from escaping and leaking into your microphone. The downside of this design is that it traps pressure inside the headphone, which creates false low frequencies. Open-back headphones, on the other hand, don't suffer from this issue. They deliver outstanding accuracy and clarity that are suitable for critical listening. AKG K553 MKIIs aim to combine the noise-isolating qualities of closed-back headphones with the spacious, transparent sound of open-back designs.
Circumaural vs. supra-aural
In layman's terms, these terms simply mean "over ear" (circumaural) and "on ear" (supra-aural). In the case of headphones, this refers to the design of the earcup, which is the cushion that sits between the headphone's speakers (drivers) and your ear. Here at Sweetwater, we rarely use supra-aural headphones for professional applications; although, they're great for casual listening — especially if you need to be aware of what's going on around you. On the other hand, over-ear headphones like AKG K553 MKIIs offer excellent attenuation of external noise.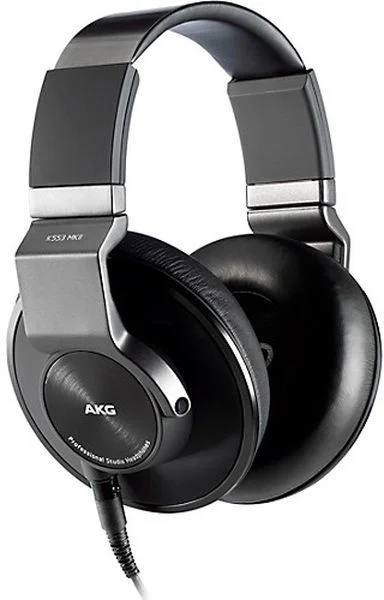 AKG K553 MKII Headphones Features:
Over-ear headphones with upgraded 50mm transducers
Excellent noise isolation on par with closed-back headphones
Spacious, transparent sound reminiscent of open-back designs
Performs well with virtually any headphone connection thanks to low-impedance drivers
Folds flat for storage and transport
Detachable cable extends the life of your headphones
Terminates in an 1/8″ plug, comes with a 1/4″ screw-on adapter