Sponsorship Opportunities
The most effective way to connect with voiceover professionals...
There is no more effective way to reach and connect with voiceover professionals.  In addition to The Voiceover Community Facebook Group, TheVoiceOverCommunity.com, Weekly Newsletter, Instagram and Twitter channels, The VoiceOver Community provides one of the most vibrant, trusted and active communities for voiceover professionals.
Sponsorships provide a collaboration that enhances the value Community members have come to expect.  This provides resources for the Community to grow and enhance the members' experience.  This collaboration also puts essential and unique products and services in front of active voiceover professionals.  This informs and educates the Community, as well as provides a singular and unique opportunity for select vendors to reach a niche, but highly active consumer market.
About The Voiceover Community
Marc Preston established the VoiceOver Community in 2019. Since that time, it has grown to be the largest social voiceover group of its kind in the world. It is a daily part of the lives of more than 30,000 members. Marc created the group to be a mixing place for established voiceover professionals, as well as talent new to the industry.
The VoiceOver Community was designed to be a free portal for current information and conversation. The Community is curated for its members' benefit, not for those that merely want to self-promote, sell or otherwise not contribute in an appreciable way. It's this freedom from the clutter of promotion that makes vetted and invited sponsors' messages stand out.
The VoiceOver Community is guided by a respected voiceover industry veteran. Marc wanted to pay it forward and create a venue for discussion and a free flow of knowledge. Moreover, he wanted to create a space that would be a part of helping the industry to maintain professional standards. This is in addition to helping members to thrive and stay on top of technology in an ever evolving marketplace. For the group to be truly successful, it needs to be of value to its members. It's this standard of value for the members that also provides a unique value for select sponsors.
Marc Preston is a 30+ year professional voiceover veteran.  He can be heard as the voice of television stations all over the United States.  He can also be heard narrating television programs, as well as voicing ad campaigns and corporate projects.  
Marc is also a highly sought after voiceover influencer, coach and consultant.  For twenty years, Marc has coached hundreds of working talent from all over the world.  Every day, Marc helps talent to develop their skills, as well as learn how to effectively market themselves.  Additionally, he offers guidance and suggestions regarding studio gear and industry resources.
Marc has consistently received positive accolades and industry recognition. He is routinely invited to be a judge for the Society of Voice Arts and Sciences' "Voice Arts Awards." He is also regularly invited to speak at the "That's Voiceover" conference. Marc is routinely interviewed in podcasts and programs, where he is asked to provide guidance on performance and business practices, as well as to provide focused insight into the craft and industry.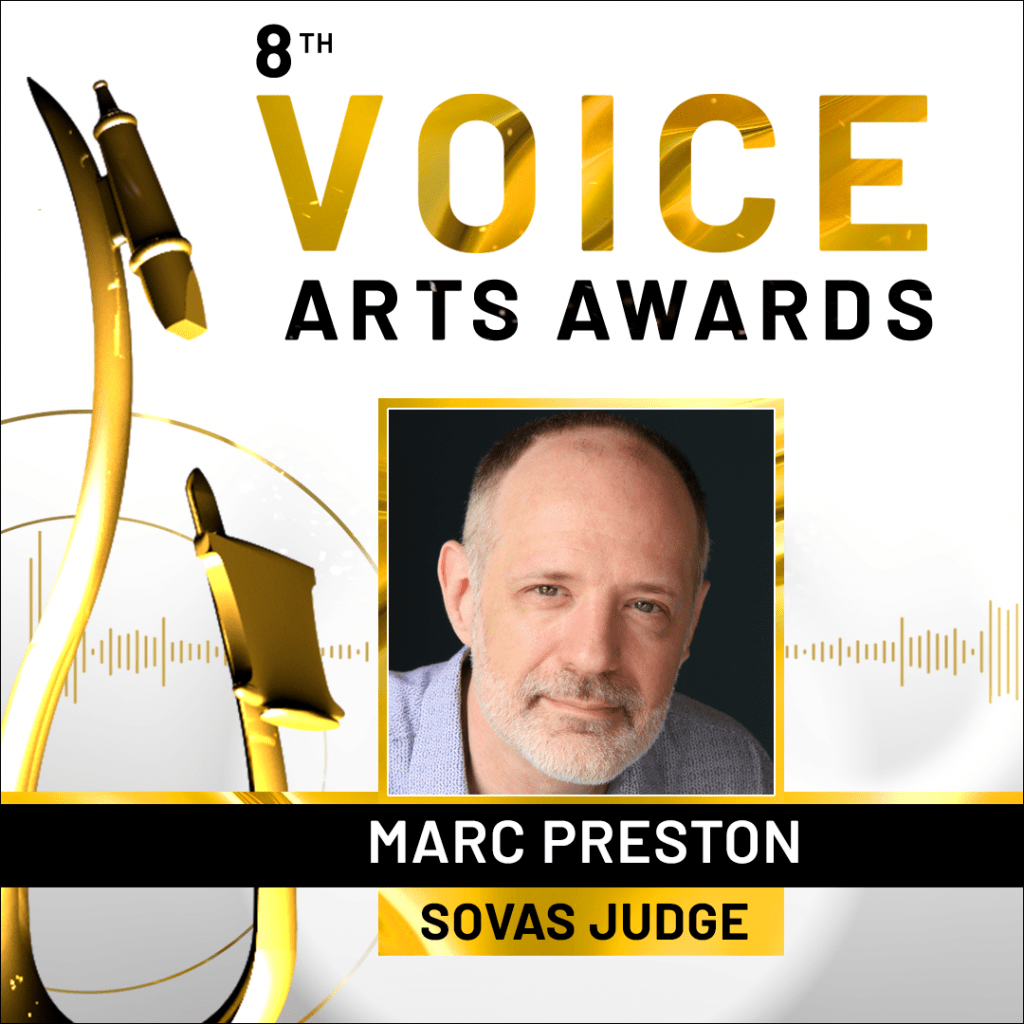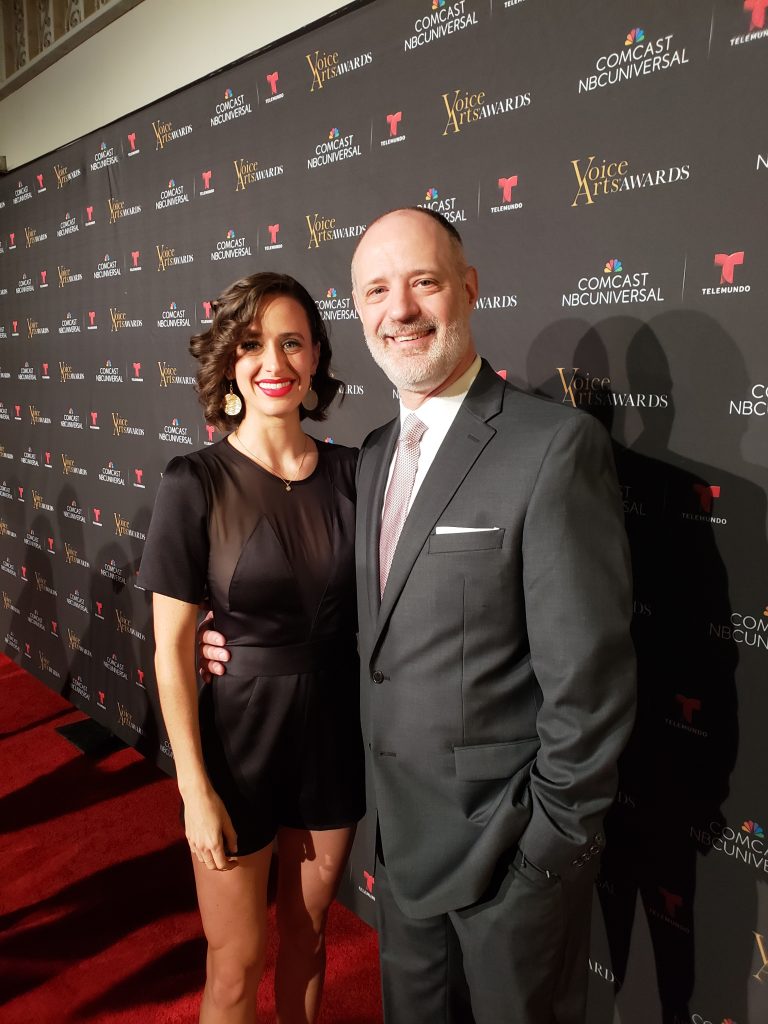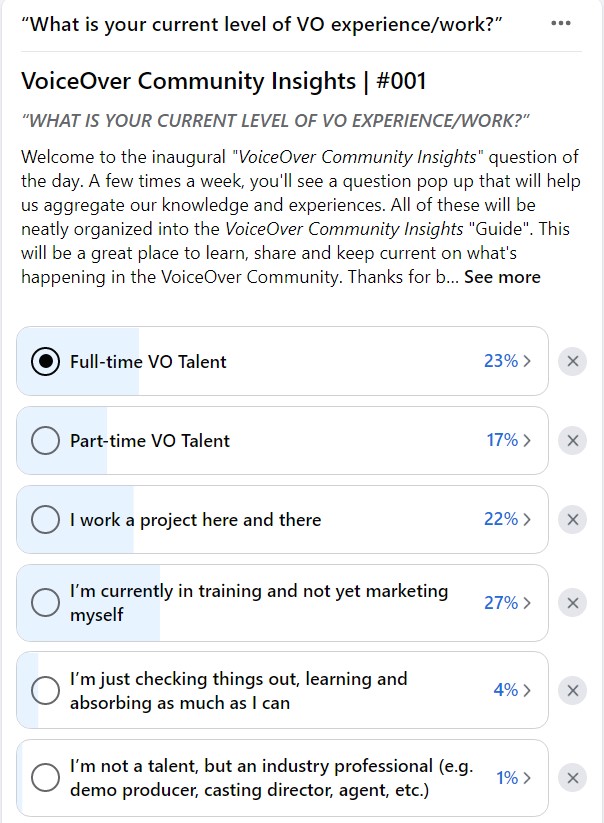 Marc Preston continues to create ongoing features to add additional value for the members of his group.  One of the recent features is called VoiceOver Community Insights.  This feature is meant to provide valuable insight into what other members are doing to find success in their careers.  So far, Marc has covered topics such as performance and development, studio gear and workflow.  The composition of the group itself has also been covered.  Not only is this information valuable to the group members, but it should provide the insights you need to better understand the unique opportunity The VoiceOver Community provides. 
Marc prides himself in the diversity and mix of members in the VoiceOver Community.  It features a large number of full-time talent.  These established voiceover professionals are active consumers of gear and services, and regularly look to the group for recommendations.  
The group also features a nearly equal number of newer talent that are currently in training.  In fact, 84% of the members reported that they have paid for training.  The fact that these members are paying for training is proof that they are actively investing in their careers. 
Most talent don't make their primary gear purchases until they complete their initial training, or are close to completion.  Accordingly, in the near term, this portion of the group's membership will be making investments in gear and services.
This illustrates some unique opportunities for sponsors.  It places them in front of active and soon to be active consumers who will continually invest in their careers.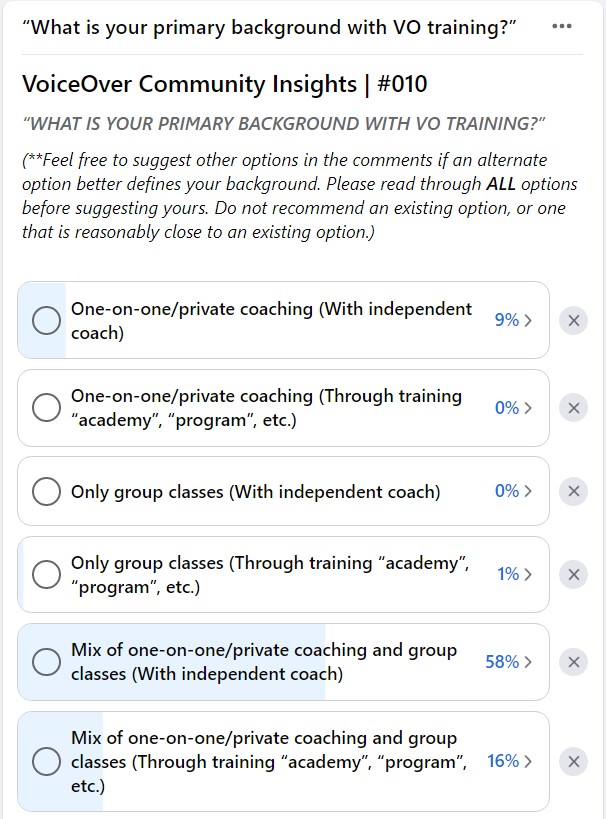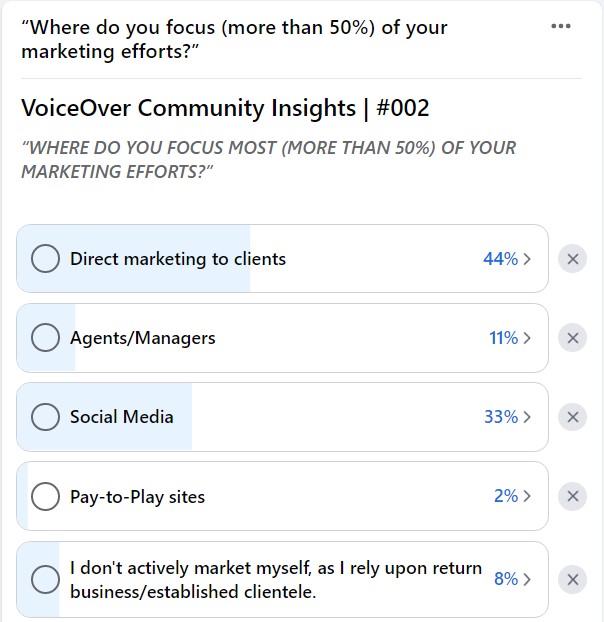 Voiceover & The Impact of Social Media
Members of the VoiceOver Community rely on social media as part of their daily marketing routine. 
This is the #2 daily activity that these talent rely upon for the success of their business.  Naturally, this means that they are active daily viewers and contributors to the VoiceOver Community. 
Most members check in a number of times throughout the day.  In addition to active contributions and posts, there are also thousands of weekly interactions (likes, reactions and comments).  This demonstrates the vibrance and activity level of the membership.
On average, The VoiceOver Community grows by about 1,000 new members each month.  This continually ensures that the members enjoy the largest, as well as one of the most active and respected social media channels in the world for VoiceOver professionals.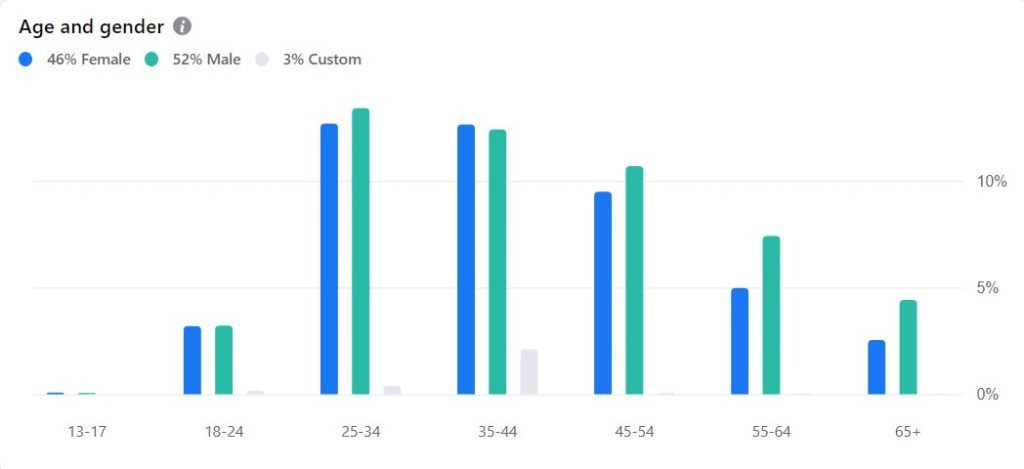 The VoiceOver Community provides a great mix, as well as even distribution of age and gender across the most active consumer demographics.
Sponsorship Opportunities
Each sponsorship avail has unique and consistent value, as it's not going to be placed in a sea of other sponsorship ads.  Currently, there are only seven post spots available for sponsor content each week (one per day).  All sponsorship posts show up in the group feed, as well as the "Featured Posts" at the top of the group newsfeed.  Additionally, a "Guide" exists for sponsors.  That way, members just need to click on the guide to see all exclusive sponsors in one place.  This puts sponsors front and center with an active membership that trusts and relies upon The VoiceOver Community. The members have come to rely upon Marc Preston to ensure professional standards, as well as provide a valuable, informative and fun daily experience.
Contact us today to collaborate with
The Voiceover Community