Audient iD44 MKii USB Audio Interface
$699.00
Audient brings over two decades of design expertise to bear in their iD44. Featuring four of Audient's acclaimed console mic preamps, class-leading conversion, ADAT expandability, and more; iD44 puts the performance of an Audient console on your desktop. The iD44's preamps feature the same discrete circuit design found in the company's renowned ASP8024-HE console and throughout their product lineup. Delivering ultra-low noise and distortion, the Audient mic pre provides accurate reproduction, along with a hint of analog warmth for added character. And with 60dB of gain on tap, you can use your favorite low-output ribbon mic on subdued sources. The unit's two DI inputs provide harmonic enhancement modeled after the input stage of a classic tube amplifier. With its high-performance conversion, low-latency DSP mixer, and generous connectivity, the Audient iD44 is an ideal audio interface for any session.
High-performance conversion
The iD44's high-performance AD/DA converter technology is designed to deliver optimized dynamic range for faithful and natural rendering of your recordings. The converters' remarkable clarity lets you hear subtle nuance and make better mix decisions — and better-sounding recordings. Also onboard the iD44 are two harmonically enhanced JFET DI inputs designed to re-create the input stage of a classic tube amplifier. Simply plug in your bass guitar, or synthesizer; press Record, and hear the magic.
Connectivity a go-go
Equipped with two Optical input and output connectors, Audient's iD44 provides bounteous expansion options. Supporting both ADAT and S/PDIF, the iD44 lets you add up to 16 channels of mic pres to your rig — ideal for larger sessions or tracking a band. Two fully balanced insert points make it easy to integrate your outboard gear before conversion, letting you quickly insert your favorite vintage mic pres, compressors, or EQs. The insert returns also provide direct access to the A/D converters for the cleanest possible signal path — perfect for print-backs or integrating outboard line-level analog sources. Whether you're processing stems or building a vocal chain, iD44 supplies the flexibility you need.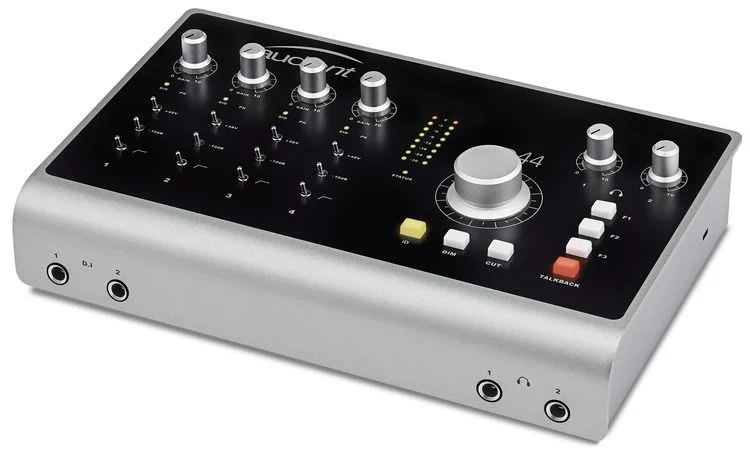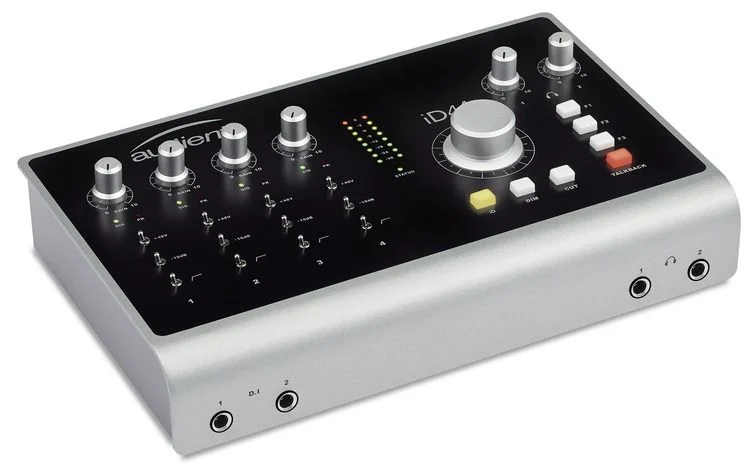 Console-style monitor control
Taking inspiration from Audient's extensive analog console design heritage, iD44 features extremely flexible monitor control functionality that includes dedicated talkback, cut, and dim buttons along with polarity, mono, speaker selection, and cue mix monitoring. You can assign all monitoring functions to three programmable function buttons — without menu diving for inscrutable software controlled features! Simply assign the monitoring functions you require and take control of your session. Engineers at Sweetwater love Audient's console-style approach to hardware control — and so will you.
Up to four stereo artist cue mixes
iD44's mix-focused iD Mixer software lets you create up to four stereo artist cue mixes, in addition to naming and customizing channels, saving layout presets, assigning hardware function buttons, quickly setting up advanced routing, using presets in standalone mode, and much more. The iD Mixer software is tightly and elegantly integrated with the iD44 hardware, streamlining the recording process by giving you complete control.
Powerful "center-section" functionality
A console's center section is its nerve center for communications and monitoring control, and the iD44 is intelligently designed to replicate this powerful functionality. The iD44's dedicated talkback technology lets you use any audio source connected to your computer as your talkback mic, freeing up valuable mic pres while offering an effective talkback solution no matter where you are. Press a button, and the iD44's volume encoder becomes a virtual scroll wheel, letting take control of your DAW, plug-ins, and more — as if you were adjusting a piece of hardware. Quickly dial in settings, tweak faders, or even write in automation without spending time staring at a screen.
Road-proof all-metal chassis
From its high-grade components to its all-metal construction and hand-finished aluminium knobs, the Audient iD44 is precision engineered to give you years of reliable performance in the studio and on the road. The iD44 ships with both a standard USB cable and a USB Type-C cable, so you can connect it to any USB-compatible Mac or PC that supports USB 2.0 and above.

Audient iD44 20 x 24 Audio Interface Features:
20-in, 24-out desktop interface
4 Class A Audient console mic preamps with 60dB of gain
Class-leading 24-bit/96kHz AD/DA converters
2 ADAT inputs and outputs for digital expansion
2 discrete JFET instrument inputs
2 fully balanced inserts
2 independent stereo headphone outputs
Main and Alt speaker outputs
ScrollControl
3 user-defined function keys
Dedicated Talkback, Dim, and Cut Controls
Low-latency DSP mixer
Word clock output
USB 2.0 compliant
Rugged, all-metal chassis
Product Category
Interfaces