Apogee BOOM 2x2 USB-C Audio Interface
$299.00
Apogee has set the world standard for conversion quality since hitting the market in 1985. Now, with the introduction of the BOOM USB-C Audio Interface, Apogee offers otherworldly conversion quality at a lower price than ever before. This 2-in/2-out interface lets you connect a mic, instrument, or stereo source before using the hardware DSP-powered Symphony ECS Channel Strip to enhance your signal with EQ, compression, and drive. And BOOM does all of that at the input stage with zero latency — a major plus for everyone. Under the hood, BOOM also has a loopback feature for livestreamers. The interface is highly compact and has a steel chassis to handle a life of mobile recording. If you want to capture your audio with pristine clarity, you owe it to yourself to use the remarkable Apogee BOOM.

Note: Connecting BOOM to iOS devices with lightning connectors requires an Apple Camera Connection kit and a powered external USB Hub. Contact your Sweetwater Sales Engineer for more information.
Built for creators
Whether you're a musician, a podcaster, a streamer, or a content creator, BOOM has what you need to execute inspiring projects. Musicians will love shaping their sound with the built-in, zero-latency hardware DSP. Are you using a dynamic broadcast mic like your favorite podcaster? BOOM's mic pre has 62dB of gain on tap to easily capture those mics. Livestreamers will appreciate the built-in loopback functionality for mixing your voice with other audio sources before they hit your stream. And if hearing everything is crucial, you'll be glad to know that BOOM has a zero-ohm 1/4-inch headphone output that can drive any pair of headphones — including high-impedance gaming and hi-fi models.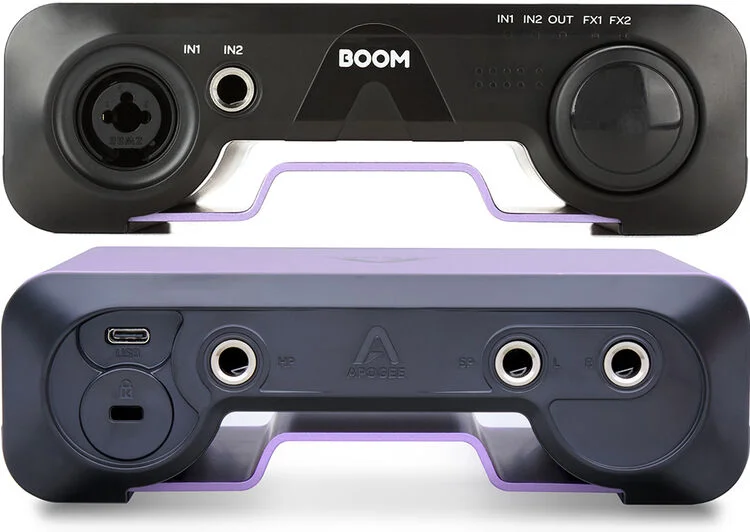 Zero-latency Hardware DSP sweetens your sound at the source
Apogee tells Sweetwater that their BOOM interface is the first audio interface in its class to offer onboard hardware DSP, courtesy of the Symphony ECS Channel Strip. Tuned by fabled mixer Bob Clearmountain, the Symphony ECS Channel Strip lets you sweeten and sculpt your sound at the input with zero latency. With the hardware DSP, you can tweak the 3-band EQ, subtly squeeze your source with compression, and drive it to perfection — all with zero latency.
Control everything with your iPad or computer
Apogee really considered content creators' needs when they designed the BOOM interface. Once the interface is set up, just install the Apogee Control 2 software for macOS and Windows or download the free Apogee Control 2 app from the AppStore. With this app, you get granular control over BOOM's every feature. iPad users gain touch control over the ECS Channel Strip and can easily dial in inspiring sounds.
Great for on-location audio
BOOM isn't just a great space-saving interface for content creation rigs at home. It's absolutely dynamite for mobile recording applications that demand the best sound. First and foremost, BOOM comes housed in a steel chassis with rubber feet to keep it stable on any surface. Despite its rugged construction, the interface weighs just two pounds with a footprint akin to a hardback novel — just throw it into your bag and get going! Better still, it's powered via USB, so you don't need to worry about finding an outlet to record. Just plug into your computer, and you're ready to capture any source in any location.
Apogee BOOM USB Audio Interface Features:
Legendary Apogee sound is more affordable than ever before
PureDIGITAL AD/DA conversion perfectly preserves your signal
Combination XLR/TRS input and standard 1/4-inch input jack let you record through any combination of gear simultaneously
Built-in hardware DSP effects and Symphony ECS Channel Strip sweeten your inputs with EQ, compression, and drive with zero latency
Loopback functionality makes it easy to livestream with multiple audio sources
Compact chassis and lightweight design are ideal for mobile recording
Free Apogee Control 2 software allows you to control every function on the interface from your Mac, PC, or iOS device
Zero-ohm headphone output drives any pair of headphones with absolute ease
Product Category
Interfaces