Based on a legendary tube microphone with an iconic design, the Warm Audio WA-8000 large-diaphragm condenser delivers a wide-open, up-front tone that imbues vocals with a radio-ready sheen. To emulate the spirit of the WA-8000's inspiration, Warm Audio's design team developed a bespoke K67-style capsule and turned to new-old stock 6AU6 tubes and custom Lundahl transformers. Like the original, the WA-8000 sits in a custom-designed external heat sink assembly that draws heat away from the microphone's tube and electronics to optimize performance. Warm Audio has stunned engineers at Sweetwater with their incredible attention to detail, which includes outfitting the WA-8000 with a premium GAC-7 cable from industry-leading cable manufacturers Gotham Audio in Switzerland. For pop, hip-hop, R&B, and other genres where vocals take center stage, the WA-8000 large-diaphragm condenser microphone from Warm Audio is a knockout choice!
Precision-made K67-style capsule accurately captures any source
The inspiration behind the WA-8000 used a K67-style capsule, a multipattern-capable microphone capsule found in several of the world's most renowned tube microphones. Warm Audio meticulously reverse engineered the original design, fine-tuning the frequency response and machining the capsule out of solid brass. The result is a responsive, highly detailed microphone that accurately captures the nuances of any source. While the WA-8000 is destined to become your go-to vocal mic, it also excels on acoustic guitars, pianos, and other full-spectrum instruments.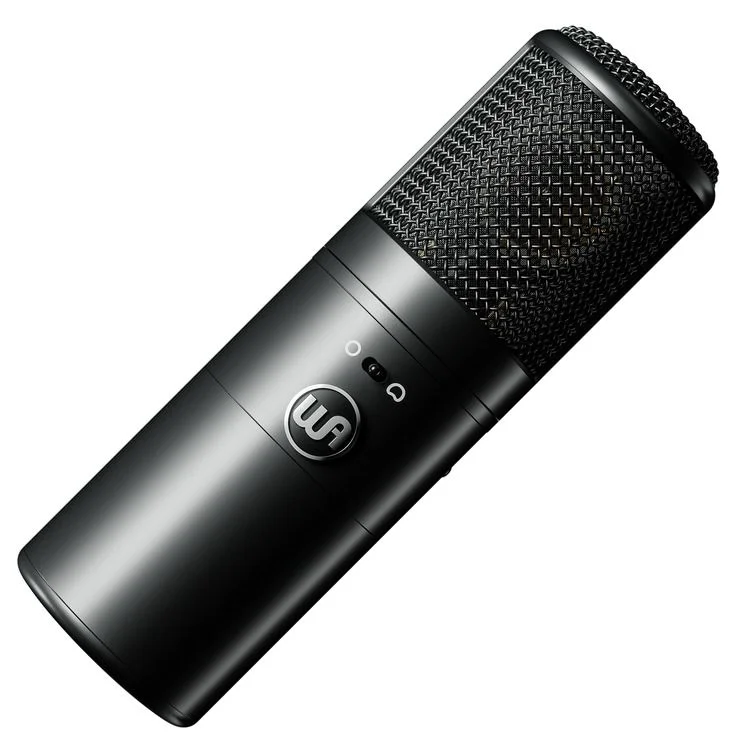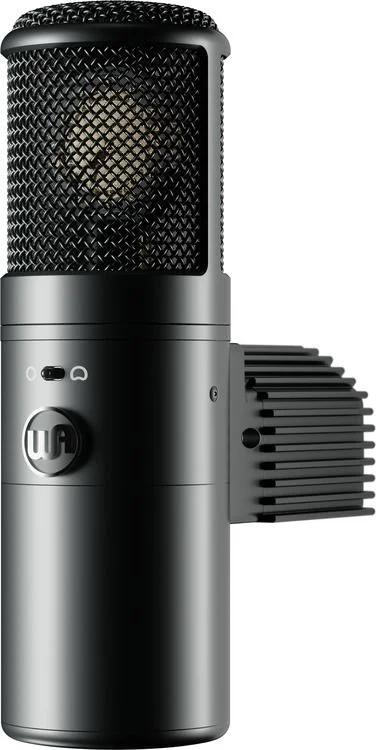 Custom-designed heat sink optimizes performance
Sure, it looks awesome, but the custom-designed external heat sink assembly on the WA-8000 does a lot more than just up your vocal booth's prestige level. Engineered to draw heat away from the tube and microphone's electronics, the heat sink helps maintain an ideal operating temperature, which lowers the noise floor for the cleanest possible recordings. Not only that, but it also makes tube swaps a snap, so your sessions won't grind to a halt if a tube goes down.
Carefully selected new-old stock tubes and Lundahl transformers
Once again striving for authenticity, Warm Audio went back to the source in selecting the tube for the WA-8000. After testing numerous 6AU6 tubes from a variety of manufacturers, they settled on new-old stock tubes to give the WA-8000 its open tone and distinctive midrange. A custom-designed Lundahl transformer marries the tube to the capsule in a tried-and-true circuit design that has graced countless hit records.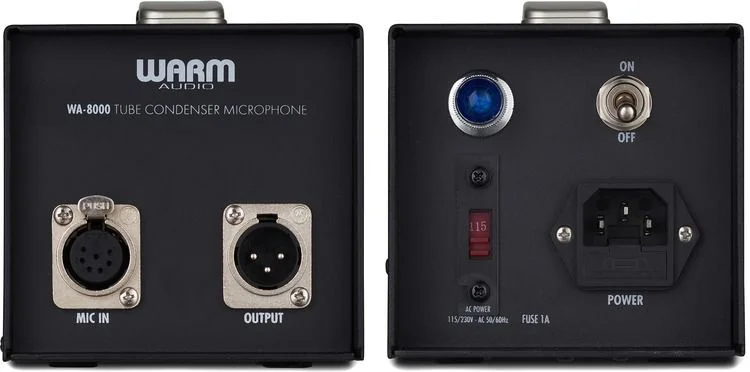 Warm Audio WA-8000 Large-diaphragm Condenser Microphone Features:
Based on a legendary large-diaphragm condenser mic featured on countless hit records
Custom all-brass K67-style capsule
Custom Lundahl transformer
NOS 6AU6 tube
Gotham Audio 5-meter GAC-7 7-pin tube microphone cable
2 polar patterns: cardioid and omnidirectional
Maximum SPL: 131dB (cardioid); 134dB (omni)
Sensitivity: -34dB (cardioid); -37dB (omni)
Frequency range: 20Hz–20kHz
Output impedance: 100 ohms
S/N ratio: 76dB (cardioid); 73dB (omni)
External IEC grounded PSU