Perfect for solo recording artists, Focusrite's Clarett+ 2Pre USB interface gives you two pristine mic/instrument/line preamps, upgraded 192kHz/24-bit digital conversion, and ultra-low round-trip latency, so you can use your DAW plug-ins for monitoring. Focusrite engineered the 10-in, 4-out Clarett+ 2Pre to deliver vanishingly low noise and distortion, and they included their Air effect, which models the sound of the company's acclaimed ISA transformer-based preamps. Make no mistake: the Focusrite Clarett+ 2Pre USB is the easiest way to get great-sounding recordings.
Engineered for flexibility
Boasting 10 inputs and four outputs, Focusrite's Clarett+ 2Pre USB gives you access to a pair of great-sounding mic preamps right on the front panel, along with a high-power headphone output with level control. The XLR combo connectors also handle hot instrument and line inputs, so you can plug in your active bass or guitar, keyboard workstation, or anything else you want to record into your DAW. Go ahead and add reverb to that vocal as you're rehearsing and recording — this USB interface sports impressive round-trip latency that's so low, you could use your DAW plug-ins while monitoring.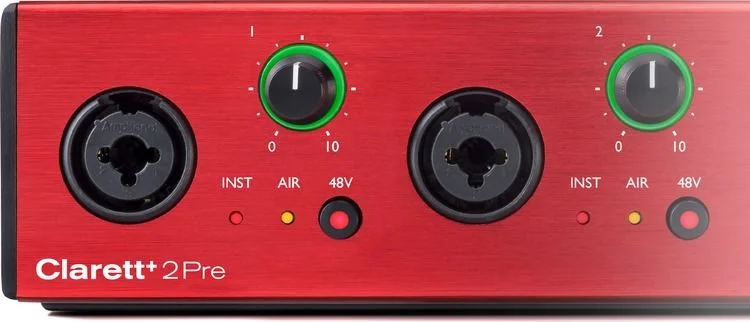 Pristine mic pres with extra Air
Designed specifically for the Clarett+ range, the mic preamps in the Focusrite Clarett+ 2Pre deliver gobs of gain yet extremely low noise and distortion. They also include Focusrite's Air circuit that engages an analog model of the company's classic transformer-based ISA mic pre. You'll love the sound of these preamps: sweet, open, and very clean.
Accurate digital conversion
Sweetwater engineers know that conversion is key to superior digital audio, and every Clarett+ features the latest in Focusrite's class-leading 24-bit/192kHz conversion. Offering an expanded dynamic range and higher signal-to-noise ratio than previous models, the Clarett+ is the cleanest way to get sound in and out of your DAW.
Focusrite Control software
Your Focusrite Clarett+ 2Pre USB comes with Focusrite Control, a software mixer that makes short work out of configuring your monitoring and routing setups from Mac, PC, iPad, or iPhone. Simple and intuitive to use, Focusrite Control offers an easy-to-grasp traditional mixer workflow and gives you immediate access to internal hardware functions.


Expand whenever you need to
For maximum flexibility, Focusrite equipped every Clarett+ interface with an ADAT input you can use to bring in eight additional digital mic preamp channels. This is a perfect way to expand your channel count: for instance, recording drums via a digital 8-channel mic pre such as the Focusrite OctoPre MkII.
Plugged in and ready to rock
Each channel of this Clarett+ interface is equipped with a dedicated insert that lets you keep your favorite rack equipment plugged in and ready to track through. This flexible insert setup lets you add analog gear to your signal chains as needed, but all Clarett+ interfaces also include the Hitmaker Expansion, a studio-grade software bundle that includes powerful mixing plug-ins and virtual instruments. Plus, you get a 3-month subscription to Avid Pro Tools Artist and access to Abelton Live Lite.
Included Hitmaker Expansion Pack software bundle:
Antares Auto-Tune Access
Relab LX480 Essentials
Softube Marshall Silver Jubilee 2555
XLN Audio Addictive Keys
XLN Audio Addictive Drums 2
Brainworx bx_console Focusrite SC
Focusrite Red Plug-in Suite
Landr Studio (plus five free masters)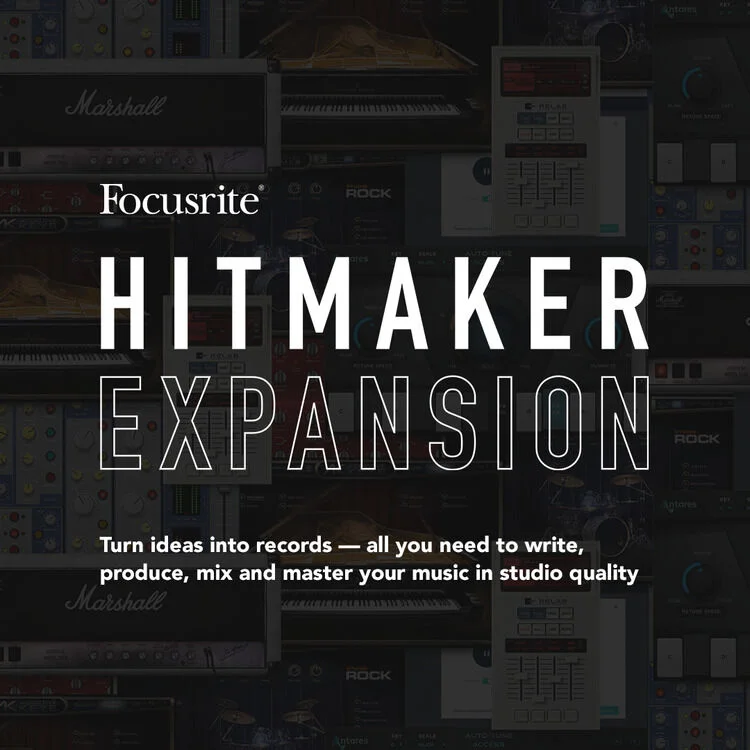 Focusrite Clarett+ 2Pre USB Audio Interface Features:
2 ultra-low noise Clarett+ mic preamps
Air circuit engages an analog model of classic transformer-based ISA mic pre
Super-low-latency recording with amp simulators and effects plug-ins
Ultra-low distortion; Mac/PC-compatible, USB 2.0 and above
Connects to Mac or PC using included standard USB and USB Type-C cables
Upgraded 24-bit/192kHz AD/DA conversion
ADAT optical, for expansion of up to 8 additional input channels
Gain Halo meters make for easy input level settings
2 monitor outputs with anti-thump technology
High-power headphone output with level control
2 additional line outputs
MIDI I/O
Included software from Focusrite and Brainworx
User-friendly Focusrite Control software lets you configure routing and monitor mixes from Mac, PC, iPad, iPhone, and iPod touch
Optional bus-powered operation; 15W USB-C capabilities required
3-year warranty