Product Category
Interfaces
Manufacturer
Universal Audio
If you're a Windows user, Universal Audio has an Apollo Twin just for you. The Apollo Twin USB is a 10 x 6 USB 3 audio interface for Windows that delivers impeccable 24/192kHz Apollo conversion, juiced by real-time UAD processing and Unison mic preamp emulation. Onboard UAD-2 DUO Core processing lets you record your music in real time, with near-zero latency, through UAD plug-ins from Neve, Studer, Manley, Marshall, Lexicon, API, and more. Think about the classic analog sound you can achieve with racks of vintage mic pres, equalizers, dynamics, reverbs, and even tape machines and guitar amps! The Apollo Twin USB DUO Heritage Edition comes with a premium suite of five award-winning plug-in titles, along with the Realtime Analog Classics bundle, arming you with accurate emulations of vintage analog hardware.
The sound of the world's most coveted preamps
The Apollo Twin USB features Universal Audio's breakthrough Unison technology, which delivers the sound of the world's most coveted mic preamps complete with impedance, gain-staging characteristics, and component-level circuit behaviors. Based on extraordinary hardware-software integration between Apollo's mic preamps and its onboard UAD plug-in processing, Unison lets you record through brilliant analog emulations — which are essential solutions for many Sweetwater engineers. When you buy the Apollo Twin DUO Heritage Edition, you'll receive a premium suite of five award-winning plug-in titles:
UA 1176 Collection with three unique versions: Rev A, Rev E, and AE
Teletronix LA‑2A Classic Leveler Collection of three historic versions of the revered electro-optical tube processor
Pultec Passive EQ Collection provides access to three historical and highly coveted Pultecs
UA 610 Tube Preamp & EQ Collection including the storied Wally Heider "Green Board," used to record Neil Young, Ray Charles, Elvis Presley and Jimi Hendrix
UA Pure Plate Reverb that delivers a shimmering, authentic plate reverb sound with a minimum of fuss
You'll also receive the Realtime Analog Classics bundle:
UA 610‐B
Marshall Plexi Classic Amplifier
Teletronix LA‐2A Legacy
UA 1176LN Legacy
UA 1176SE Legacy
Pultec EQP‐1A Legacy
Pultec Pro Legacy
Precision Channel Strip
Precision Reflection Engine
Precision Delay Modulation
Precision Delay Modulation L
Raw Distortion
Ampeg SVT-VR
RealVerb‐Pro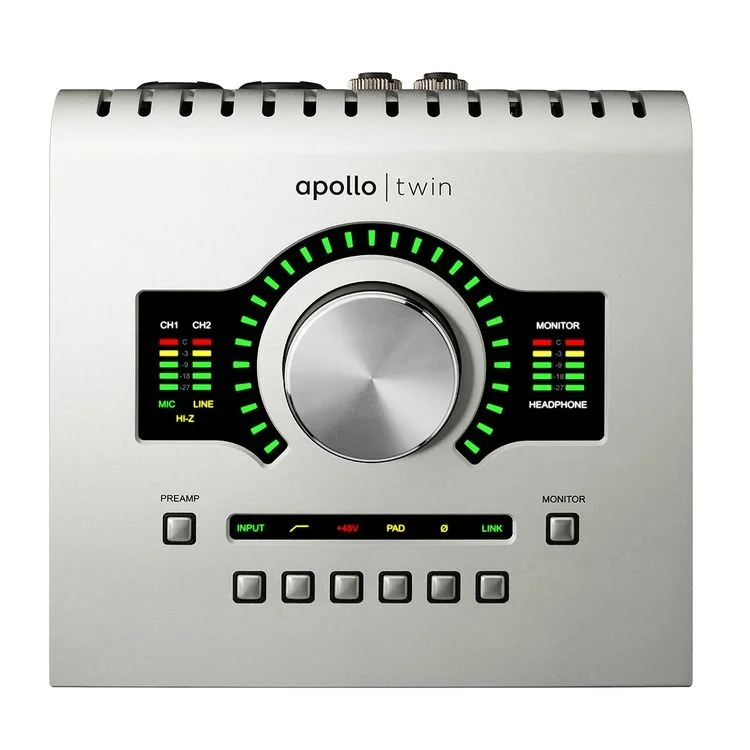 Smart feature set speeds your creative process
Apollo Twin USB's feature set gives you two pristine mic/line preamps, two analog line outs, two digitally-controlled analog monitor outputs for full resolution at all listening levels, and up to eight additional channels of digital input via its onboard optical connection. UAD-2 DUO Core processing lets you use your UAD plug-ins for both real-time tracking and for mixing in Pro Tools, Cubase, Ableton Live, and other popular DAWs.
Universal Audio Apollo Twin USB DUO Heritage Edition Features:
Desktop 10 x 6 USB 3 audio interface for Windows
World-class 24-bit/192kHz audio conversion
Realtime UAD Processing for tracking through vintage processing plug-ins
Near-zero (sub-2ms) latency
USB 3 connection to modern Windows systems
Unison technology provides stunning models of classic mic preamps
2 premium mic/line preamps; 2 line outputs
Front-panel hi-Z instrument input and headphone output
2 digitally controlled analog monitor outputs for full resolution at all listening levels
Up to 8 channels of additional digital input via optical connection
Uncompromising analog design, superior components, and premium build quality
Includes a premium plug-in suite of 5 award-winning UAD plug-ins, along with the Realtime Analog Classics plug-in bundle with accurate emulations of vintage analog hardware
Console 2.0 software includes Channel Strip presets, drag and drop functionality, dynamically resizable windows, and more
Runs UAD Powered plug-ins via VST, RTAS, and AAX 64 in all major DAWs
Windows only