Product Category
Interfaces
Manufacturer
Universal Audio
Features
Connection | Thunderbolt
Loaded with UA's next-generation AD/DA converters and two Unison mic preamps, the Apollo Solo Heritage Edition delivers top-shelf sound quality. What's more, you get a premium suite of five award-winning plug-in titles, along with the Realtime Analog Classics bundle to lend an album-quality sheen to your projects. Whether you use them in real time during tracking or later while you're mixing, these powerful plug-ins supply you with access to an array of classic mic preamps, compressors, EQs, reverbs, and more. You can capture everything with near-zero latency, thanks to Thunderbolt 3 connectivity. And you get compatibility with UA's LUNA software, giving you a tightly integrated recording, editing, and mixing environment, with full software-based control over your interface's parameters, global console and tape emulations, and advanced real-time tracking. The Universal Audio Apollo Solo is a cost-effective way to enter into the world of UAD Powered Plug-ins and is a great way for UAD-equipped studios to take their projects mobile.
Note: the Universal Audio Apollo Solo requires Thunderbolt 3 and is not backward compatible with earlier versions of Thunderbolt. Call your Sales Engineer for more details.
Capture the sound of legendary preamps with Unison technology
The Apollo Solo's Unison preamp technology goes so far beyond traditional software modeling and emulations that it's really in a category all its own. In essence, Unison is a bidirectional communication between the Apollo Solo's mic preamp and a Unison-capable plug-in, such as the included 610-B plug-in that re-creates the sound of UA's classic LA-610 preamp.
The plug-in actually adjusts the preamp circuit itself, including parameters such as impedance, analog gain structure, and much more. When you adjust the Apollo Solo's preamp gain knob and physical controls, the plug-in adjusts the preamp's behavior to match the target preamp. So you're not simply filtering your audio to approximate the character of a famous preamp — your microphone is now interacting with the Apollo Solo's input the same way it would behave with the "modeled" preamplifier.
UAD plug-ins astounded the recording world with their incredible ability to sound like analog processors, eliminating the need for large racks of gear in the studio. Unison preamp technology will do the same thing for your mic inputs, eliminating the need to collect and maintain expensive hardware preamps just for sonic variety.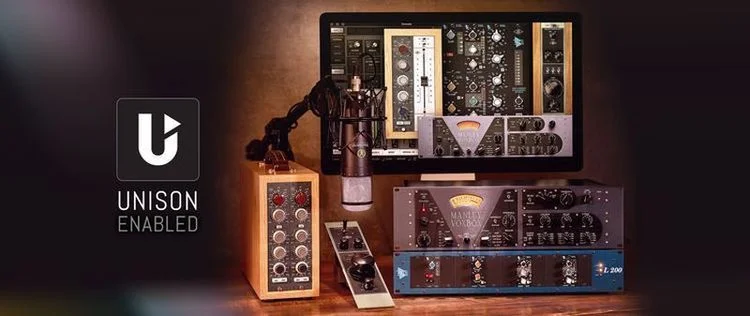 Sensational plug-in bundle included!
UAD Powered Plug-ins have earned their reputation for being some of the most accurate emulations of analog audio equipment ever created. The astonishing processing power of the UAD platform is what makes these plug-ins sound so great. You simply can't get the depth, color, and character these plug-ins have without devoting huge CPU resources to them. Best of all, Apollo Solo lets you record your audio through UAD plug-ins in real time with sub-2ms latency. When you buy the Apollo Solo Heritage Edition, you'll receive a premium suite of five award-winning plug-in titles:
UA 1176 Collection with three unique versions: Rev A, Rev E, and AE
Teletronix LA‑2A Classic Leveler Collection of three historic versions of the revered electro-optical tube processor
Pultec Passive EQ Collection provides access to three historical and highly coveted Pultecs
UA 610 Tube Preamp & EQ Collection including the storied Wally Heider "Green Board," used to record Neil Young, Ray Charles, Elvis Presley and Jimi Hendrix
UA Pure Plate Reverb that delivers a shimmering, authentic plate reverb sound with a minimum of fuss
You'll also receive the Realtime Analog Classics bundle:
UA 610‐B
Marshall Plexi Classic Amplifier
Teletronix LA‐2A Legacy
UA 1176LN Legacy
UA 1176SE Legacy
Pultec EQP‐1A Legacy
Pultec Pro Legacy
Precision Channel Strip
Precision Reflection Engine
Precision Delay Modulation
Precision Delay Modulation L
Raw Distortion
Ampeg SVT-VR
RealVerb‐Pro
Thunderbolt: Ultra-low latency and unrivaled bandwidth
Thunderbolt is one of the most important technologies to impact audio production in years, and UA was one of the first to adopt it. Thanks to its blazing-fast connectivity, Thunderbolt offers lower latency and greater stability than USB or FireWire, clocking in with the speed and ultra-fast performance of a PCI Express system — but with the convenience of a single cable. Apollo Solo's Thunderbolt 3 connection lets you run projects with high track counts at incredibly low latency. In fact, you can even record through UAD plug-ins in real time with less than 2ms latency!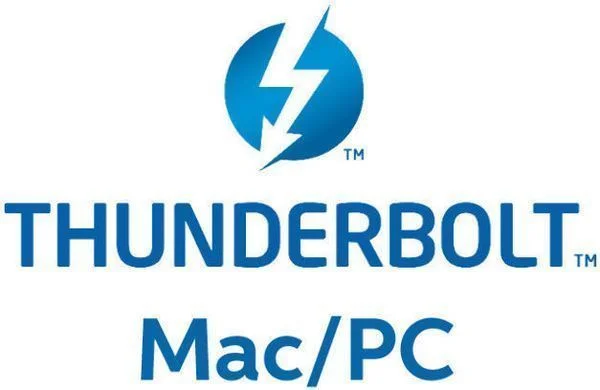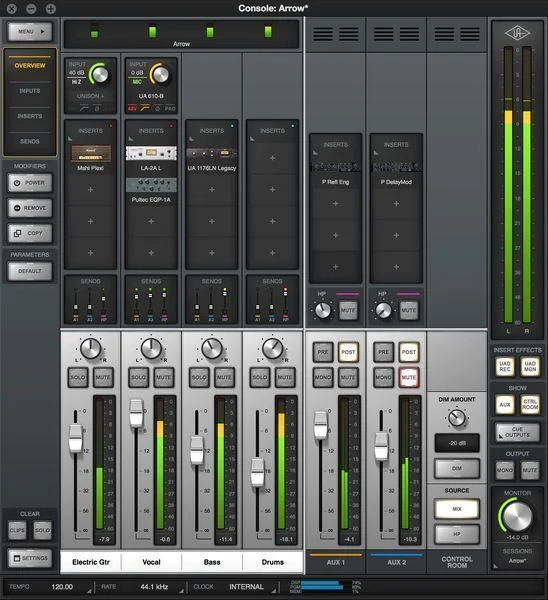 UAD-2 processing power built in!
There are times when your computer just doesn't have the power and speed to run all the plug-ins your recording session needs. With UAD Powered Plug-ins, the processing load is taken off your computer and borne by UAD's super-powerful Analog Devices SHARC processors. Universal Audio's Apollo Solo interface has one of these SHARC processors built in, which gives you enough power to track small sessions and start building your mix.
Smart I/O selection for a desktop interface
For smaller studios and mobile producers, the Apollo Solo zeros in on what you need for productive sessions. You've got a pair of Unison mic/line inputs, which sound detailed and transparent. Beyond that, an instrument input, two analog outputs, and a high-quality headphone output give you enough I/O for most small tracking sessions.
It's just the right setup for producers on the go, for engineers who need to mix with powerful UAD plug-ins outside of their studio, and even for DJs who want the best possible live sound they can get. If you're not sure how you would integrate the Apollo Solo into your existing setup, just give your Sweetwater Sales Engineer a call!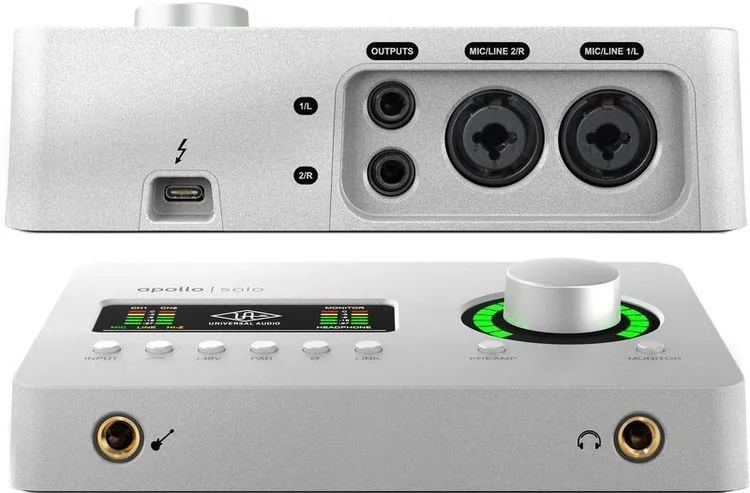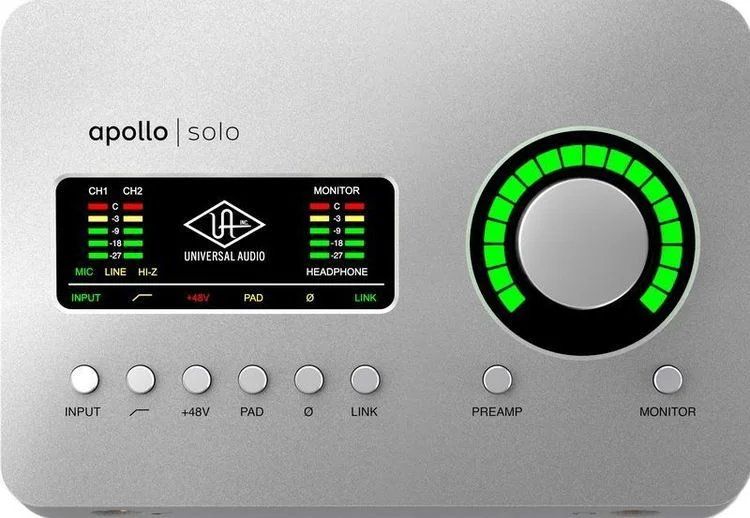 Bridging the gap between your UAD-equipped studio and everywhere else
If you mix with UAD plug-ins in your studio but also like to record and mix outside your studio, the Apollo Solo is the missing link you've been waiting for. With just your laptop and the Apollo Solo, you can easily take powerful UAD processing anywhere you go.
And the live sound possibilities are awesome: use the Apollo Solo as a real-time processor for your bass or guitar and take your studio sound onstage. If you're an electronic music producer who also DJs, using the Apollo Solo as your live performance interface will give you huge, detailed sound that will make other DJs jealous.
So, while the Apollo Solo is a great entry point for new UAD users, it's also the perfect way to take your existing UAD-powered projects on the road.
Compatible with LUNA — UA's complete music production environment with ultra-tight hardware/software integration
This Universal Audio Thunderbolt-equipped audio interface is compatible with UA's free LUNA software. LUNA is a complete music production environment for tracking, editing, and mixing. And thanks to its ultra-tight hardware/software integration, you can take control of your interface's monitoring, talkback, and headphone systems, track and overdub with UAD DSP-accelerated plug-ins in real time, and benefit from full software-based control over Apollo's Unison mic preamps, all without leaving your production software. LUNA is the closest you'll come to an analog workflow in the software realm. It delivers spot-on analog sound, along with the creative immediacy of real-time processing.
LUNA also includes Accelerated Realtime Monitoring, which supplies fast analog-style tracking and overdubbing using Apollo's onboard DSP acceleration. Anyone who's used a high-end DSP-assisted hardware/DAW recording system will appreciate the super-tight integration between LUNA and Universal Audio interfaces. LUNA also supplies you with unlimited track counts, contextual editing and browsing, UAD and AU plug-in compatibility, a session auto-save function, and AAF importing.
LUNA software comes with the Shape Creative Toolkit, a superb virtual instrument with modern and vintage keys, drums/percussion, guitar/bass, orchestral content, and real-time synthesis, plus the Oxide Tape Extension, a killer saturation effect, right out of the box. But to get the most out of this system, you'll want UA's LUNA Creator Bundle (sold separately). This bundle includes ultra-realistic Neve 80 Series console and Studer A800 multitrack tape extensions, plus two software instruments. The best part about LUNA extensions is that once you install them, their sound is baked right into LUNA's mixer — no need to instantiate a bunch of plug-ins.
Note: Universal Audio's LUNA requires a Thunderbolt-equipped Apollo interface. It's also Mac only — Windows is not supported at the present time. Call your Sweetwater Sales Engineer for more details.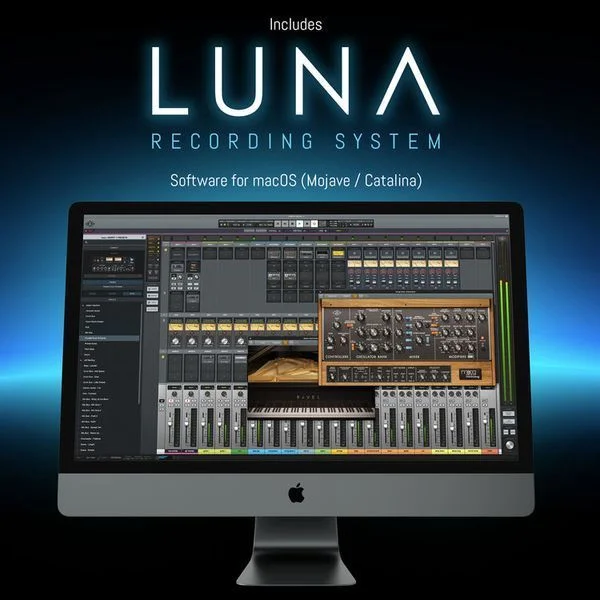 Universal Audio Apollo Solo Heritage Edition Features:
Thunderbolt 3 audio interface with 2 analog inputs and 2 analog outputs, plus 1 instrument input and a stereo headphone output
Sounds amazing, with next-generation AD/DA for maximum fidelity
Use outstanding UAD Powered Plug-ins for tracking and mixdown
Preamps sound pristine, and Unison technology gives you spot-on emulations of classic preamps
Includes a premium plug-in suite of 5 award-winning UAD plug-ins, along with the Realtime Analog Classics plug-in bundle with accurate emulations of vintage analog hardware
Thunderbolt gives you ultra-low latency and huge bandwidth for higher sample rates and track counts
Compact, bus-powered design makes it perfect for mobile recording, mixing outside of your studio, and even performing live
Compatible with UA's LUNA software for ultra-tight hardware/software integration
Note: A Thunderbolt 3 cable will be provided for free.