Product Category
Interfaces
Whether you're tracking away from home or cutting demos on the road, the TASCAM US-1x2HR USB-C audio interface (PC/Mac/iOS) puts rich 192kHz audio and super-low-latency at your fingertips. The TASCAM US-1x2HR's onboard Ultra-HDDA mic preamp gives you 57dB of clean gain to capably drive most dynamic mics and onboard +48V phantom power to support your studio condensers. You also get a TRS/TS 1/4-inch input with Line/Inst selector to simultaneously capture a rhythm guitar, bass, or keyboard as you track vocals. Best of all, the TASCAM US-1x2HR delivers all of these features over USB bus power — just a single USB-C cable (included) from your laptop to your interface is all you need for power and connectivity. As for monitoring, the TASCAM US-1x2HR gives a 1/4-inch headphone out and stereo RCA line outs, each with independent level controls so you can mix projects on loudspeakers or your favorite studio cans. There's even an RCA input around back for interfacing with DJ gear and vintage/prosumer electronics. Making music on the move? For quality and usability, Sweetwater stands behind the TASCAM US-1x2HR USB-C audio interface.
1 x Ultra-HDDA mic preamp
The TASCAM US-1x2HR employs an Ultra-High Definition Discrete Architecture (Ultra-HDDA) mic preamp design that delivers audio with extremely low self-noise to capture every detail of your musical performances. With one preamp, the US-1x2HR is ideal for solo singer/songwriters. You also get a TRS/TS 1/4-inch jack, so you can easily track instruments. There's even an unbalanced RCA stereo input around back for your consumer electronics.
Supports sample rates up to 192kHz
Capturing audio in future-resistant 24-bit/192kHz quality is no problem when you've got the TASCAM US-1x2HR in tow. Higher sample rates means potentially greater top-end detail on vocals, acoustic guitars, and more.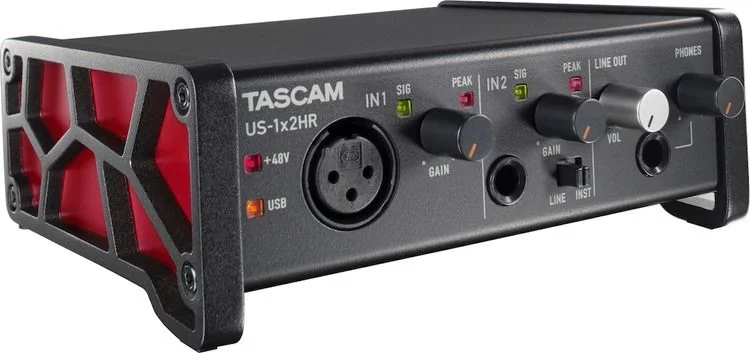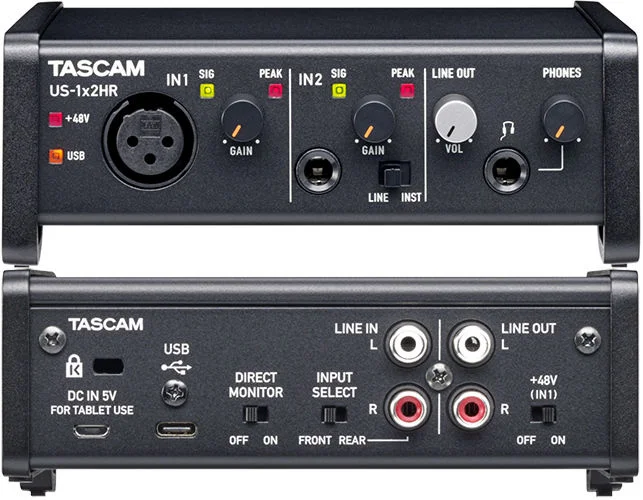 Super-low latency
High levels of latency — the time it takes for an audio interface to convert your analog signal to digital as it enters your computer and back again in the form of sound — can render even the best interfaces practically unusable. Fortunately, this is no concern with the TASCAM US-1x2HR. The latest drivers give you latency as low as four samples over its rock-solid USB-C connection. In other words, you can monitor yourself through headphones with no trace of delay as you pour your heart into a performance.
Software bundle included
Whether you're new to digital recording or not, the TASCAM US-1x2HR's included software bundle is a major value add. This bundle includes licenses to Cubase LE (Mac/PC) and Cubasis LE (iOS), two great platforms for capturing music on the move. Cubase LE provides a cutting-edge music production studio, giving users what they need to get started creating music. Cubasis LE is a compact version of Cubase for your iPad, providing the same look as its bigger sibling.
TASCAM US-1x2HR USB-C Audio Interface Features:
Mac, PC, and iOS compatible USB-C interface
Sleek and modern design
Rock-solid recording at home or on the road
Captures audio in sample rates up to 192kHz
Super-low latency — as low as 4 samples
Bus powered — a single USB-C cable supplies power and connectivity from a laptop
Ultra-HDDA microphone preamplifier with 57dB of gain
+48V phantom power for condenser microphones
1/4-inch jack with Line/Instr switch — great for capturing a guitar, bass, or synth as you track vocals
Stereo unbalanced RCA inputs for your DJ gear or vintage electronics
Stereo unbalanced RCA line outputs to feed your studio monitors or other sources
Headphone output with volume control provides zero-latency monitoring while you record
Power supply included
Includes licenses for Cubase LE and Cubasis LE