Product Category
Interfaces
The Steinberg UR24C is a compact audio interface with professional-grade sound and a flexible feature set ideal for home recordists and artists on the go. This 2-in/4-out USB-C interface is packed with two Class-A D-PRE microphone preamps with +48V phantom power, MIDI I/O, two line outputs, and four RCA outputs. So, you're ready to rock, whether you're tracking a stripped-down acoustic performance, recording a DJ session, or laying down vocals for your mixtape. And, with USB 3.0 connectivity and the included Cubase AI and Cubasis LE software, you can record to Mac, PC, or Android and iOS tablets. And recordists at Sweetwater appreciate the Steinberg UR24C's rugged build quality, which can withstand chucking in a backpack or hauling in a gig bag between shows.
Capture your ideas anywhere
The Steinberg UR24C was designed to provide you with an amazing blend of connection options while remaining sleek enough to fit inside a backpack. Steinberg wanted to ensure you can capture your tracks the moment inspiration strikes. Whether you're on the road, at a jam session, or at your home studio, just whip out the UR44C and an iPad, fire up Cubasis LE, and get going. You can then transfer your work to the full version of Cubase for mixing and mastering in your studio.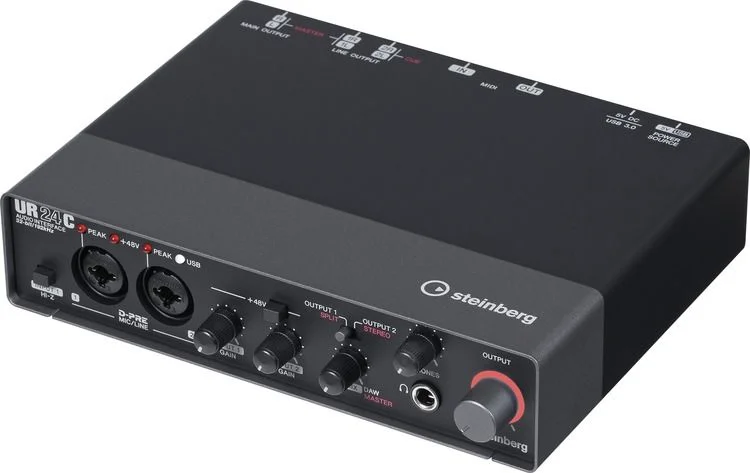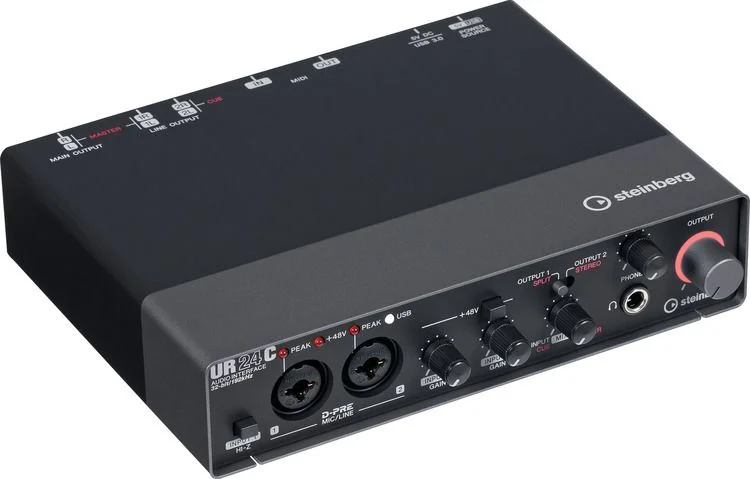 Included software for your computer or iPad
When you receive your UR24C, you'll receive a free download of Cubase AI. Cubase AI is a light version of Steinberg's Mac/Windows production software. For your iPad, you can download Cubasis LE, a full production studio with features that have been optimized for touchscreen control. For added convenience, projects you create on Cubasis LE can be opened up in Cubase on your studio computer. The ability to capture ideas on the go and take them back to the studio make using the UR24C a no-brainer.
Steinberg UR24C USB Audio Interface Features:
Windows, Mac OS, and iOS cross-platform compatibility for superior flexibility
MIDI I/O syncs effortlessly with outside hardware
Latency-free DSP monitoring
USB 3.0 to USB-C connector can connect to most modern devices
2 Class-A D-PRE microphone preamps with +48V phantom power
Cubase AI and Cubasis LE software included
Portable design and rugged housing