Product Category
Microphones
Features
Mic | Large Diaphragm Condenser
The C-100's unique design is visible at first glance. Its unique dual-diaphragm design allows it capture not only the critical 20Hz-20kHz audible spectrum but the additional smaller back-electret diaphragm extends the frequency response by crossing over at 25kHz and covering the top ultrasonic octave from 25-50kHz. This extended frequency response makes it ideal for capturing vocals like few other mics can.

 

Excellent vocal presence

The C-100's 2-way diaphragm structure delivers broad high-frequency range and resonant mid-low range for excellent presence when recording both male and female vocalists. Recorded with the C-100, vocals shimmer with air and sit in the track with authority.
Broad frequency response
Sony engineered the C-100 with a broad frequency response (20Hz–50kHz) to provide the superior sound reproduction quality required for high-resolution audio (HD) applications. Sweetwater tip: don't start an HD project without the C-100! And with two of them, you can explore hi-res stereo miking techniques.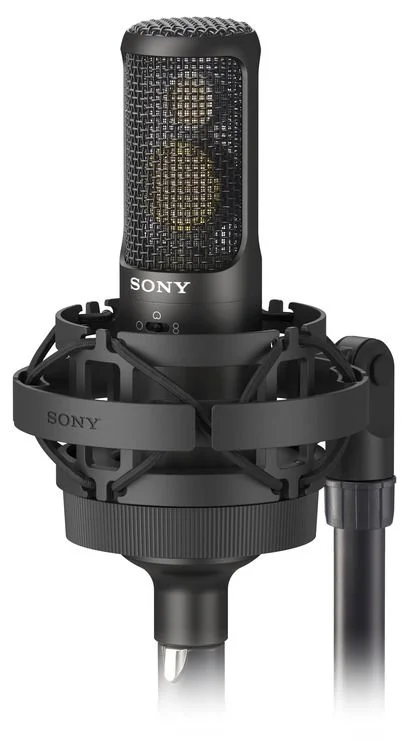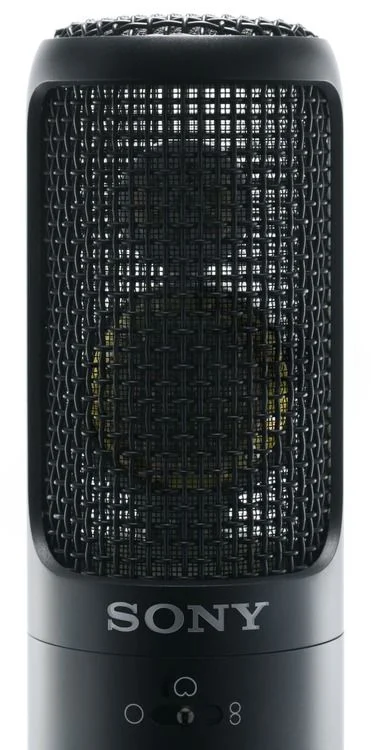 Three polar patterns
The C-100's three polar patterns — cardioid, omnidirectional, and figure-8 — give you immense flexibility when it comes to exploring the sonic possibilities offered by different recording techniques. And owning a pair of them vastly increases the versatility of this outstanding microphone, opening up highly effective stereo recording techniques such as spaced pair (A/B), XY (including Blumlein), ORTF array, and mid-side (M-S).
Noise Elimination construction
For the C-100, Sony ported their 2-part metallic body structure originally developed for the acclaimed C-800G microphone. Noise-elimination construction prevents acoustic vibration. While the C-100's highpass filter attenuates structure-born low-frequency noise, noise-elimination construction is a preventative measure that eliminates it closer to the source.
Highpass filter and pad
The C-100's switchable highpass filter helps eliminate unwanted low frequencies such as rumble that can ruin a perfect take. And for singers with a propensity for "hugging the mic," proximity effect is much less of a concern with the low-cut filter switched in. The C-100 also includes a 10dB pad switch for added headroom and minimized distortion due to transient peaks.
An assault on the state of the art
Sony has brought its formidable research and development prowess to bear in the C-100. It's a stunning achievement, with cutting-edge technology and all the features you would expect in a high-end studio condenser microphone. It all adds up to another Sony assault on the state of the art. You owe it to yourself to check it out.



Sony C-100 High-res Condenser Microphone Features:
Side-address form factor is ideal for vocals
Excellent sound quality: 2-way diaphragm structure delivers broad high-frequency range and resonant mid-low range for excellent vocal presence
Wide 20Hz–50kHz frequency response for superb sound reproduction for high-resolution audio applications
Noise-elimination construction for low noise and clarity: 2-part metal body structure prevents acoustic vibration
Switchable cardioid, omnidirectional, and figure-8 polar patterns
Highpass filter helps eliminate unwanted low frequencies and proximity effect
10dB pad for added headroom and minimized distortion due to transient peaks
Includes cradle suspension, windscreen, stand screw adapter (W3/8 to NS5/8), and carrying case