Product Category
Interfaces
Manufacturer
Solid State Logic
The SSL12 USB audio interface brings Solid State Logic's multi-decade dominance of the professional studio realm into a whole new arena: the home studio! This 12-in/8-out interface boasts four pro-grade microphone preamps — with a further 8 channels of digital audio available via the ADAT in — and ultra-high fidelity 32-bit/192kHz AD/DA converters to capture everything from solo singer-songwriters to full drum kits with maximum clarity and definition. Next, a host of different I/O options including two Hi-Z inputs, two headphone outputs, and four balanced outputs allow you to tailor and fine-tune your setup for any studio application. Add in the three user-assignable buttons, dedicated per-channel 4K Legacy mode, built-in talkback mic, and all-encompassing software Production Pack, and the SSL12 represents an affordable way to upgrade your studio rig with the legendary sound and studio utility of Solid State Logic!
Legacy 4K button for instant analog mojo
SSL built their reputation on their celebrated large-format consoles, which have helmed countless hit records and Grammy-winning albums. In particular, the SSL 4000 series console has inspired generations of musicians, producers, and engineers with its undeniable analog mojo. The SSL12 brings that signature 4000 series sound into your project studio with its Legacy 4K feature, which, with the push of a button, imparts the preamps with two essential characteristics of the 4000 series signal chain. The first thing you'll hear is a musical, high-frequency EQ boost that will push your vocal or instrument forward in the sound field, for a deeper, more dimensional sonic profile. Then, you'll notice a subtle addition of harmonic distortion that sweetens the sound and adds personality to the signal. For small-format recording interfaces, there isn't anything quite like the Legacy 4K button, available on the SSL12.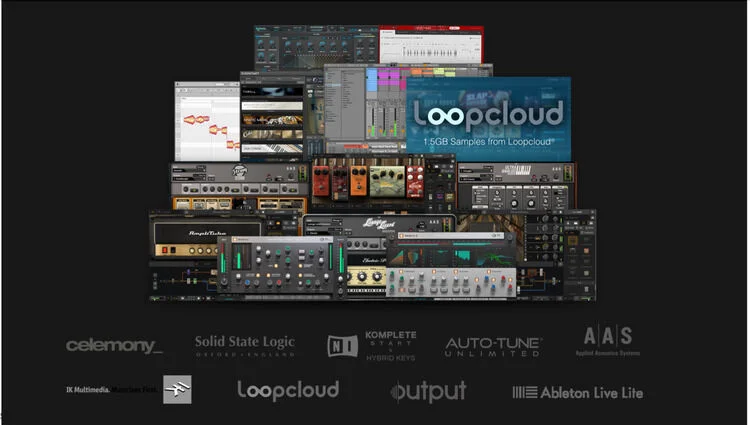 All-encompassing software Production Pack
To get you started recording right out of the box, the SSL12 ships with a comprehensive production pack that includes Celemony Melodyne; IK Multimedia AmpliTube SE; Native Instruments Hybrid Keys and Komplete Start; Ableton Live Lite; AAS Session Bundle plug-ins; and 1.5GB worth of samples from Loopcloud. In addition to this formidable software suite, the SSL12 comes bundled with two SSL Native channel strips: Vocalstrip 2 and Drumstrip. With Vocalstrip's four vocal-specific processors — De-esser, De-ploser, 3-Band EQ, and Compander — you can easily achieve an articulate and impactful vocal sound. And Drumstrip provides five carefully selected processing tools — including transient shaper, drum gate, high- and low-frequency enhancers, and the classic Listen Mic compressor — to add clarity, punch, and heft to any drum recording. Finally, Solid State Logic provides three months of free access to SSL Complete, Auto-Tune Unlimited, and Arcade by Output — a trio of subscriptions that puts the plug-ins of the pros right at your fingertips!
Durable build and intuitive workflow
Here at Sweetwater, the first thing that struck us about the SSL12 was its sheer quality of build; it's an exceptionally solid-feeling unit that truly feels like it belongs in a high-end studio, with plenty of tactile buttons, sturdy knobs, and a durable brushed metal top. The intuitive controls — including three user-assignable buttons on the top of the chassis — ensure a productive, streamlined workflow with a high degree of visual feedback on the multi-colored faders and per-button lights. Finally, a built-in talkback mic enables quick communication between the control room and the live room, and the two professional-grade headphone outputs allow for effortless shared playback.
Solid State Logic SSL12 USB Audio Interface Features:
4 x SSL-designed mic preamps with 62dB of gain deliver iconic SSL tone
4 x XLR combo jacks to capture any source and setup — from solo singer-songwriters to full drum kits
Per-channel Legacy 4K switches impart a touch of SSL's legendary analog magic to your source with the click of a button
2 studio-quality headphone outputs for shared headphone playback
Ultra-high fidelity 32-bit/192kHz AD/DA converters deliver maximum sonic clarity and definition
ADAT in allows you to expand your setup with up to eight additional channels of digital audio
SSL360° offers effortless headphone routing, with a built-in talkback mic that can be routed to Headphone A, B, and Line 3-4 outputs
4 x balanced outputs with precision Monitor Level
3 x user-assignable front panel switches to customize your setup
2 x high-Z inputs for easy direct guitar and bass recording
Easily control CV input instruments and FX with DC-coupled outputs
Flexible MIDI I/O
Includes 3-month subscription to SSL Complete, Auto-Tune Unlimited, and Arcade subscription by Output
Bundled with Ableton Live Lite, Hybrid Keys, and Komplete Start
SSL Native software bundle with Vocalstrip 2 and Drumstrip
1.5GB of samples from Loopcloud
AmpliTube SE for easy guitar/bass recording
Celemony Melodyne Essential offers industry-grade vocal editing
AAS Session bundle plug-ins provide a wealth of top-quality virtual instruments