Product Category
Preamps & Channel Strips
Manufacturer
Shadow Hills Industries
The Shadow Hills Industries Equinox microphone preamp, summing mixer, and monitor controller is like adding a mastering-grade console to your studio's rack. You get two Golden Age microphone preamplifiers, 30 channels of analog summing, a comprehensive mastering-quality monitor section, and switchable output transformers – everything you'll need to make your mixes sound like they were created in a world-class facility. You'll love the rich, open character of the microphone preamps. The summing mixer gives you ample headroom to craft exciting, dynamic mixes. And you'll hear every detail and nuance of your music, thanks to the precision-designed monitoring signal path. In short, the Shadow Hills Industries Equinox gives you the functionality and timeless sound of an analog console in a convenient, 2U rackmountable unit.
Related Videos: Equinox Summing Mixer and Monitor Controller
In today's modern recording studio, the ability to work smarter is the key to success. The Equinox combines the most useful features of a traditional analog console, like premium summing capability, talkback functionality, and a flexible monitoring section. While you could buy a high-quality, dual-channel mic preamp, 30 channels of analog summing, and an impeccable monitoring controller separately, you would spend thousands more and still may not reach the same level of sonic excellence as you get with the Equinox.


Exceptional Golden Age microphone preamplifiers
The Shadow Hills Industries Equinox gives you a pair of Golden Age mic preamps with extreme functionality. You have 60dB of gain on tap, with a -20dB pad to allow you to record loud sources like drums and guitar amps without unwanted distortion. A 1/4″ instrument input is present for direct recording of guitar, bass, and acoustic-electric instruments, making the Equinox an all-around workhorse microphone preamplifier.
30 channels of analog summing
The Equinox is ready to provide rich and punchy mixes with incredible depth, thanks to 30 channels of on-board analog summing. You'll have the incredibly high headroom of an analog console that will allow your tracks to reach their full dynamic potential. You'll also appreciate the incredible stereo imaging with a lifelike sense of depth.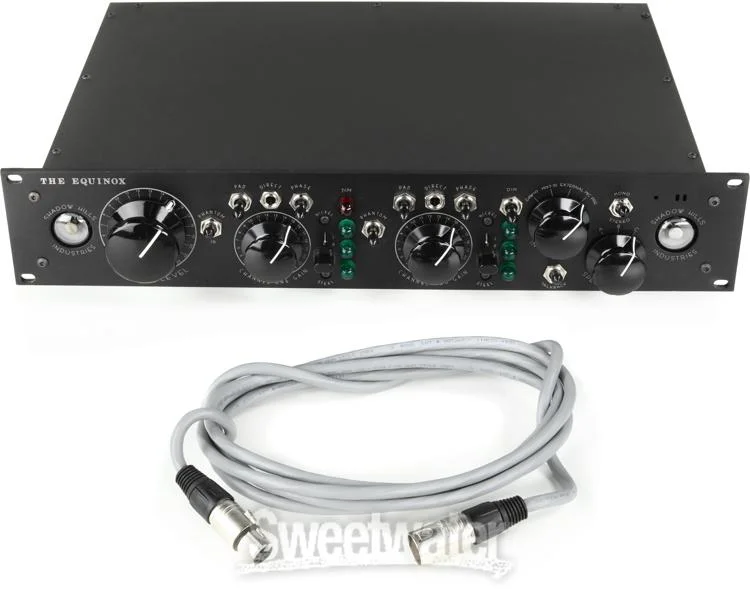 Comprehensive monitoring control
With mastering-quality components, the Equinox gives you the monitoring quality you need to make crucial mix decisions with confidence. You can connect up to three sets of monitors, and a stereo cue output is ready to feed a separate headphone system from any of the Equinox's inputs. You'll have the flexibility you need to approach recording, mixing, and mastering projects with speed and precision when you add the Equinox to your studio setup.
Switchable output transformers for sonic variations
You have remarkable control over the tone and vibe of your music with the Equinox, thanks to three switchable output transformers. Switching transformers provides a subtle but significant tonal shift, both to signals recorded through the Equinox's mic pres as well as the output of the summing mixer section. Choose from steel, nickel, or iron output transformers to get the iconic sound of different styles of analog consoles. The nickel transformer gives you a natural low-end with smoothly enhanced high frequencies, outstanding on vocals and acoustic instruments. The iron transformer has a natural high end with a slight boost around 110Hz, and has a Class-A output stage that only passes even-ordered harmonic distortion – very musical. The steel transformer sounds very open with a detailed and fast response, with a very subtle boost around 40Hz that helps provide rock-solid low frequencies. With the Equinox, you can shape your recordings and mixes to suit whatever musical vibe you want.

Shadow Hills Industries Equinox Microphone Preamp/Summing Mixer/Monitor Controller Features:
Combines fantastic mic preamps, 30 channels of high-quality analog summing, and mastering-quality monitor control to give you the best functions of an analog console
24-position, gold-plated stepped attenuator knobs for precise recall of your session settings
Switchable nickel, iron, and steel output transformers give you the sound of a variety of vintage consoles
30 channels of passive analog summing provide ample headroom to produce dynamic, hard-hitting mixes
Supports up to three sets of studio monitors
Cue output for connecting to your headphone distribution system
Requires Shadow Hills Power Supply, not included