Samson's Resolv SE8 active studio monitors benefit from the latest innovations in speaker engineering, giving you reference-quality monitoring at all volume levels. The Resolv SE8 features a dedicated power amp and a precision crossover for accurate tonal balance. Its carbon fiber woofer delivers tight, controlled bass, while its soft dome tweeter serves up natural-sounding, resonance-free extended high frequencies. There's a treble lift that lets you optimize for different mixing environments, while a time-aligned waveguide gives you even dispersion across a wide listening area with minimum diffraction. For affordable, accurate monitoring, check out the Samson Resolv SE8.
Carbon fiber woofer provides clear, powerful bass
To provide you with the best possible performance, Samson's Resolv SE8 is loaded with a carbon fiber woofer. Woven carbon fiber was chosen for its tight and controlled low frequency response. You'll get a clear picture of your lows without them overpowering the entire mix. The woofer features a dedicated power amp that was specifically tuned for the size of the speaker. Finally, an electronic crossover delivers the most accurate tonal balance possible.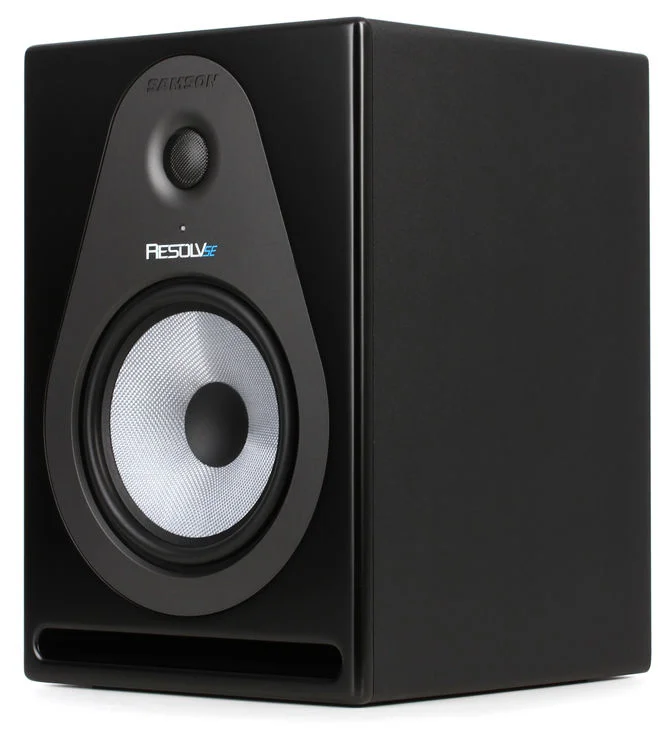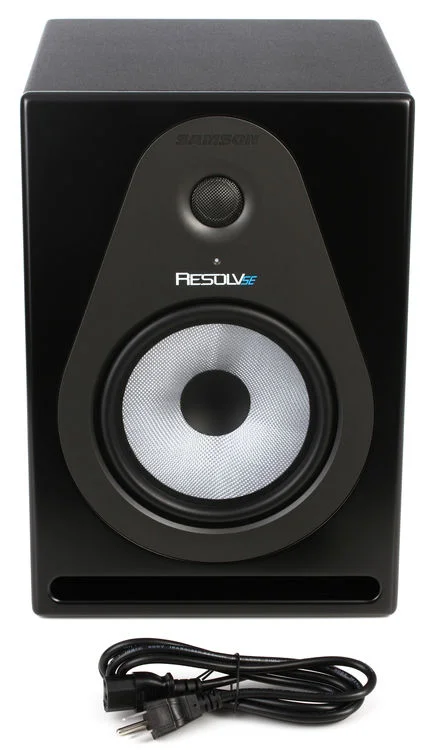 Soft-dome tweeter delivers crystalline highs
Nothing is more annoying than tweeter resonance. The Samson Resolv series is loved by musicians around Sweetwater because the 1.25-inch soft dome tweeter keeps high frequencies in tune without annoying resonance. The tweeter is powered by a neodymium magnet and has a 4-position high-frequency lift control for crystal-clear sound reproduction.
Rock-solid construction
Your Samson Resolv SE8 is housed in a solid MDF enclosure. MDF (Medium Density Fiberboard) shields the internal components from AV interference. This means that your studio monitors will be completely unaffected by unwanted computer interference. The sleek, slotted front ports have rounded inner edges that noticeably reduce port noise at high SPLs.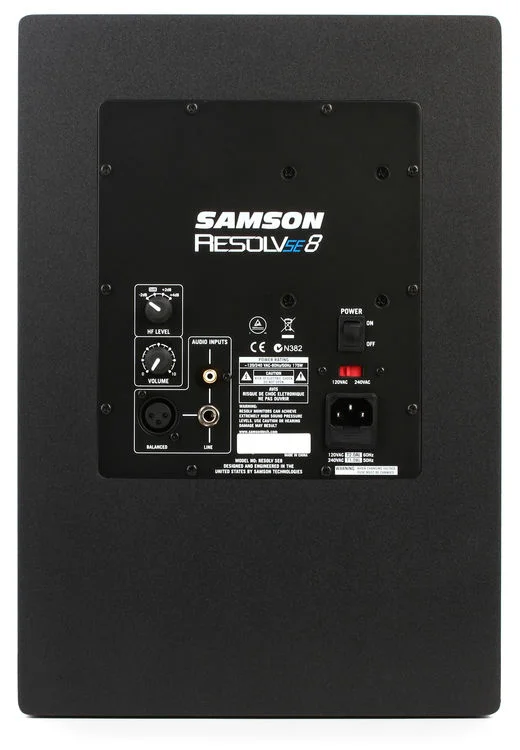 Samson Resolv SE8 Active Studio Monitor Features:
2-way active studio reference monitor delivers reference-quality audio
Ported tuned enclosure reduces port noise at high SPLs
Woven carbon fiber woofer produces tight, clean bass response
1.25-inch soft dome tweeter provides sparkling highs with no resonance
Active crossover with multi-pole design for linear response
4-position high frequency lift control
Balanced 1/4-inch inputs, and unbalanced RCA inputs give you multiple I/O options
AV shielded for use with computers
Solid MDF (Medium Density Fiberboard) construction supports maximum SPL