Product Category
Microphones
Features
Mic | Large Diaphragm Condenser
The Neumann U47 FET Collector's Edition brings the epic sound of one of the most recorded microphones in history into your studio. Neumann went back to the schematics and production notes from the original U47 FET to bring you the wide dynamic range, detailed sound, and fast transient response of the original. Experienced engineers at Sweetwater will confirm the U47 FET lets you record kick drum tracks with amazing power and punch, track vocals with exceptional articulation and detail, and capture the full dynamic range of delicate acoustic instruments. Complete with a Collector's Edition box and a Certificate of Authenticity, you'll be adding a legendary microphone to your studio's toolbox with the Neumann U47 FET Collector's Edition condenser microphone.

A proven, time-tested classic
If you're familiar with the original U47 FET, then you know it's been one of the industry's go-to kick drum microphones for decades – think about that for a minute. Specifically, think about the high SPLs and other abuses those mics were subject to during every session. The U47 FET would never have become a studio staple if it distorted easily, became noisy, or failed in any possible way. Some of the most respected recording engineers chose the U47 with confidence every time – now you can too, with the Neumann U47 FET Collector's Edition. Neumann mics like the U47 FET Collector's Edition are remarkable for their well-balanced response at all sound pressure levels – exactly what you need when recording dynamic sources.
Captures punch, power, and dynamics with ease
The U47 FET Collector's Edition uses Neumann's K47 mic capsule, which is a dual-diaphragm capsule with a cardioid pickup pattern. This capsule is known for its excellent dynamic response and wide frequency range, with a subtle lift around 2kHz. It's just enough to enhance the sense of air and presence in your recordings, and the wide-ranging response gives you a vibrant sound that holds up extremely well to equalizing and compression. When you want to capture a "radio-ready" sound right from the source, Neumann microphones are hard to beat, and the U47 FET Collector's Edition is no exception.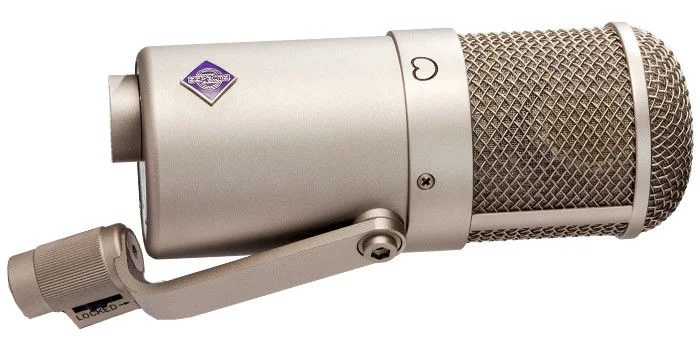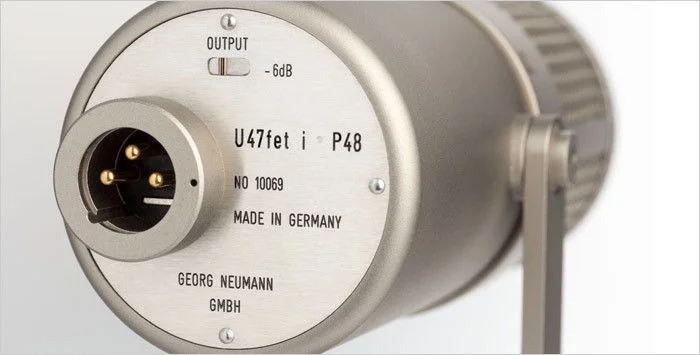 FET circuit delivers fast, detailed response
Compared to tube-based microphones, solid-state microphones like the U47 FET are known for their resistance to distortion and detailed sound. These are the reasons the original U47 FET was so popular on kick drums and other percussion instruments, capturing their power and intensity with amazing fidelity. Don't let its most popular use fool you though – the U47 FET Collector's Edition is ready to be your go-to choice for acoustic instruments, and should be on your short list of mics to audition with every vocalist you record.
An essential studio workhorse for your mic locker
Without its low-cut filter engaged, the Neumann U47 FET Collector's Edition starts rolling off bass around 40Hz – just low enough to capture the full power of bass-heavy sources without being blurred by subsonic rumble. Engage the 140Hz low-cut filter to fight proximity effect on close-miked sources, or to prevent acoustic instrument recordings from competing with your bass tracks. And when you're recording exceptionally high SPLs, the -6dB pad gives you additional headroom.


Built true to the original
With a high-quality Collector's Edition wooden box and Certificate of Authenticity, the U47 FET leaves no doubt about its heritage. More than a modern reissue of a classic mic, Neumann went directly to the original schematics and production notes to make sure the sound of the U47 FET Collector's Edition was spot on. Using the same transformer and K47 mic capsule, and built with the same exacting specifications that make Neumann a world-leader in microphone technology, the U47 FET Collector's Edition is poised to bring a classic mic sound to a new generation of recording engineers.
Neumann U47 FET Collector's Edition Features:
Capture clear, detailed, "radio-ready" sound with this legendary microphone
Fast transient response is perfect for drums and other percussion
Wide frequency response captures bass instruments with outstanding power, punch, and focus
Created using original U47 FET schematics and production notes to bring you the real deal
High-quality Collector's Edition wood box and Certificate of Authenticity included