Product Category
Microphones
Features
Mic | Large Diaphragm Condenser, Vacuum Tube Circuit
David Royer of Technical Grammy Award recipients Royer Labs has always counted the Sony C-37a among his favorite microphone designs. With the Mojave Audio MA-37 large-diaphragm tube condenser microphone, David has brought a long-time dream to life: an updated version of an undeniable studio classic. The C-37a is considered something of a "secret weapon" among artists and engineers, given its smooth ribbon-like sound and high headroom. The MA-37 nails the sonic characteristics of its inspiration and retains its signature u-shaped yoke, adjustable tuned acoustic chamber for switching between cardioid and omnidirectional operation, and compact form factor. After employing the mic in numerous applications, engineers at Sweetwater found that MA-37 has an uncanny ability to flatter any source — vocals are rich, detailed, and dripping in vintage-tube-mic vibe; acoustic instruments bloom with a natural, open presence; and guitar amps benefit from a smooth yet upfront mid-range that helps them drop right into a mix. Simple and elegant, the MA-37 is a worthy successor to a mic-locker legend!
Delivers the venerated sound to a new generation of artists
Originally released in 1955, the C-37a was Sony's attempt to create an affordable alternative to the European-made tube mics of the era. This endeavor led to an innovative design featuring a gold-sputtered Mylar capsule, a 6AU6 pentode tube configured as a triode, and a mechanical apparatus — based on an early RCA design — for selecting between cardioid and omnidirectional operation. The C-37a arrived on the American market in 1958, and it was an instant hit, embraced by top recording studios and artists such as Frank Sinatra and celebrated voice actor Mel Blanc. Since then, it has become a staple of music makers as varied as super-producer Daniel Lanois, Marcus Mumford, and Bon Iver's Justin Vernon. The MA-37 carries the legacy forward, giving a new generation access to the venerable C-37a sound.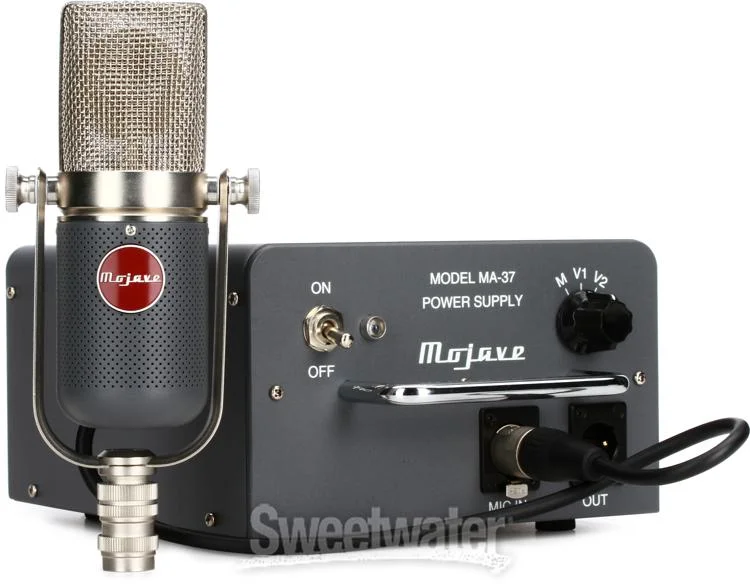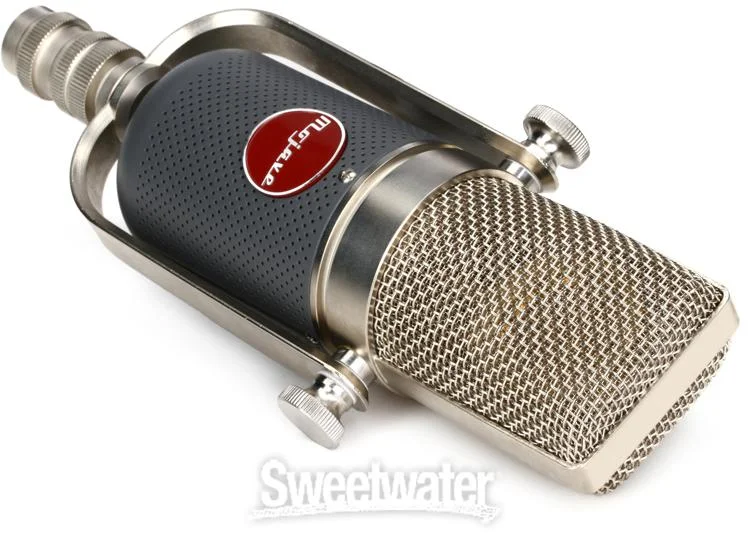 Simple and elegant design with custom components
David Royer's design philosophy boils down to two words: simplicity and elegance. And the MA-37 is a showcase of that philosophy in action. The circuit is based around a single-stage tube amplifier, and the MA-37 features an EF806 vacuum tube, a Lundahl transformer, and a custom capsule manufactured in California. The mic's housing, grille, and shockmount yoke are manufactured to incredibly stringent quality standards, so the MA-37 looks and feels every bit the studio workhorse that it is. The unit's hefty, dedicated power supply gives you access to three highpass filter options: flat (M), 100Hz (V1), and 200Hz (V2). At the flat setting, the microphone's frequency response is ±3dB from 30Hz to 18kHz. With its slight top-end roll-off, the MA-37 has a silky-smooth upper-frequency response; it's a salve for sibilant vocalists, it tames strident cymbals, and it sweetens fizzy guitar amps.
Mojave Audio MA-37 Large-diaphragm Tube Condenser Microphone Features:
David Royer's re-creation of the legendary Sony C-37a tube condenser microphone
Simple and elegant design based around a single-stage tube amplifier
Smooth, ribbon-like sound flatters every source, from vocals and acoustic instruments to guitar amps and drums
Premium components include an EF806 vacuum tube, a Lundahl transformer, and a custom capsule manufactured in California
Signature u-shaped shockmount yoke secures the microphone and prevents low-frequency rumble
Dedicated power supply with 3 highpass filter options: Flat (M), 100Hz (V1), and 200Hz (V2)
Adjustable tuned acoustic chamber for switching between cardioid and omnidirectional operation — accessed via a small rear port