Product Category
Interfaces
With the rise of livestreaming, expressing yourself online is simple and easy. Mackie's M-Caster Live makes livestreaming your content more effortless than ever before, regardless of experience level. This portable livestreaming mixer is optimized for smartphone and tablet streaming, offering streamlined controls, onboard vocal effects, and DSP presets. Content creators at Sweetwater appreciate the extensive I/O that plays nice with standard vocal microphones, DSLR cameras, smartphones, headsets, and various music playback devices. Plus, it has a USB port for use as an audio interface for Mac and PC. If you're looking for super-simple operation and great sound for your livestream, be sure to choose a Mackie M-Caster Live portable livestreaming interface.
Anyone can create compelling content
Mackie designed M-Caster Live for maximum accessibility. Just plug in your smartphone and favorite microphone and go live on the streaming platform of your choice — that's it. The M-Caster Live includes onboard DSP (digital signal processing) to help you find the perfect sound. Use ContourFX presets to refine your vocals with a few turns of a knob. StreamFX provides a selection of fun vocal effects presets from robotic voices to scary monster sounds. With M-Caster Live, you don't have to understand the ins and outs of EQs, gain staging, or other technical jargon. All you have to do is plug in, select a preset, and start your stream.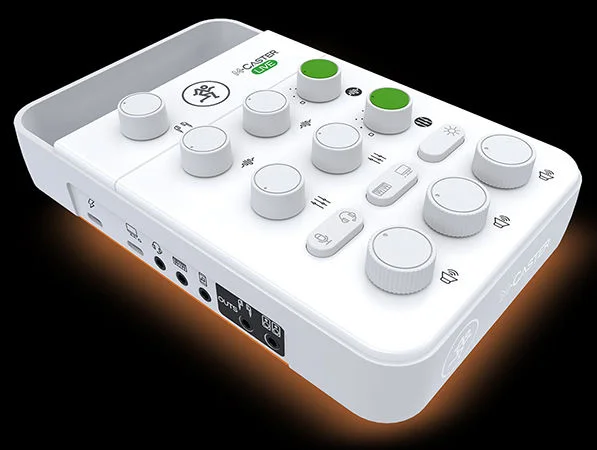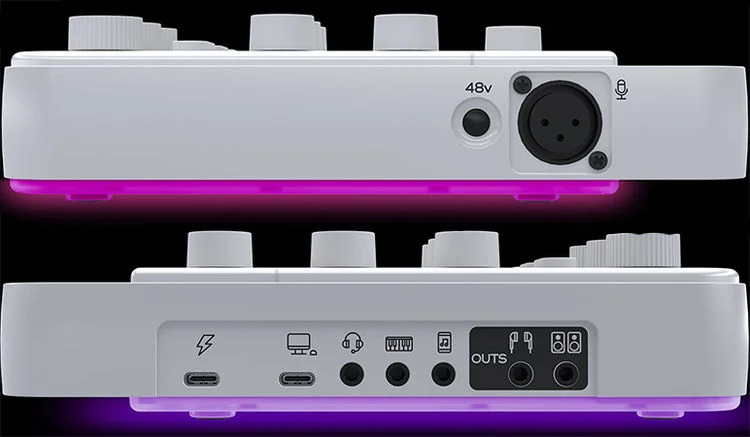 I/O for any source
M-Caster Live has the connectivity options for anyone's workflow, whether you're just starting out or have an arsenal of audio equipment at your disposal. Of course, you get an XLR input with phantom power for your favorite condenser microphones — but that's not all! There are inputs for a DSLR camera mic, your gaming headset, smartphone/tablet, and even your laptop. You also get multiple outputs for monitoring. M-Caster Live also includes USB connectivity to function as a USB audio interface for Mac and PC.
Set the mood
You want your streaming setup to look great on camera, right? M-Caster Live comes dressed up in an attractive finish and includes an RGB LED light strip on the bottom. You get access to seven color options, so your interface blends perfectly into your setup.
Built to go anywhere
Heading out on the town for impromptu interviews? Your can take M-Caster Live with you anywhere! The interface's compact and rugged design ensures that it easily fits in your bag. Simply bring your USB power bank with you and go live for hours at a time.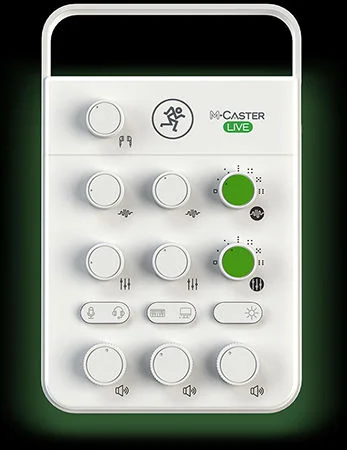 Mackie M-Caster Live Portable Livestreaming Mixer Features:
Portable livestreaming mixer designed for smartphones and tablets
ContourFX presets tailor your vocal sound
Add fun vocal effects with StreamFX
Streamlined controls make operation easy
RGB LED strip lets you set the perfect mood
Extensive input options for headsets, instruments, and external audio devices
XLR input with phantom power handles any microphone
Headphone and monitor outs let you monitor however you please
USB connectivity lets you use M-Caster Live as a USB audio interface for Mac and PC
Purchase includes a selection of Accusonus plug-ins and accessories