Product Category
Microphones
Features
Mic | Large Diaphragm Condenser, Vacuum Tube Circuit
Recording engineers here at Sweetwater have put the Lewitt LCT 1040 tube microphone system through the paces and — wow! The glowing heart of the microphone body is a premium E88CC/6DJ8 tube from JJ Electronics. So yes: the LCT 1040 is a tube mic, with all the euphonic sonic attributes you'd expect. But what's truly impressive is that there is also a FET circuit in play here — and you can dial seamlessly between them from the included remote control, which neatly and conveniently docks with the mic's sleek power supply. The remote (which can be undocked, letting you manage everything from your monitoring sweet spot) also lets you select between the mic's five seamlessly blendable polar patterns, three highpass filters, and three pre-attenuation settings. The brilliant design connotes form and function in equal measure and frankly, we're blown away by both the sonic performance and sheer elegance of the amazing Lewitt LCT 1040 mic system.
Two circuits, infinite sonic flexibility
The Lewitt LCT 1040's Tube circuit offers a choice of four distinct and classically tubular sonic characteristics — Clear, Warm, Dark, and Saturated — that are selectable from a rotary switch on the remote control. The FET circuit delivers an uber-detailed, crystal-clear rendition of the source. Combined, the Tube control and the FET/Tube Circuit pot give you an incredible amount of flexibility to shape the microphone's sound to suit the task at hand. The remote control can be undocked from the power supply and connected with a standard 3-pin XLR (a premium gold-plated Neutrik is included), so you can tweak the sound to perfection from the comfort of your console. The Lewitt LCT 1040 mic system gives you the flexibility to accommodate literally any source in any recording scenario, no matter how challenging.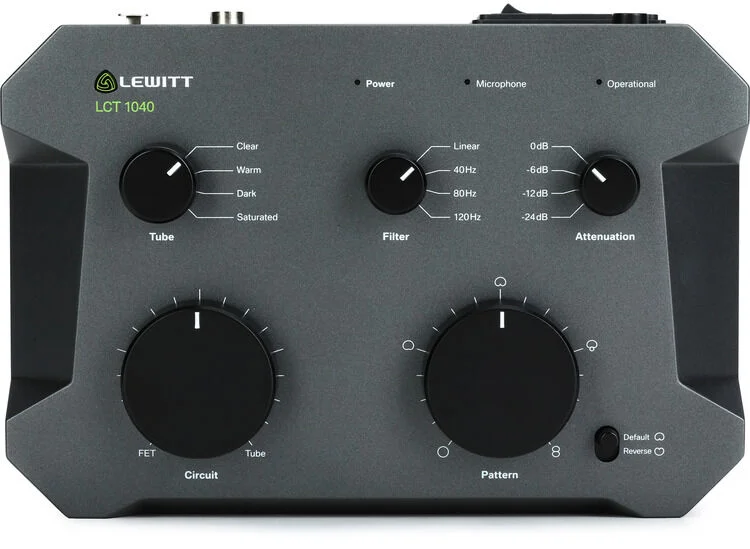 Stage or studio, there's a Lewitt mic that's perfect for the job
Since the fall of 2009, Lewitt microphones have made their way onto some of the biggest stages across Europe and America. Combining exceptional clarity and forward-thinking technical innovation at a remarkably accessible price point, these wonderful mics more than rival long-standing industry standards. What's more, the selection runs the gamut from robust dynamic handheld models to top-notch studio condensers. Whether you're looking for something for your next gig or your next recording session, a Lewitt microphone from Sweetwater is an excellent choice.
Lewitt LCT 1040 Tube Microphone System Features:
Premium Tube and FET microphone in one
Premium JJ Electronics E88CC/6DJ8 tube
Gold-sputtered 1-inch true condenser capsule
4 all-analog tube characteristics: Clear, Warm, Dark, and Saturated
Blend Tube and FET circuit at any ratio
Remote control lets you adjust all settings from your sweet spot
Seamless polar pattern control, highpass filter, pre-attenuation pad
Includes power supply, remote control, shockmount, mic mount, magnetic dual-layer pop screen, mil-spec transport case, 11-pin XLR cable
Microphone type: condenser, externally polarized
Acoustical operating principle: pressure gradient transducer
Polar patterns (seamless blend): omni, wide cardioid, cardioid, supercardioid, figure-8
Frequency range: 20Hz–20kHz
Sensitivity: 17.2 mV/Pa, -35.3V/Pa (cardioid)
Self-noise: 10 (A) FET, 13 (A) tube (cardioid)
Max SPL at 0.5% THD: 137SPL (FET), 0 attenuation
Signal/noise ratio: 84dB (A) FET, 81dB (A) tube
Dynamic range: 127dB (A) FET
Highpass filter: linear, 40Hz (12dB/oct), 80Hz (12dB/oct), 120Hz (6dB/oct)
Pre-attenuation pad: 0, -6, -12, -24dB
Internal impedance: 83.8 Ω
PSU supply voltage: 230V, 50Hz; 110V, 60Hz
Current consumption: 230V – 170mA, 110V – 240mA
Connector (PSU and remote): Neutrik gold-plated 3-pin XLR
Connector (remote and mic): Hirose Electric 10-pin audio cable
Durable zinc die-cast housing
Microphone dimensions: 7.7 x 2.6 x 1.8 inches
Microphone net weight: 23 oz.
PSU dimensions: 9.4 x 6.7 x 1.9 inches
PSU weight: 68 oz.
Remote dimensions: 9.4 x 6.4 x 2 inches
Remote weight: 69 oz.
Includes power supply, remote control, dual-layer magnetic pop screen, shockmount, mic mount,
11-pin cable, and mil-spec transport case