Kali Audio's IN-8 has been heralded as one of the most accurate powered studio monitors in its price range, and the second-wave version ups the ante with a new amplifier platform, improved transducers, and an upgraded cabinet. The IN-8 V2 uncovers every detail in your mix — it's brutally honest. Nothing is boosted or attenuated to mask flaws or spice up its sound, so what you hear is what you get. In addition to a ruler-flat frequency response, the IN-8 V2 exhibits negligible levels of distortion, ample headroom, and impressive low-end extension for an 8-inch speaker. This speaker's coaxial design boasts directivity that surpasses any non-coaxial speaker, enveloping your entire room in a uniform soundstage. Its low-noise port tube yields clean, punchy bass. And thanks to its boundary compensation EQ, it sounds great in a myriad of environments. The IN-8 V2 includes an integrated Class D power amp, along with balanced XLR and TRS inputs, and an unbalanced RCA input. At the end of the day, the Kali Audio IN-8 V2 is a studio monitor that you can trust.
Transparent sound reproduction
The IN-8 V2 offers ultra-transparent sound reproduction, enabling you to hear every detail of your mix. This starts with an exceptionally accurate frequency response. Its dual-layer, large-diameter voice coil exhibits a crystal-clear sound with negligible distortion — a full 6dB lower than its nearest competitor. At continuous reference-level output, the IN-8 V2 boasts at least 20dB of headroom to allow for transient spikes. What's more, this studio monitor employs larger magnets and voice coils than others in its class, resulting in super-accurate low-end response and impressive low-frequency extension. At Sweetwater, we've found that the IN-8 V2 empowers you to mix with confidence. Once you dial it in on a set of these monitors, it will sound great everywhere.
Coaxial design yields rock-solid imaging
With a typical 2-way studio monitor, its woofer and tweeter produce energy at the same time, creating an interference pattern at the speaker's crossover point. Waveguides are generally employed to reduce the interference; however, the speaker still produces a directivity anomaly because the two drivers are in two separate positions. The Kali Audio IN-8 V2's coaxial high- and mid-frequency drivers, on the other hand, occupy the same space. This puts them within a quarter wavelength of one another, thereby eliminating this interference pattern. The IN-8 V2 exhibits superb directivity — better than any non-coaxial design — covering your entire room uniformly. What's more, the IN-8 V2's optimized-profile midrange driver boasts more radiating surface than a standard waveguide, ensuring minimum distortion and maximum dynamic range.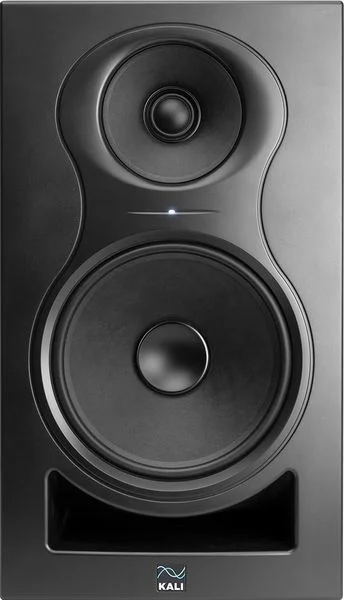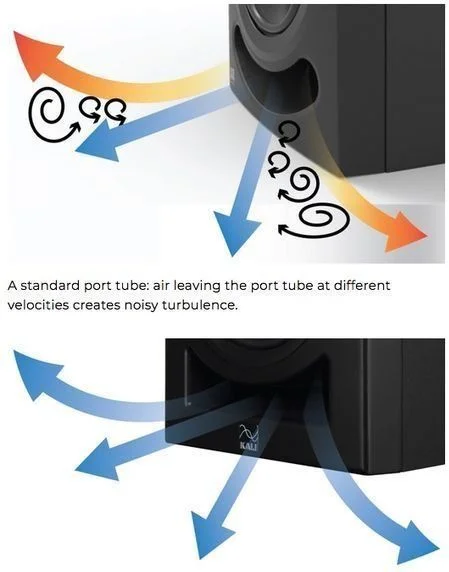 Low-noise port tube exhibits clean, punchy low end
One of the IN-8 V2's more novel features is its low-noise port tube. Many port tubes emit turbulence, as air leaves the tube at different speeds from different points of the opening. This turbulence produces chuffing — a noisy sound that obscures the low-end details of your mix. The IN-8 V2's port tube, conversely, ensures that all of the air exits at the same velocity. The result is clean, punchy bass with zero added noise.
Boundary EQ ensures optimal sound in any environment
A speaker's position in a room drastically affects its frequency response. Even if your room is acoustically treated, your studio monitor's sound will change if you place it near a wall or on a desk. What's more, hard surfaces like walls and the top of your console will skew your monitor's frequency response, degrade its sound, and give you false auditory information. The engineers at Kali Audio understand this, and they baked a solution directly into the IN-8 V2: its Boundary EQ. Tuned to perfection at The Village Studios in Los Angeles, the IN-8 V2's Boundary EQ supplies you with presets that are tailored to eight common speaker placements. You also get LF/HF trims for fine-tuning the speaker's response. With the IN-8 V2, you'll be able to optimize its response, no matter what environment you're mixing in.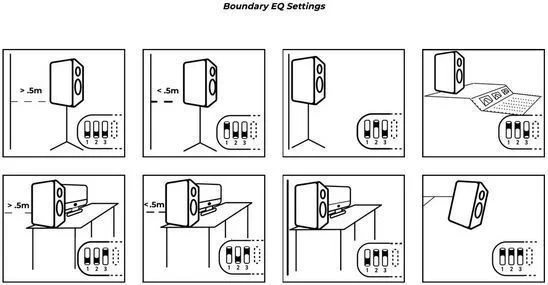 Kali Audio IN-8 V2 Studio Monitor Features:
8-inch powered studio monitor with coaxial 1-inch textile-dome tweeter and 4-inch optimized-profile poly-coated midrange driver
Improves upon its predecessor with a new amplifier platform, improved transducers, and an upgraded cabinet
Tri-amped design with integrated Class D power amp
Ruler-flat frequency response — there's nothing hyped about this speaker
Exhibits negligible levels of distortion — a full 6dB lower than its nearest competitor
Boasts 20dB of headroom while playing continuously at 85dB
Large magnets and voice coils produce super-accurate low-end response and impressive low-frequency extension
Coaxial design exhibits superb directivity — better than any non-coaxial design — covering your entire room uniformly
Low-noise port tube yields clean, punchy bass with zero chuffing
Boundary EQ enables you to tailor the speaker to any environment
LF/HF trims for fine-tuning the speaker's response
Balanced XLR and TRS inputs, and an unbalanced RCA input