Manufacturer
IK Multimedia
Features
6.5 inch, 150 watt
With IK Multimedia's iLoud Precision series speakers, you'll reap the reward of a reliable speaker system that sounds good in any location. These 150-watt speakers feature ARC room connection, which will take room acoustics and size into account, shifting the EQ and sound dynamics to sound perfect whether you're in the living room or amid a professional studio setup. What's more, IK's revolutionary X-Monitor processing enables iLoud Precision speakers to emulate several industry-standard studio monitors; it's like having multiple sets of reference speakers at your disposal. iLoud Precision series speakers also go through a rigorous inspection and correction process, ensuring that they are fully functional and reliable — all while providing you with a crystal clear dynamic output. Get in touch with your Sweetwater Sales Engineer today to see how iLoud Precision series speakers can upgrade your studio setup!
Perfect sound for any environment
Getting a professional, clear balance of sound isn't only reserved for world-class studios. With Advanced Room Correction (ARC) technology, you'll be able to measure the acoustics of any room you chose for perfect audio balance in any given situation. An included ARC microphone and a room calibration system are built in to your iLoud Precision 6 speakers, making sure you'll be able to find your ideal sound almost instantly. The largest puzzle piece of superb sound output is finding the right space for your speakers — with ARC, you'll have no problem finding it.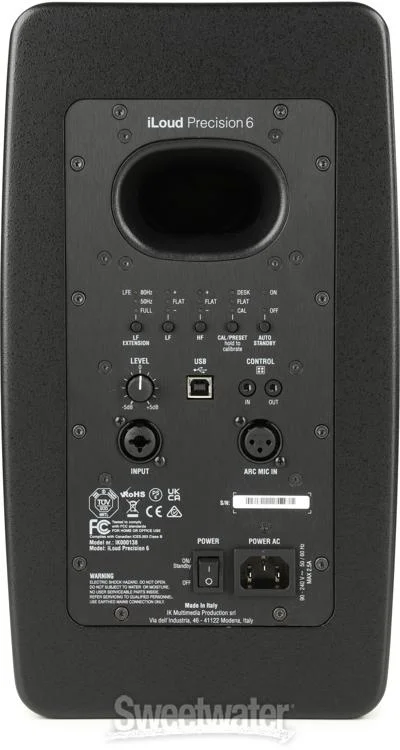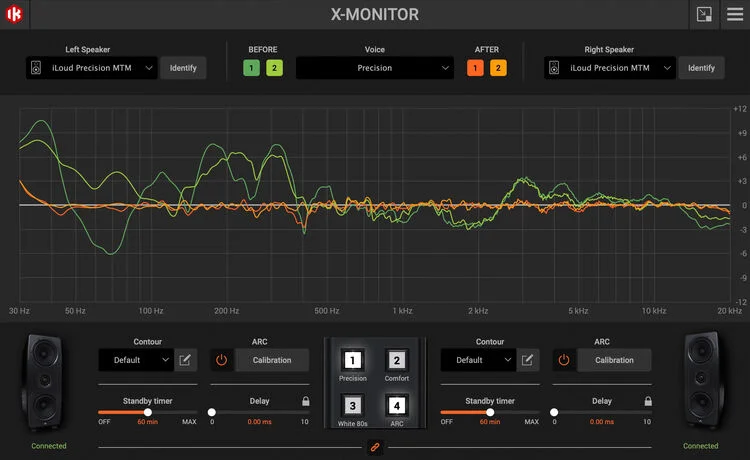 Revolutionary virtual monitoring
The IK Multimedia iLoud Precision 6 is loaded with the company's revolutionary X-Monitor processing, which adds a virtual monitoring feature to these already excellent-sounding speakers. Thanks to this technology, these monitors can switch among different main voices, including spot-on emulations of various industry-standard studio monitors, by modeling their magnitude and phase response. X-Monitor can also control the delay of the speakers so they can be time aligned in a multichannel or an immersive monitoring setup.
Built for performance
Each iLoud Precision 6 unit is produced in Italy, passing through a strenuous adjustment and inspection process. By mixing an exceptionally powerful DSP with an electro-acoustic system, your iLoud Precision speakers will reward you with a clear and balanced frequency response, as well as a solid low end. Calibrated to exact parameters, each unit is constructed and corrected to give you a crystal-clear, balanced speaker that you can count on.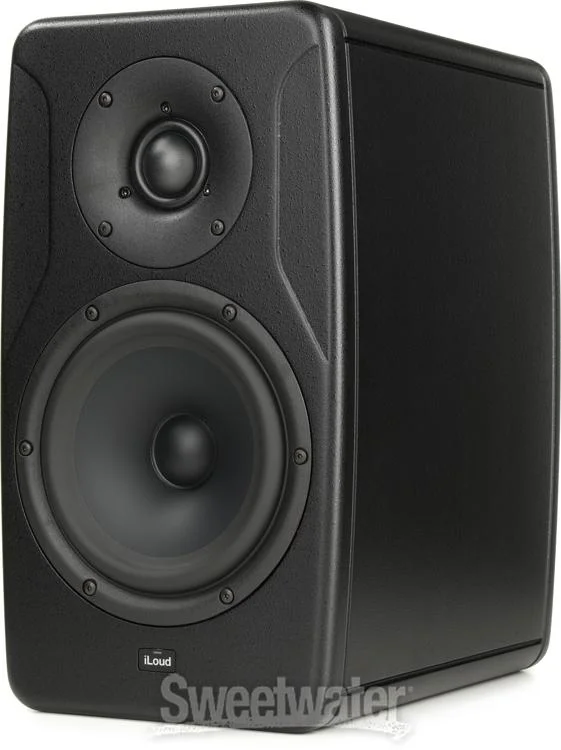 IK Multimedia iLoud Precision 6 Powered Studio Monitor Features:
6.5-inch mid woofer with 1.5-inch chambered dome tweeter
45Hz–30kHz frequency response for clear audio response throughout the entire spectrum
ARC room calibration for perfect output in any situation
X-Monitor speaker emulation mimics a range of classic monitor units
Low-frequency adjustment to Full/35/50/65/80Hz
X-Monitor software allows EQ adjustment and time alignment