Manufacturer
IK Multimedia
IK Multimedia's iLoud Micro Monitors build on the original iLoud speaker with more power, bigger bass, and true professional playback. Don't be swayed by the price. The Micro Monitors are legitimate reference speakers with power enough to fill a small room. Low-resonance molded enclosures provide a neutral starting point for the powerful 2-way speaker systems. The 3″ neodymium drivers are bass ported to reproduce frequencies down to 55Hz. The 3/4″ silk-dome tweeters are smooth and defined to bring out the high-end detail of your favorite recordings. And for everyday convenience, iLoud Micro Monitors pair over Bluetooth for wireless audio streaming from your laptop or phone.
Stream reference-quality audio on a budget
iLoud Micro Monitors stream professional, reference-quality sound on a budget, with enough power to fill a small room. Adjustable isolation bases decouple the speakers from your desk or bookshelf and direct sound up at your ears. And three EQ switches adjust for minor room issues.
Enjoy music at home or in your hotel
A rich listening experience over easy-pairing Bluetooth means you can enjoy your music whenever and wherever the mood strikes. Each iLoud Micro Monitor features a 3″ neodymium driver and 3/4″ silk-dome tweeter to bring your favorite music to life. Plus they're super-portable: leave them set up in your listening room, or throw them in a backpack and take them on the road with you.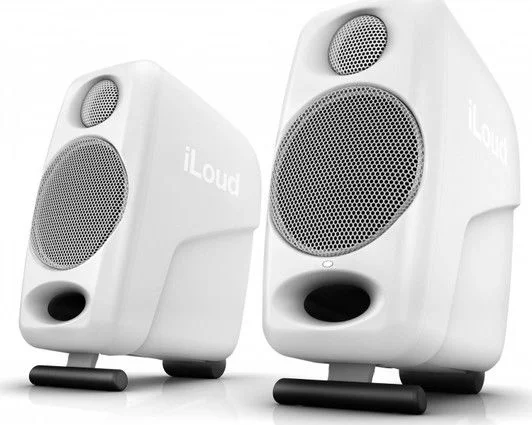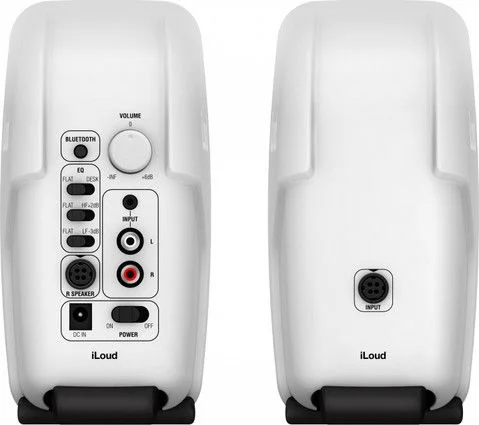 Bluetooth for convenience; aux/RCA inputs for versatility
IK Multimedia's iLoud Micro Monitors stream music wirelessly from your computer, phone, or tablet via Bluetooth. This allows you and your guests to create dynamic playlists to keep the party going. Stereo RCA and 1/8″ inputs accommodate your legacy devices, such as your turntable systems and older music players. If you're looking for big, reliable sound on a budget, Sweetwater recommends grabbing a pair of iLoud Micro Monitors.
IK Multimedia iLoud Micro Monitors Features:
The smallest active reference speakers in the world
Provides a rich listening experience at home or on the go
Builds on the original iLoud speaker system
50 watts — enough power to fill a small room (25 watts per speaker)
3″ drivers with neodymium magnets are ported to reproduce big bass
3/4″ silk-dome tweeters sound smooth and clear
Superb stereo imaging
3 EQ switches to suit your listening needs: high-cut, low-cut, and desktop
Isolation bases with adjustable angles decouple speakers from your desk and point them up at your ears
Microphone stand-mountable
Streams music instantly over Bluetooth — compatible with A2DP protocol
1/8″ stereo auxiliary input for older iPods and computers
RCA unbalanced stereo inputs for vinyl systems
Frequency response: 55Hz–20kHz
Includes a 4-pin stereo link cable and power supply