Product Category
Preamps & Channel Strips
Manufacturer
Golden Age Project
The legendary 1073 wrote the book on characterful mic preamplification and equalization. These venerable circuits helped define the big, punchy sound of '70s rock — and countless recordings and live concerts ever since. Today, this coveted tone can be yours for a song, with the Golden Age Project PREQ73 Premier. A vintage-style, single-channel mic/line/instrument preamplifier and 3-band EQ with inductor-based midrange, the PREQ73 Premier employs all-discrete circuitry similar to the that of the preamp and the equalizer sections of the venerable 1073 console module. This results in a sound that is warm, punchy, sweet, and musical. The preamp provides 80dB of gain that lets you mic subdued sources with your favorite passive ribbon mics. The mic and line input, as well as the line output, are transformer-balanced using three separate UK-made Carnhill transformers, each optimized for its function.
Related Videos: PREQ73 Premier Microphone Preamp & EQ
The Golden Age Project
The Golden Age Project was founded in 2005 on the belief that vintage gear sounds best, and the desire to pass on this sonic legacy to a new generation of musicians, engineers, and producers. All-discrete, Class A signal paths with no integrated circuits; the use of transformers, stepped controls, and military-grade build quality; these are the cornerstones of the legendary British equipment deployed in world-class recording and broadcast studios in the 1970s — the Golden Age of analog. Fat, warm, punchy, and authoritative, this is the sound heard on countless hits for nigh unto half a century. Locating, purchasing, restoring, and maintaining vintage gear is time-consuming and costly. Fortunately, this small, family-owned Swedish company makes gear the same way it was made back in the day — at an amazingly gentle price.
A distributor of high-end studio equipment for many years, Golden Age Project founder Bo Medin wanted to be able to offer products with much of the same exclusive sound in a price range that made them available to a larger audience. Inspired by original designs, Golden Age uses modern technology to re-create that lush, opulent sound, making it surprisingly affordable. They use some modern ingenuity to add new functionality to superb classic designs and produce them in a cost-effective way which allows them to be both optimized and affordable. Sweetwater's advice: From outboard equipment to condenser, dynamic, and ribbon mics, you can outfit your entire studio with vintage-inspired Golden Age gear without exceeding your budget.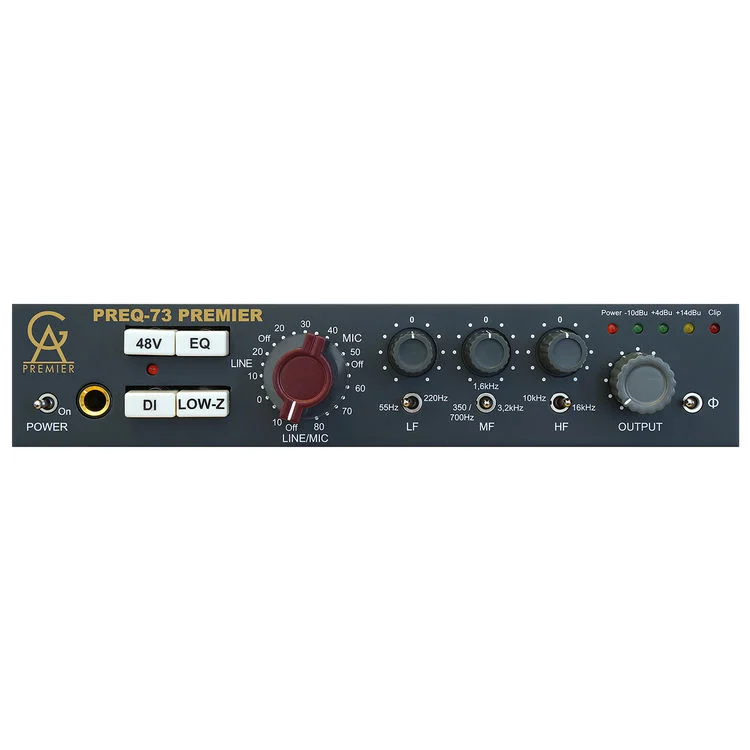 Golden Age Project PREQ73 Premier Mic/Line/Instrument Preamp/EQ Features:
Vintage-style Class A electronics with no integrated circuits in the signal path
80dB of gain, enough to handle passive ribbon mics with quiet sound sources
23-position Line/Mic gain switch with 5dB steps and a gain range of 20db–80dB for mic and -10dB–20dB for line
2-band LF (±15dB) and HF (-20dB) shelving equalizer with two selectable frequencies for each band
Inductor based —15dB midrange EQ section with three selectable frequencies (lowest selectable between 350HZ and 700Hz)
Switchable impedance in mic mode, 1200 or 300 ohms, will change the tone of most mics
Input impedance in line mode is 10k ohms
Switchable 48-volt phantom power and absolute phase (polarity)
High-impedance instrument input for any sound module, electric guitar or bass
Simple but effective 4-step LED output level meter
Output level control for fine gain adjustments and intentional overload of the main gain stages for additional vintage character
Separate combo XLR/TRS jack for the Mic and Line input
Separate output XLR and TRS jacks for flexible connections
Selectable 600-ohm output termination
Classic-style knobs and buttons
Prepared for mounting 1 or 2 units in optional Unite Premier rack kit
May also be mounted with red/black Golden Age Project units in optional Unite rack kit
Connector-free internal wiring; all connections (except the ones to the gain switch) are soldered for the purest signal and most long-term stable signal path
UK-made Carnhill microphone input and line output transformers
The PCB is prepared for optional Carnhill 9046M line input transformer
Polystyrene capacitors in the amplifier circuits
Tantalum capacitors in the signal path
Beefy power supply
Sturdy toggle switches with gold-plated contacts
External power supply avoids interaction with audio circuits and transformers
Solid build quality for long-term reliability