Product Category
Preamps & Channel Strips
The Fredenstein F200 starts with a top-tier 2-channel microphone preamp. These pres deliver a healthy 60dB of gain and are jam-packed with features. Add to that two channels of great-sounding FET-style compression, and you've got a first-class analog front end for your DAW. The mic pre and compressor feature discrete level controls, so you can use them separately or blend them to taste. Use the F200 as a 2-channel mic pre, a stereo compressor, or a pair of killer channel strips. And the F200 sounds superb, thanks to its zero-negative-feedback design.
Related Videos: F200 2-channel Microphone Preamp & Compressor

2 channels of preamplification and compression that fit into one rackspace
The F200 is two completely separate processors in a single 1U rackspace. Turn the compression output down and use it as a 2-channel preamp. Or drop the preamp to line level and use it as a standard stereo compressor. Of course, you can still combine the processors into a pair of great-sounding channel strips. The F200 doesn't skimp on features, either. The preamp section features 60dB of gain, as well as a 20dB pad, highpass filter, polarity reversal, phantom power, and DI. The compressor section includes controls for attack time, release time, compression ratio (from 2:1 to 20:1), and stereo link.
Separate mic and compressor levels for effortless parallel compression
While the Fredenstein F200's discrete mic and compressor output knobs allow you to use either processor separately, you can also use them to blend your dry and compressed signals for effortless parallel compression. Parallel, or NY-style compression preserves the transients of your dry sound while letting you add the compressor's character to the signal. At Sweetwater, we use this technique to fatten up vocals, drums, and even full mixes. We love how it brings up the overall loudness of our tracks without squashing the life out of them.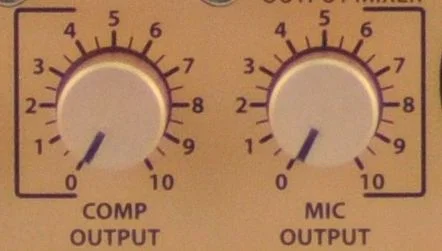 Zero-negative-feedback design yields a warm, natural sound
Ever wonder why some modern gear sounds a bit harsh? Oftentimes, it's because the gear's amplifier uses negative feedback to enforce linearity. The F200 eschews negative feedback, opting for an internally and externally balanced design. This zero-negative-feedback topology maintains linearity, while yielding a warm, natural sound. Instead of brightness or harshness, the F200 exhibits a neutral sound with a silky top-end and incredible impulse response.
Fredenstein F200 Features:
2-channel microphone preamp and compressor
2 completely separate processors — use them individually or combine them into dual channel strips
Separate mic and compressor output levels for effortless parallel compression
Mic preamp features 60dB of gain and a 20dB pad, highpass filter, polarity reversal, phantom power, and DI
Compressor includes controls for attack time, release time, compression ratio (from 2:1 to 20:1), and stereo link
Experience warm, natural sound via zero-negative-feedback design
Clip Led for the mic-pre turns on at +24 dBu output levels
VU meter displays compressor gain reduction or output level