Product Category
Studio Bundles
Manufacturer
Audio-Technica, Focusrite
Save $19.99 with this bundle. Here's what you get!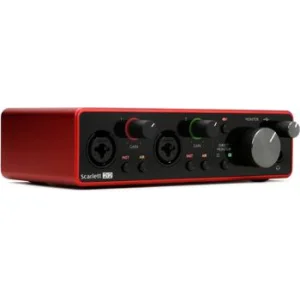 Focusrite Scarlett 2i2 3rd Gen USB Audio Interface
Sells separately for $189.99When you make the best-selling audio interface on the planet, do you sit back and savor the accolades? Not if you're Focusrite! The third-generation Focusrite Scarlett 2i2 advances the state-of-the-art in USB audio interfaces with two upgraded Scarlett mic preamps, high-performance 24-bit/192kHz AD/DA converters, optimized preamp gain structure, vanishingly low latency, and instrument inputs that handle scorching hot pickups. The mic preamps now feature Focusrite's acclaimed Air mode that provides the coveted Air effect modeled on the company's legendary ISA console transformers to give your voice and instrument recordings a brighter, more open sound. Ideal for the small project studio or mobile rig, the Scarlett 2i2 3rd Gen runs on USB bus power and sports two mic/line/instrument inputs allowing simultaneous recording and playback of up to two channels with independently controllable headphone and monitor outputs. Fire up the bundled software, and you're ready to rock.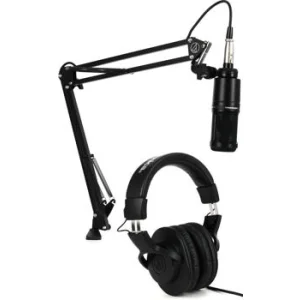 Audio-Technica AT2020PK Streaming/Podcasting Pack
Sells separately for $149.00Looking for the perfect entry point into podcasting? The Audio-Technica AT2020PK has you covered. This streaming/podcasting package includes the AT2020 microphone — a gold standard for affordable condensers. You also get ATH-M20x headphones for monitoring, recording, mixing, and more. A studio boom arm, mic clip, Euro-thread adapter, and protective carrying pouch complete the package. All you need is an audio interface and computer, and you're good to go!