Product Category
Preamps & Channel Strips
For live sound productions, large facility installations, and broadcast environments, the Focusrite RedNet MP8R combines the stellar sound quality you want with the redundant reliability your system needs. The RedNet MP8R essentially takes the proven RedNet 4 interface, equips it with updated mic preamp technology, and adds redundant power supplies and networking for maximum system reliability. We're mighty impressed with these preamps at Sweetwater, with impressive transparency and headroom that hold up well with virtually any sound source. When you need to add outstanding mic inputs to your RedNet network, and you need the peace of mind that redundant power and networking provide, you need the Focusrite RedNet MP8R.
Related Videos: RedNet MP8R 8-channel Microphone Preamp & A/D Converter
Amazing mic preamps designed for live performance and broadcast
Focusrite went back to the drawing board with the RedNet MP8R to create an amazing set of preamps, now with up to +28dBu input level, -20dB pad, phase invert, high/low impedance modes, and even better common mode rejection. With plenty of headroom, virtually no noise, and well-balanced response across the entire gain range, the RedNet MP8R exceeds the expectations of live sound engineers.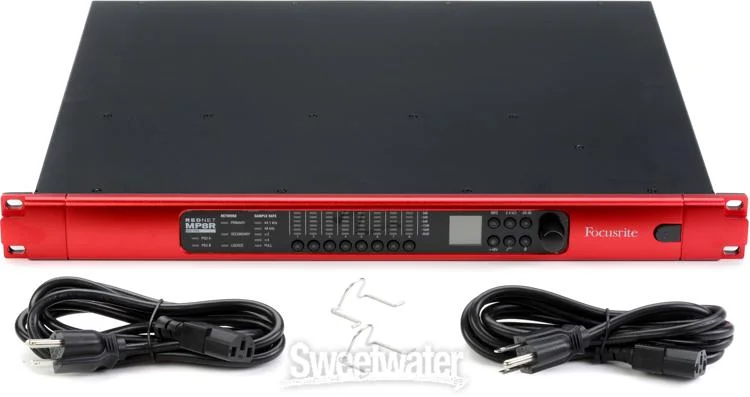 Easy signal splits with DSP gain tracking
While the RedNet MP8R provides eight stellar mic inputs for your live sound system, it actually shows up as a 16-channel source on your Dante network. Each mic input is split into two – one direct feed that responds to that channel's gain control, and a second feed with DSP gain tracking. The DSP maintains a consistent output level for the second signal, irrespective of the analog mic gain setting. It's an easy way to send a high-quality audio split to a second engineer for monitor mixing or broadcast.
Convenient remote control via the RedNet network
Because you'll be using the RedNet MP8R as a component of a large-scale system, Focusrite makes it easy for you to control and re-route signals via a simple software control panel. No matter where you are in your facility, if you have access to the RedNet network from your computer you'll have complete control over every RedNet device connected to that network.