Product Category
Preamps & Channel Strips
Manufacturer
Cranborne Audio
The Camden EC1 is a mic, line, and instrument preamplifier featuring Cranborne Audio, an acclaimed Camden preamp, a Mojo analog saturation circuit, and a reference-grade headphone amplifier. The Camden EC1 rocks truly impressive low-noise and low-distortion performance, as well as frequency and phase linearity at all gain settings. The net result is a stunningly clean, pristine, and natural-sounding preamp that delivers every source as a neutral canvas you can paint, with your choice of analog and digital processing. But when you want punchy, vintage tonal character, that's where Cranborne's Mojo circuit comes in.
Related Videos: Camden EC1 Microphone Preamp & Headphone Mixer
Pump it up with Mojo
When vintage British tonal character is required, rather than using a transformer and having to live with its drawbacks, Cranborne developed their Mojo circuit. This control lets you dial in your choice of two discrete analog saturation types — Thump (transformer emulation) and Cream (tube emulation) — which can turn the Camden EC1 into the warmest, fattest, and most characterful preamp in your studio. And it's all at the twist of a knob. Mojo can be smooth and subtle, punchy and in-your-face, or completely out of the circuit. With the Cranborne Audio Camden EC1, the choice is yours.



Custom transformer-less topology
With the Mojo circuit bypassed, Camden EC1 is one of the cleanest, most linear, transparent, and natural-sounding preamps we've put to the test at Sweetwater. Featuring a custom transformer-less front-end topology with 68.5dB of gain, the Camden EC1 achieves amazing low-noise and low-distortion specs. It also raises the bar for frequency and phase linearity: ±0.7dB frequency response from 1Hz–1000kHz at 35dB gain and less than four degrees of phase shift (20Hz–20kHz, 63dB gain). The Camden EC1's tailored input impedance and headroom for Mic, Line, and hi-Z sources give you punchy, full-range line recording with +26.5dBu of input headroom, as well as vibrant, authentic-sounding DI instruments.
C.A.S.T. away
Spec'd with Cranborne's innovative C.A.S.T. system, the EC1 does away with excess cable spaghetti, delivering a cost-effective, low-maintenance, plug-and-play solution by transmitting balanced analog audio over shielded Cat 5 Ethernet cable directly to/from a Cranborne 500R8 or a 500ADAT 500 Series rack.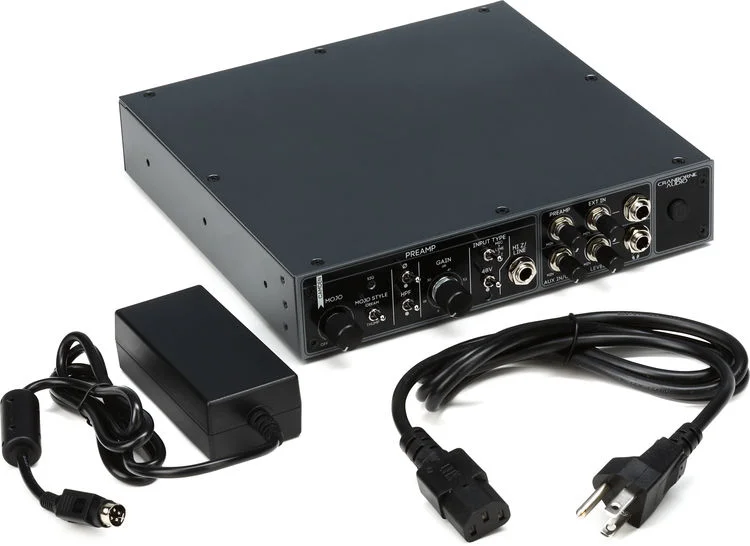 Cranborne Audio Camden EC1 Microphone Preamp & Headphone Mixer Features:
Discrete, ultra-clean Mic/Line/hi-Z preamp with acclaimed Camden topology
Performance at near-theoretical limits of noise, distortion, and phase/frequency linearity at all gain settings
Bypassable Mojo saturation circuit with Thump/Cream analog saturation types
Discrete headphone mixer with high-power, reference-grade headphone amplifier and two output jacks
Balanced XLR output plus impedance-balanced ¼-inch output for maximum connectivity
Dedicated impedance-balanced ¼-inch Link output for splitting instrument DI to balanced/unbalanced amps and effects
External Line Input for connecting a mono playback source into the EC1's monitor path
Selectable 48V phantom power
C.A.S.T. Out port for connecting Camden EC1 to 500R8/500ADAT and N22 C.A.S.T. breakout box
External high-current 24V power supply with latching connector