Product Category
Headphones
Want to enter a world of immersive music? Armed with advanced noise-canceling technology, Bose QuietComfort 45 wireless headphones will take you there. Now with TriPort architecture, these acoustically opulent cans vent your music so it sounds fuller and deeper. Switch between Quiet and Aware modes to experience your music in a noise-canceled environment or one that features the sounds around you. The QuietComfort 45's implement four minuscule microphones for picking up sounds around you and playing them through the headphones. And wherever you listen, volume-optimized EQ ensures balanced audio at any level. Access your phone's virtual assistant via a multifunction button, and enjoy clean-sounding calls, even in noisy environments, thanks to a noise-rejecting mic system. Beyond that, the QC45 headphones are so comfortable that you may forget you're wearing them. QuietComfort 45 wireless headphones supply up to 24 hours of wireless listening and charge fully in around only 2.5 hours.
Practical features for great sound, convenience, and comfort
QuietComfort 45 wireless headphones stay true to your music, by means of their volume-optimized EQ. Whisper quiet or completely cranked, QC45 wireless headphones always deliver consistent, balanced sound. You also have easy access to your smartphone's virtual assistant, like Siri. And with TriPort acoustic architecture that vents the sound for fullness and depth, these 'phones will have your music sounding better than ever before. We're all music enthusiasts here at Sweetwater, and we love Bose QuietComfort 45 wireless headphones!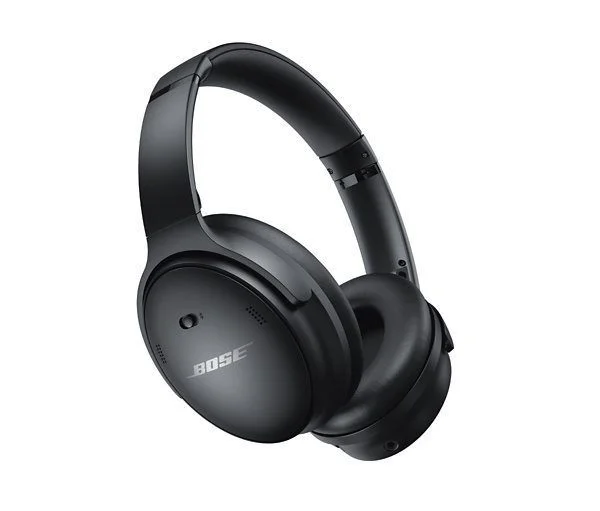 Free Bose Connect app provides advanced control
Easily manage and switch between your Bluetooth connections with the free Bose Connect app's intuitive graphic interface. Bose Connect also dials in your level of noise cancellation and provides access to personalized settings.
Bose QuietComfort 45 Wireless Headphones Features:
Advanced noise-canceling technology creates a safe sonic haven from outside noise
Bluetooth technology frees you from cumbersome wires
Volume-optimized EQ yields balanced audio at all levels
Noise-rejecting quadruple-microphone system provides clear calls in noisy environments
Supplies easy access to your smartphone's virtual assistant, like Siri
Bose Connect app manages paired devices and provides a personalized experience
24 hours of wireless use per charge (via USB-C)
15 minute quick charge can give up to 2.5 hours of playing time
So comfortable that you may forget you're wearing them
Includes an audio cable for listening to music without battery power