Product Category
Microphones
Features
Mic | Large Diaphragm Condenser
Sweetwater's seasoned pro audio experts may have seen (and heard) it all, but every once in a while a product comes along that shatters the conventional price-to-performance paradigm. Enter the Avantone CK-6. It's a large-diaphragm cardioid FET condenser microphone that looks and sounds expensive, but it's not. That's the idea behind Avantone's Cabernet Series mics, that, performance-wise, go toe-to-toe with microphones costing much more. If you only saw its price, you might assume that Avantone cut corners somewhere. You'd be mistaken. First off, the CK-6 is built for the long haul, with a body and capsule assembly of precision-machined brass.
Quality components throughout
Under the hood, the CK-6 is equally impressive, featuring discreet, transformerless Class A FET circuitry and a thin gold-sputtered Mylar capsule. Avantone has even used high-grade polystyrene and metalized-polypropylene capacitors in the audio path — normally the kind of "upgrade" components installed by extreme hot-modders. The CK-6 is an all-around studio workhorse, ideal for clearly capturing the sonic character of just about any vocal or instrument. Did we mention how gorgeous the CK-6 is? Its elegant wine-red finish and polished-nickel trim will certainly attract attention whenever anyone sets foot in your studio.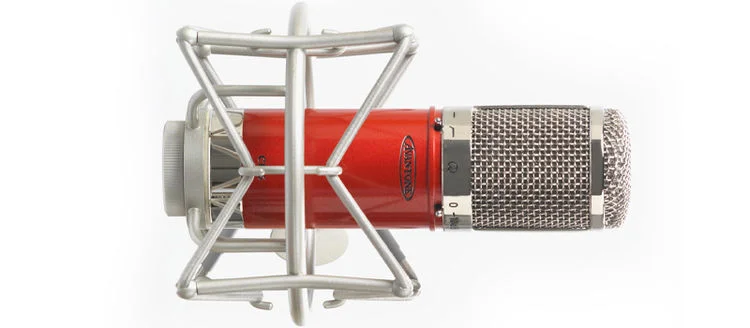 Fully featured, and ready to record
Aside from not having multiple polar patterns (and who in their right mind would expect that in a microphone at this price?), Avantone didn't skimp on the features, either. The CK-6 boasts a 10dB pad, so you can use it on drums, guitar cabinets, and other boisterous sources. It also has an 80Hz highpass filter to attenuate rumble and other unwanted low frequencies. The Avantone CK-6 is an amazing value. At this price, you can easily afford a stereo pair. How about five of them for your toms and overheads?
Avantone CK-6 Large-diaphragm Condenser Mic Features:
Fixed cardioid polar pattern
Discreet, transformerless Class A FET circuitry
Single-sided 32mm center-terminated gold-sputtered Mylar (6 micron) capsule
Ideal for studio vocals, acoustic guitar, drum overheads, piano, and more
Frequency response: 35Hz-20kHz ±3.5dB
Output impedance: <=200 ohms
Maximum SPL: 136dB (0.5% THD @1000Hz)
Equivalent noise level: <17dB
Highpass filter: 80Hz (6dB/octave)
10dB attenuation switch
Power: 48 Volt phantom / 5mA
Body and capsule assembly made of precision-machined brass
Elegant Cabernet Red finish with polished-nickel trim
Includes custom retro shockmount