Product Category
Microphones
Features
Mic | Large Diaphragm Condenser, Vacuum Tube Circuit
Picking up where its esteemed predecessor left off, the Avantone Pro BV-1 mkII once again ratchets large-diaphragm tube condenser microphone performance to the next level. With every component chosen for its sonic prowess, the BV-1 mkII's uncompromising design results in a vintage-inspired, larger-than-life sound that's luxuriously creamy, warm, and silky; rendering vocals and instruments with authority and crystalline clarity that lets them sit confidently in any track. Avantone Pro pulled out all the stops here; using capacitors from six different boutique shops, a Cinemag output transformer custom designed expressly for the BV-1 mkII, and a hand-selected, edge-terminated 34mm CK12-type capsule. Perfectly integrated into a synergistic system, these components help to deliver a balanced, full-bodied sound with a huge bottom end, ample midrange presence, and a beautifully airy top end. Of special note is the BV-1 mkII's commanding proximity effect when deployed at close range. It you're in the market for a value-packed, high-performance large-diaphragm tube condenser mic, it doesn't get any better than the Avantone Pro BV-1 mkII.
Continuously variable polar pattern
One of the unique features of the Avantone Pro BV-1 mkII is the fact that it offers continuously variable polar patterns. Rather then the traditional switching arrangement that selects between discrete omnidirectional, cardioid, and figure-8 settings, a dial on the BV-1 mkII's power supply unit lets you sweep seamlessly between the three. Access to all points in between allows you to craft hybrid pickup patterns that give you a tremendous degree of flexibility when capturing sources under challenging conditions.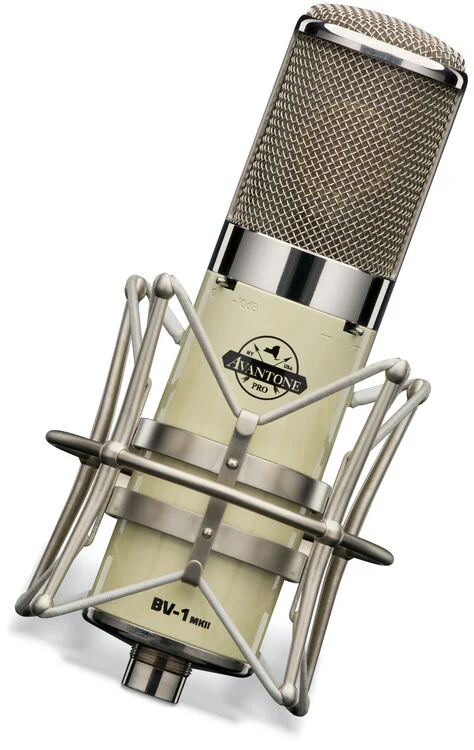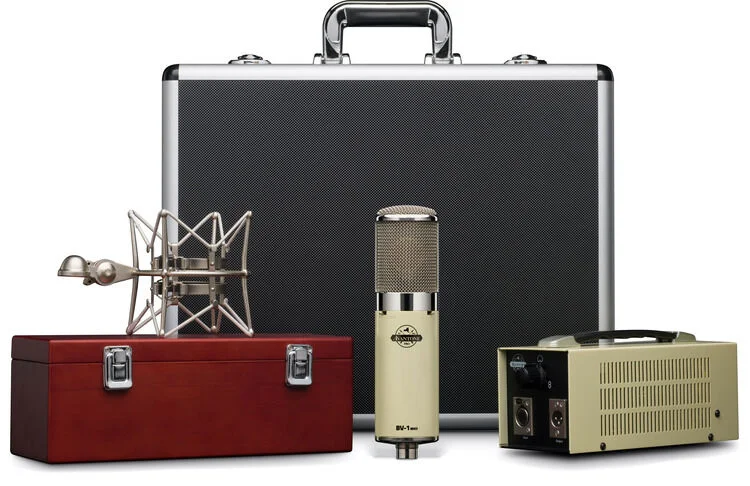 A compelling package, for a song
The Avantone Pro BV-1 mkII comes with everything you need, including the separate power supply, a high-quality 7-pin connecting cable, a shockmount, a padded plush-lined wooden mic box, and a roadworthy hardshell system carrying case. It all adds up to a compelling package that delivers performance and value considerably beyond its relatively modest price point. But this won't come as a surprise to audio professionals already familiar with Avantone, because that's the company's business model.
Avantone Pro: value-packed performance
The Avantone Pro team is adept at identifying gaps in the pro audio equipment market and targeting those gaps with high-performance products that are affordable to all musicians and studio owners. To achieve the impressive performance levels these products are known for, Avantone will never compromise on component quality, but they do order parts and build in quantity, which reduces costs and delivers amazing value. They also stringently inspect each and every completed unit before sending it on its way. As a result, Avantone Pro gear is trusted and used by audio pros worldwide in home project studios and world-class commercial facilities alike. At Sweetwater, we're excited to offer you Avantone Pro's distinguished line of outstanding professional audio equipment.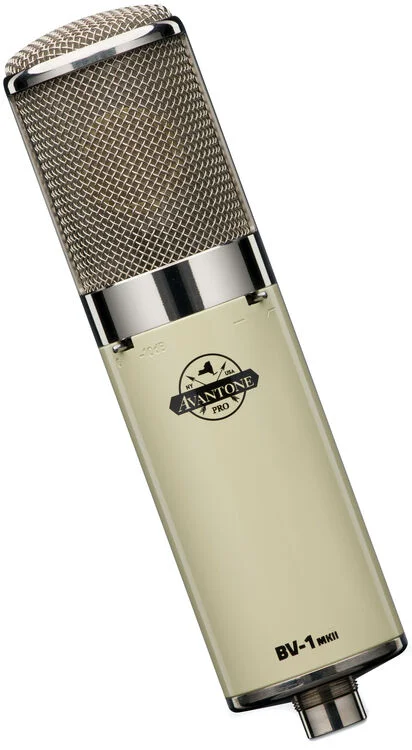 Avantone Pro BV-1 mkII Large-diaphragm Tube Condenser Microphone Features:
Huge sound and impressive versatility
Commanding proximity effect
Edge-terminated 34mm CK12-style capsule
Custom Cinemag transformer
High-end components throughout, including custom capacitors
Vintage-style power supply with 9 selectable patterns
Tube type: select low-noise 6072A
Polar pattern: continuously variable, figure-8 through cardioid and omni
Custom dual-sided 34mm edge-terminated, gold-sputtered Mylar 6-micron capsule
Frequency Response: 25Hz–20KHz
Output Impedance: <200 ohms, transformer isolated
Sensitivity: -35dBV
S/N ratio: 78dB (Ref. 1Pa A-weighted)
Noise Floor: < 17dBA
Maximum SPL: 134dB (0.5% THD @1000Hz), 144dB with pad engaged
Equivalent Noise Level: <18dB (A-weighted IEC 268-4)
Output connector: Male XLR 7-pin
Highpass filter: 80Hz, 6dB/octave, switchable
Attenuation pad: -10dB, switchable
Power requirement: 90V–220V AC
Includes power supply, 7-pin cable, shockmount, padded plush-lined wooden mic box, and hardshell road case