Product Category
Preamps & Channel Strips
Features
Vacuum Tube Circuit
The VT-737sp brings its magic touch to everything in your studio. Run your dullest, most sterile mic through the VT-737sp and you'll be amazed at how warm and sweet it sounds. This 2-rackspace combo brings a new standard to high-end audio, taking your sound to places you never thought possible and giving you precise creative control. The VT-737 will energize your recordings!
Related Videos: VT-737sp Tube Channel Strip
Class A preamp design with three input selections
The VT-737sp has three input selections: First, it features a higher-performance microphone input transformer with 48-volt phantom selection. Second, the VT-737sp offers an instrument DI high-source input with a jack located on front panel. Finally, the VT-737sp includes a balanced line input with discrete high-level Class A circuitry. The Class A preamplifier utilizes two cascaded, dual vacuum tube triodes configured with minimum negative feedback. A high-gain switch boosts the overall gain of the preamplifier. The four high-quality tubes are configured as singled-ended anode coupled followers. A passive/variable highpass filter and hardwired relay bypass completes the VT-737sp's input signal conditioning. A phase reverse relay is available on all three inputs.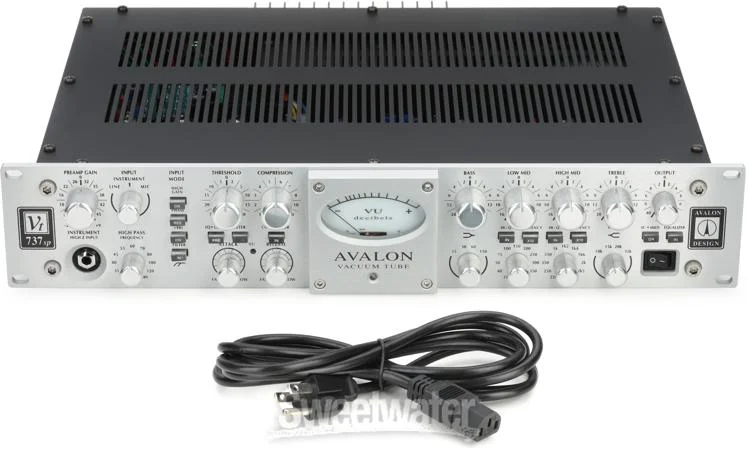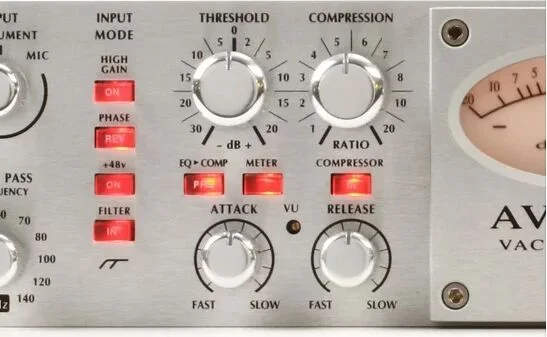 Opto-compressor with minimum signal path
The VT-737sp's opto-compressor features a minimum signal path design with twin Class A vacuum tube triodes for gain matching. The optical attenuator acts as a simple passive level controller. Full dynamic control from soft compression to hard- knee limiting can be achieved with threshold, ratio-compression, attack and release controls plus gain reduction selection on the large VU meter. Special spectral control including de-ess is available with the dual sweep mid EQ to side-chain switch. The VT-737sp's EQ section can be flipped pre or post the opto-compressor via a front-panel switch for alternate effects and tone shaping. Two VT-737sps can be linked via a rear panel link cable for stereo tracking. The compressor bypass is a sealed silver relay for the most direct signal path.
Sweepable EQ and hardwired bypass
The VT-737sp equalizer utilizes 100% discrete, Class A-high-voltage transistors for optimum sonic performance. The high- and low-frequency bands provide the smooth characteristics of an all passive design, while the dual mid bands include variable frequency and switched Q-width selection. The enhanced range of the VT-737sp's mid bands is extended into the high and low bands by the use of X10 frequency multipliers. The bypass switch incorporates a sealed silver relay for the most direct signal path. When the EQ to sidechain is engaged, the high-low EQ remains in the audio path for "tone enhancement." The output level control provides a variable control of the overall signal path. The output amplifier utilizes another dual triode vacuum tube driving a 100% discrete, Class A, high-current, balanced and DC coupled low noise output amplifier.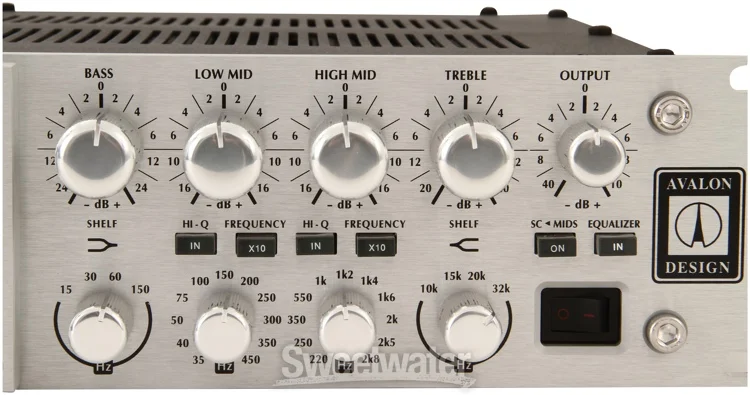 Avalon VT-737sp Channel Strip Features:
Vacuum tube and discrete design
Ideal for DAW and digital recording
Wide range of tube tone and control
Excellent value for performance
Rugged Avalon construction