Product Category
Interfaces
Audient's original iD4 had the audio industry rethinking what an entry-level audio interface could offer. Now, with the Audient iD4 MKII, Audient's Little Interface That Could is an even better value for home and mobile music producers. Packing large-format console performance into a sleek desktop chassis, the Audient iD4 MKII fortifies your studio with one of Audient's renowned Class A console mic preamps — the very same found in Audient's ASP8024-HE recording console — along with an analog JFET DI stage to authentically capture the depth and dimension of your guitar or accompaniment instrument. We at Sweetwater are pleased to report that this latest version of Audient's iD4 packs even better audio conversion, zippy USB 3.0 transmission speeds, and a future-looking USB-C connection for greater compatibility with modern laptops and tablets. Two studio-grade headphone outputs and a console-style monitor control supply trustworthy track monitoring and audiophile music reproduction. Then there's Audient's intuitive ScrollControl virtual scroll wheel, which lets you use the iD4 MKII's big volume knob to tweak DAW and plug-in parameters and even dim your monitor output on command. Also new for MKII is Audient's fully loaded ARC software suite, which gives you instruments, cab sims, plug-in FX, and Steinberg's Cubase/Cubasis LE3 desktop and mobile DAWs upon product registration. Take it from recording engineers at Sweetwater: the Audient iD4 brought major value to the home and mobile studio. And with Audient's iD4 MKII USB-C audio interface, there's even more to love in this little box.
What's new in the iD4 MKII
Sales Engineers at Sweetwater have been turning our customers onto Audient's iD4 interfaces for years. Now, the iD4 MKII brings even better performance and modern USB 3.0 transmission speeds to this impressive little box. Here's what's new for MKII.
Updated cosmetics — A sleek new gunmetal housing and cleaner top-down interface gives the iD4 MKII a look and workflow that are better built to stand the test of time in your studio.
USB 3.0 speeds — With a data transmission cap that's 10 times higher than its predecessor, the iD4 MKII boasts a much snappier connection to your laptop or iOS device. This translates to lower latency and much-reduced round-trip speeds.
Forward-looking USB-C connection — A USB-C to USB-C connection (cable included) makes the MKII version of the iD4 compatible with even more modern devices on the market. It's completely USB 3.0 bus powered, so you can produce great music and content beyond the studio walls.
Even better audio performance — The previous iD4 was one of the cleanest and quietest interfaces in its class. We're pleased to report that the iD4 MKII is even better, with an improved dynamic range on both the ADC (+7dB) and DAC (+11dB). This means, whether you're tracking or monitoring, the MKII is your key to a cleaner, quieter studio.
Studio-grade headphone amp — A new 600Ω headphone amplifier with dual independent outputs (1/4″ and 1/8″) makes the iD4 the ideal front end for track monitoring to casual listening.
Free ARC software suite — Thanks to its included software bundle, the iD4 MKII is an even better option for budding songwriters and producers. Registering your product online gets you access to Steinberg's Cubase/Cubasis LE3 DAW, the Two Notes Wall of Sound cab simulation, a host of virtual instruments from Waldorf and Gforce, and three introductory courses from Produce Like a Pro.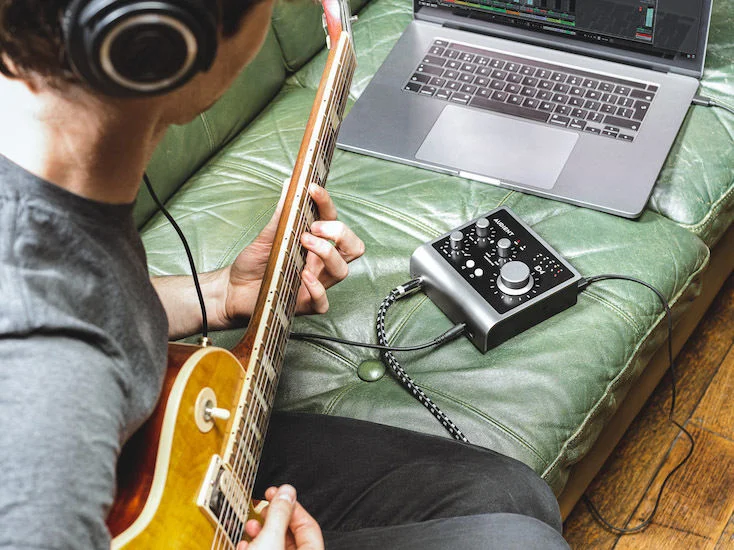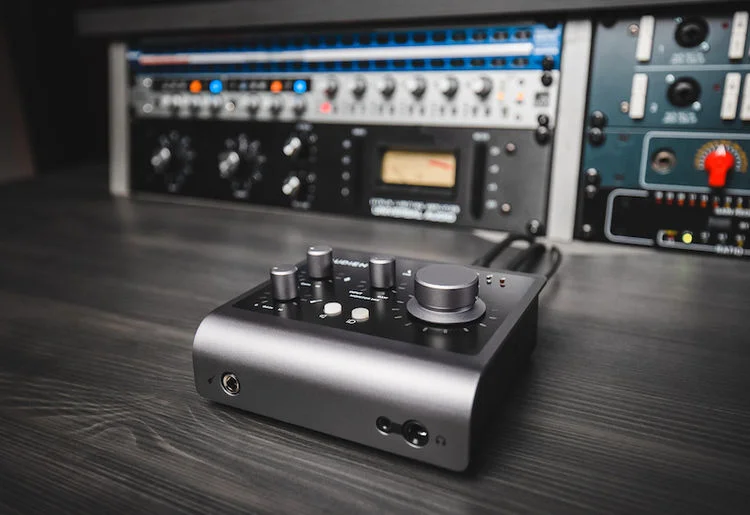 World-class mic preamp
The iD4 MKII brings one of Audient's discrete Class A console mic preamps — the very same found in its ASP8024-HE recording consoles — to your home studio. And trust Sweetwater when we say that this thing sounds killer. Audient uses the same Class A mic preamp design throughout their product range, so whether you're in the studio working on an Audient board or on the road with your iD4 MKII, you can count on world-class Audient sonics.
Class-leading conversion
For the best possible sound, both the DAC and ADC have been improved in the Audient iD4 MKII, boasting an even higher dynamic range at both conversion stages. The result is stunningly transparent sound, through headphones or studio monitors, with just a hint of ear-tickling analog coloration. It's the ideal prescription for stellar studio sound.
Instrument-grade JFET DI
Instrument inputs on lesser interfaces can leave something to be desired. But not the Audient iD4 MKII. Its transistor-driven JFET direct injection input is engineered to reproduce the rich harmonics and deep fundamentals of your guitar, bass, or keyboard, whether you're capturing the sound au naturale or feeding it into an amp modeler.
Audient iD4 MKII USB-C Audio Interface Features:
1 Audient Class A console mic preamplifier with +48V phantom power
JFET instrument input accurately reproduces your guitar, bass, or keyboard signal
High-performance converters with 120dB of dynamic range
Bus powered — no additional power supply required
Included ARC software suite with DAW, virtual instruments, plug-in FX, and more
ScrollControl lets you use the iD4 MKII's big volume knob to tweak DAW/plug-in parameters
Zero-latency monitoring with monitor mix and pan
Left and right 1/4″ TRS main speaker outputs
2 independent studio-grade headphone outputs
Zippy USB 3.0 data transmission
Future-looking USB-C connection
Rugged, attractive, all-metal chassis
OS compatibility: macOS, iOS, and Windows