Your monitors are an integral part of your studio and influence your decisions from the start of the project through the final mix and master. Musicians who need rock-solid monitors will love the Adam Audio A8H powered studio monitor. The A8H flaunts 3-way operation and a proper tri-amped design for outstanding accuracy and superior efficiency. The A8H has three drivers: an 8-inch Multi-Layer Mineral (MLM) woofer, 3.5-inch MLM midrange, and Adam Audio's X-ART ribbon tweeter. When you sit down in front of a pair of A8H monitors (sold individually), they will treat you to razor-sharp imaging, ruler-flat frequency response, and borderline unbelievable sonic definition. The A8H also includes rotatable waveguide technology and onboard DSP to fine-tune the sound. Adam Audio's A8H 3-way Powered Studio Monitor is most at home in medium- to full-sized studios and is intended for midfield monitoring and critical listening.
3-way design for optimized frequency response
Working on 3-way monitors is a game-changing experience, especially if you're using Adam Audio A8H monitors. The A8H utilizes 3-way, tri-amped architecture to achieve a wider frequency response, extra accuracy, and much more. You'll notice outstanding cohesion and imaging because the three drivers are assigned to the lows, mids, and highs. The A8H also includes seamless crossovers at 400Hz and 3kHz to ensure each driver performs in its preferred frequency range.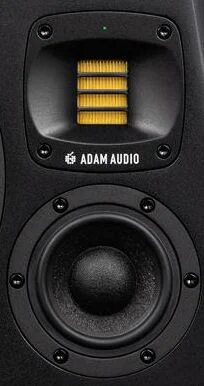 Top-quality drivers all around
The A8H's internal architecture pairs perfectly with the monitor's trio of premium drivers. The robust low-end frequencies are handled by an 8-inch MLM (Multi-Layer Mineral) fiber woofer. Meanwhile, an innovative driver design lends clarity and definition to the 3.5-inch MLM midrange driver. Finally, the high-end is handled by an X-ART ribbon tweeter. The X-ART ribbon tweeter is a favorite here at Sweetwater due to its ability to translate clean and transparent high-end up to 42kHz. Adam Audio's rock-solid drivers ensure that this monitor will unveil every aspect of your mix.
Fine-tune your sound
Adam Audio outfitted the A8H with a couple interesting features to help your monitors fit perfectly into your existing setup. First, the rotatable HPS (High-frequency Propagation System) waveguide allows you to subtly alter the speaker dispersion to create an all-encompassing sweet spot without introducing reflections from studio furniture. The second fine-tuning feature comes in the form of onboard DSP-based tuning. It's capable of interfacing directly with the Sonorworks SoundID Reference plug-in to tailor the sound further (sold separately). It's super easy to use and ensures that your monitors sound impeccable in any space.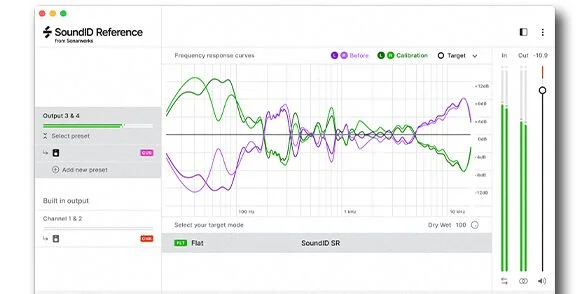 Adam Audio A8H Powered Studio Monitor Features:
3-way design boosts efficiency and ensures clarity in all frequency ranges
Tri-amplification feeds each speaker the optimal amount of power
8-inch MLM woofer delivers chest-thumping lows
3.5-inch MLM midrange driver provides extra clarity
X-ART tweeter pumps out clear, precise high-end
Rotatable HPS waveguide lets you customize the high-end dispersion
Onboard DSP allows you to shape your sound
Native integration with Sonorworks SoundID Reference plug-in (sold separately) allows you to dial in the perfect sound for your room
24-bit A/D conversion and 92kHz sampling rate preserve your audio quality
Includes balanced XLR and unbalanced RCA inputs